Left Section
VIDAL BLANC
OVERVIEW:
Vidal Blanc is a French-American hybrid varietal that is known for its hardiness and ability to tolerate colder climates due to its thicker skin. Vidal Blanc was developed by a French grape breeder in the 1930s and has since found a home in Missouri wine country. This grape is often produced as a single varietal wine that varies from dry to semi-dry, and is sometimes used in blends and produced as a sweet, dessert-style sparkling wine. Vidal Blanc is characterized by large grape clusters with small russet dots on the grapes themselves. Although the vines of this varietal are fairly winter hardy, they are susceptible to several fungus diseases. Vidal Blanc is harvested during the early fall, and this varietal's grape clusters are resistant to rot and can stay on the vine for longer than other varietals, like Seyval Blanc. Vidal Blanc is processed as a white wine and not fermented on the skins. Vidal Blanc is celebrated during the month of June.
PRONUNCIATION:
vee-dahl-blahnc
Acres in Missouri:
5.9% - 98.8 acres
Flavors or tasting notes:
Pear, apple, citrus and other fruits
Taste Profile:
Medium-bodied, crisp and clean
Ideal Serving Temperature:
44-55°F
Food pairings:
Grilled chicken and seafood, broccoli & asparagus, sushi, soup, mozzarella, pasta & cream sauce, citrus, pine nuts & melon
Recipe ideas:
Beef Kabobs with Wine-Infused Dipping Sauce
Bright and Light Fish with Vidal Blanc
Missouri White Wine Shrimp Linguine
White Wine Ravioli with Tomatoes & Spinach
St. Patrick's Day Lucky winetails
 Sweetness Scale: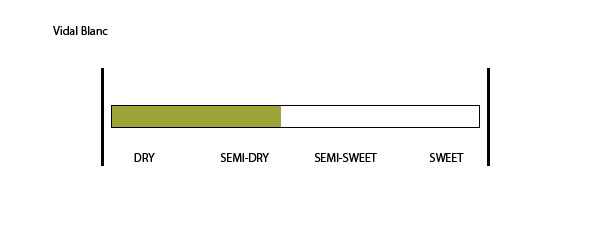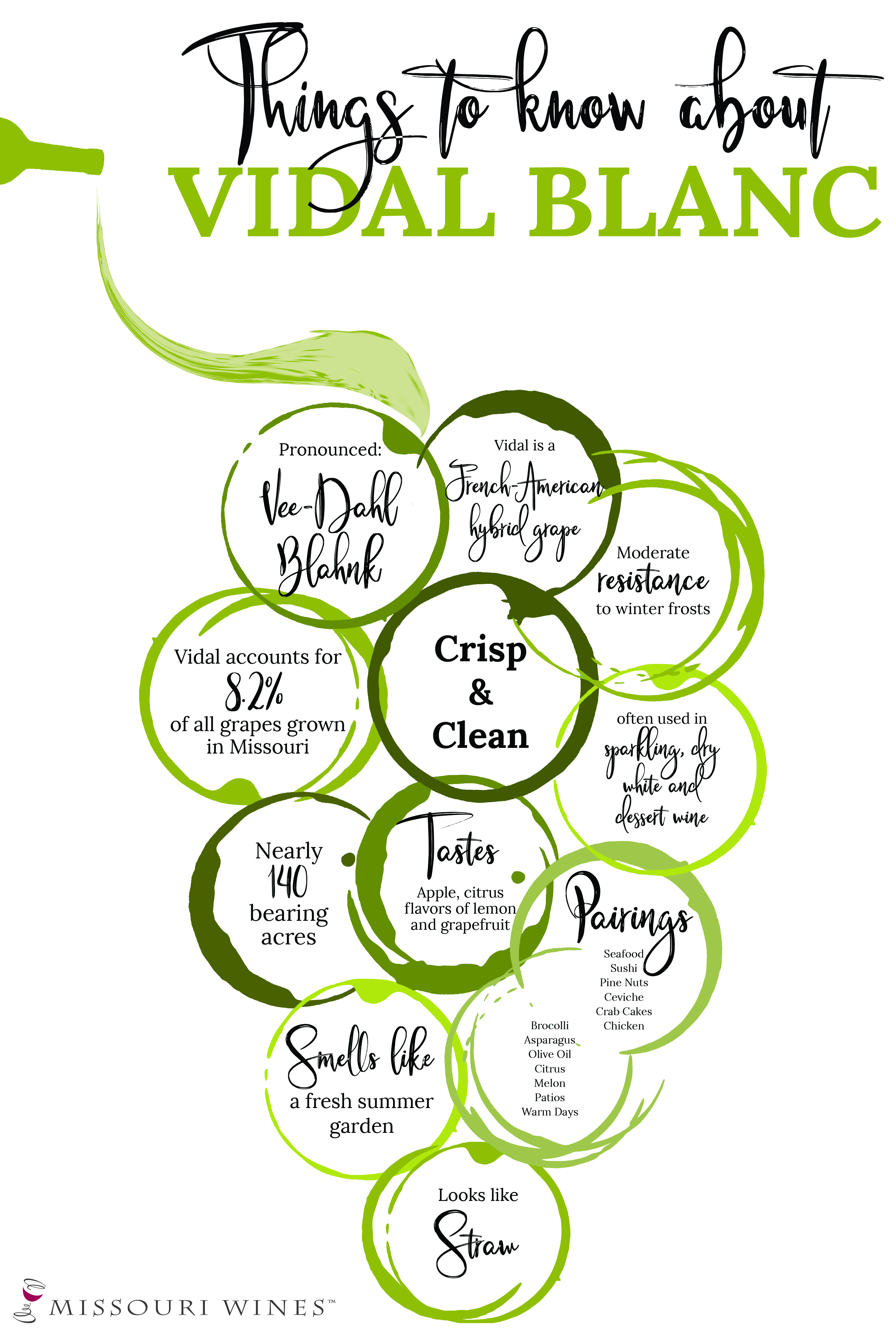 Right Section
VALVIN MUSCAT
OVERVIEW:
Valvin Muscat is a white interspecific grape cultivar developed in the 1960s by Cornell University New York State Agricultural Experiment Station. The vines produce small, compact grape clusters and are moderately cold hardy.
PRONUNCIATION:
VAHL-vin muh-skat
Acres in Missouri:
50.2 acres
Flavors or tasting notes:
This wine has complex aromas fruit notes including peach, mango, nectarine and orange blossom. The spicy undertones and floral aromas work well for producing highly aromatic varietal wines and work well for wine blends.
Taste Profile:
The wines may have some mineral undertones, a clean crisp finish and refreshing acidity.
Ideal Serving Temperature:
Chilled to 55–60°F
Food pairings:
Spicy dishes, Indian, Thai food, brie