May 14, 2019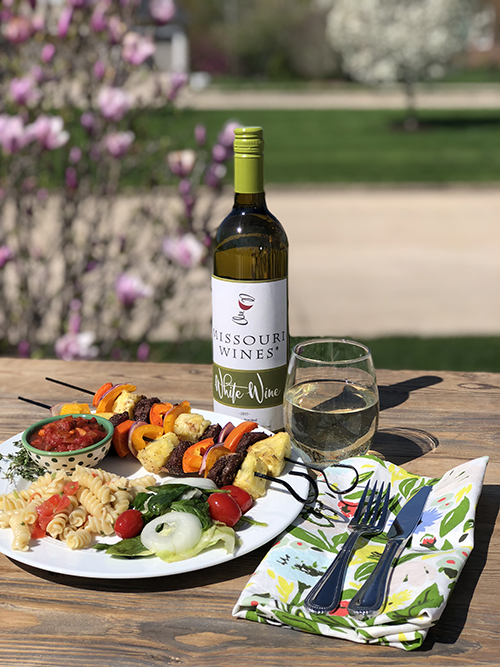 This season, make the beef kabob and dip recipe that's guaranteed to be a real crowd-pleaser. Grill mouth-watering morsels of sirloin steak along with your favorite fruits and veggies, then dip them into a delicious sauce featuring a dry, Missouri white wine. It's easy to make so what are you waiting for? Watch our step-by-step video and fire up the grill today.
https://www.youtube.com/watch?v=u0QZfuBSwGQ
Skewer ingredients
• 1 beef Top Sirloin Steak Boneless, about 1-1/2 pounds, cut 1 inch thick
• 2 tsp coarse ground black pepper 
• 3/4 tsp salt
• 3/4 tsp sweet paprika
• 2 tsp minced garlic
• Red Onion
• Pineapple
• Green, red or orange peppers
Dipping Sauce Ingredients 
• 1 tbsp olive oil
• 1 medium onion, finely chopped
• 1 tbsp minced garlic
• 14 oz oasted red peppers, rinsed, drained, finely chopped
• 1/2 cup dry white wine (Vidal Blanc)
• 2 tbsp tomato paste
• 3/4 tsp dried thyme leaves, crushed or 2 teaspoons minced fresh thyme 
• 1 cup unsalted beef broth
• 2 tsp cornstarch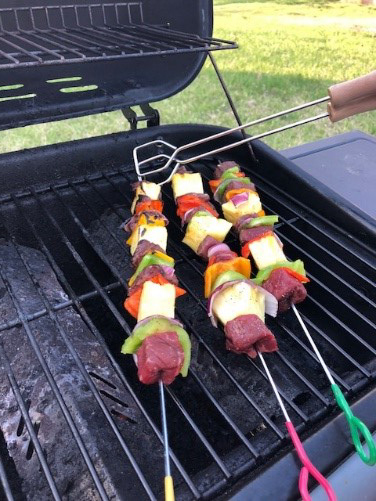 Dipping sauce instructions
In a medium skillet, over medium heat, combine olive oil, onion, minced garlic, roasted red peppers, a dry white Missouri wine (we featured Vidal Blanc), tomato paste and thyme. Add beef broth and corn starch, then cook to desired thickness.
Sirloin steak seasoning instructions
Add salt, course ground black pepper, sweet paprika and minced garlic to sirloin steak, then add your favorite fruits and veggies. Grill to perfection!