Left Section
CABERNET FRANC
OVERVIEW:
Cabernet Franc is a well-known grape that originated in France in the 17th century. The grape's ability to adapt to various soil types allows it to be grown in many parts of the world.  
PRONUNCIATION:
Kah-behr-neh Fronk
Acres in Missouri:
3.7 acres
Flavors or tasting notes:
Cabernet Franc provides classic fruit notes of strawberry and black cherry in addition to hints of roasted pepper and tobacco.
Taste Profile:
The grape typically produces medium-body dry red wine with balanced acidity and firm tannins.
Ideal Serving Temperature:
Chilled to 65°F
Food pairings:
Lamb, duck, turkey, roasted pork, feta, brie, boursin, red sauce with fresh herbs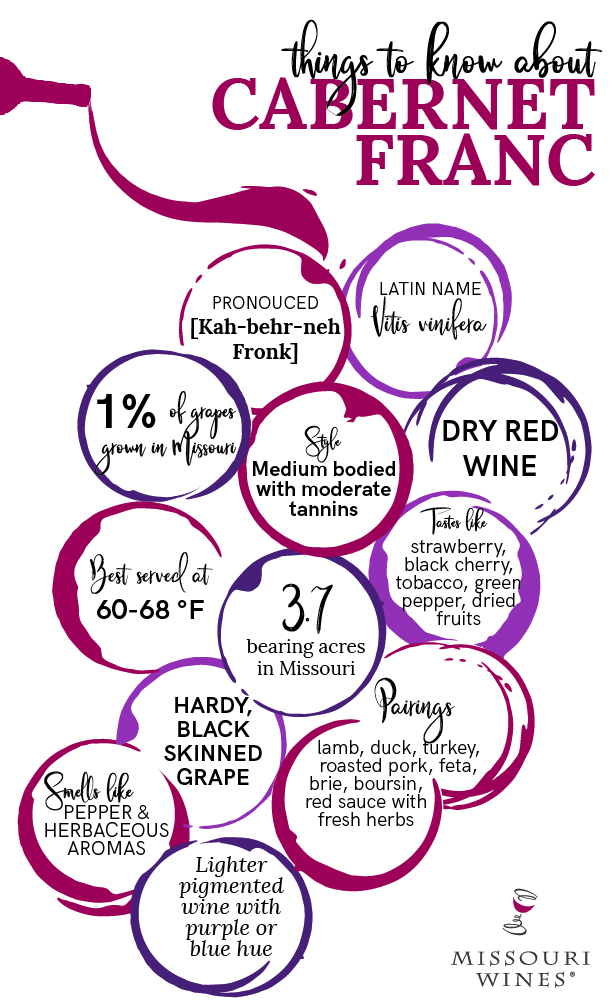 Right Section
CHAMBOURCIN
OVERVIEW:
Chambourcin is a red French-American hybrid grape that competes for one of the world's most popular hybrid grape varieties. It is known for its rich color that adds depth to many red blends. It is known as a teinturier grape (from the French word for "dye") which is known for producing dark juice, rather than clear. Chambourcin is celebrated during the month of November. 
PRONUNCIATION:
sham-bor-san
Acres in Missouri:
11.5% - 195.5 acres
Flavors or tasting notes:
The nose will often pick up notes of cherry and a light oak while it will taste earthy on the palate with strong notes of dark cherry.
Taste Profile:
Smooth, medium-bodied wine with soft and subtle tannins
Ideal Serving Temperature:
65°F to cellar temperature
Food pairings:
Pork loin, burgers, short ribs, red sauce, mushrooms, applesauce, strawberries, figs, brie, camembert, walnuts, cobbler, chocolate cake
Recipe ideas:
Slow-cooker Chambourcin Mushrooms
Chambourcin Wine Reduction Sauce