March 22, 2019
Searching for appetizer ideas? Let your online pursuit end here. This creamy (and absolutely dreamy) Missouri red wine cheese dip is so delicious it deserves six stars out of five. While it may take a little effort to whip it all together, the end result is worth it. Impress your family and friends with this savory cheese spread, destined to be the one snack that keeps people coming back for more.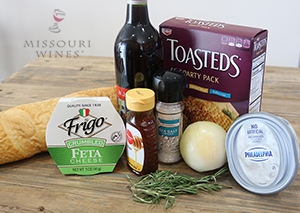 Prep Time: 1 hour I Serving Size: 8
Ingredients:
¼ cup Caramelized onions
2 tbsp Fresh rosemary, minced
5 oz Feta cheese, crumbled
2 tbsp Red wine (we used a semi-dry wine)
3 tbsp Honey
½ tsp Sea salt, fine
8 oz Cream cheese – 1/3 less fat, softened 
Bread or Crackers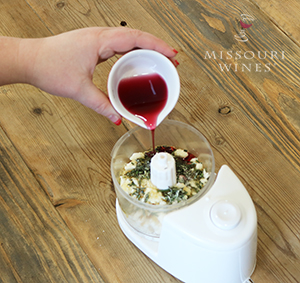 Instructions:
1. Caramelize onions. Place the onions, rosemary, feta cheese, red wine, honey and fine sea salt in a food processor. Pulse until it forms a thick paste, occasionally scraping down the sides.
2. Add cream cheese and pulse until well-blended. 
3. Transfer to a serving bowl, cover and refrigerate for at least 1 hour before serving.
4. Serve chilled with your favorite bread or crackers and Missouri wine.