October 12, 2021
Whether you're looking for the perfect gift for your favorite foodie or would like a fun, flavorful way to use your favorite Missouri wine, this recipe is for you. Wine-flavored finishing salts are a simple yet delicious addition to many meals. With just two ingredients, you can wow even the most delicate palates with salts that share the rich color, bouquet and notes of your favorite Missouri wine.
Sprinkle it on your favorite protein as a finishing salt, add it to your go-to marinade recipe or even use it to add flavor to your favorite breads, starches and veggies.
Ingredients needed:
Favorite Missouri wine, red wines make beautiful salts
Coarse salt, such coarse sea salt, kosher or flake salt
Total time: 3.5 hours
Supplies needed:
Measuring cup
Sauce pan
Tray, one which can be lined or disposable for easy clean up
Jar or other airtight storage container for the finished product
Spice grinder or blender to break up any clumps and get preferred texture (optional)
Steps:
Preheat your oven to 170 degrees Fahrenheit
Combine 1-part coarse salt to 3-parts wine in a saucepan. We've found using 1/3 cup salt to 1 cup wine gives us the perfect amount to fill giftable 4 oz. jelly jars.
Bring the salt/wine solution to a simmer while stirring to dissolve the salt. Simmer for at least 30 minutes to reduce the liquid until it can easily coat the back of a spoon and is almost syrup-like in consistency.
Pour the reduced liquid into a tray and place in the preheated oven.
Stir every 15 minutes to break up any clumps until the salt is completely dry. This should take from two to three hours.
(Optional) Process your dry salt in a spice grinder or blender to break up any clumps or create a finer texture, if desired.
Store the salt in an airtight container.
Sprinkle flavored salt as a finished salt for your favorite protein or add it to your favorite recipe for a hint of your chosen wine's bouquet.
Experiment with different varieties of Missouri wine to find your favorite.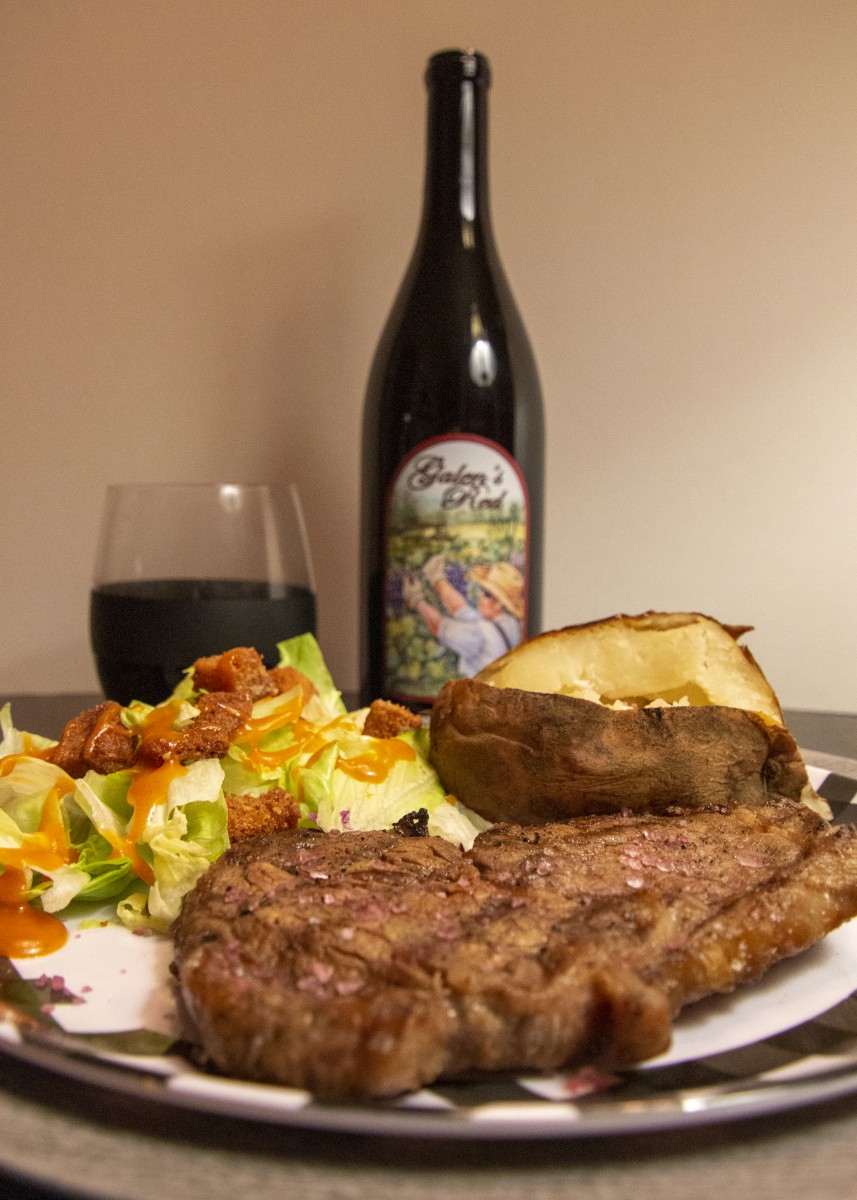 When enjoying a dish finished with your homemade salts, sample a glass of the same wine to bring out all the flavors. Give this a try for yourself and package some jars for unique gifts while you're at it. Share the finished product with us by using #mowine on Facebook and Instagram.