April 27, 2023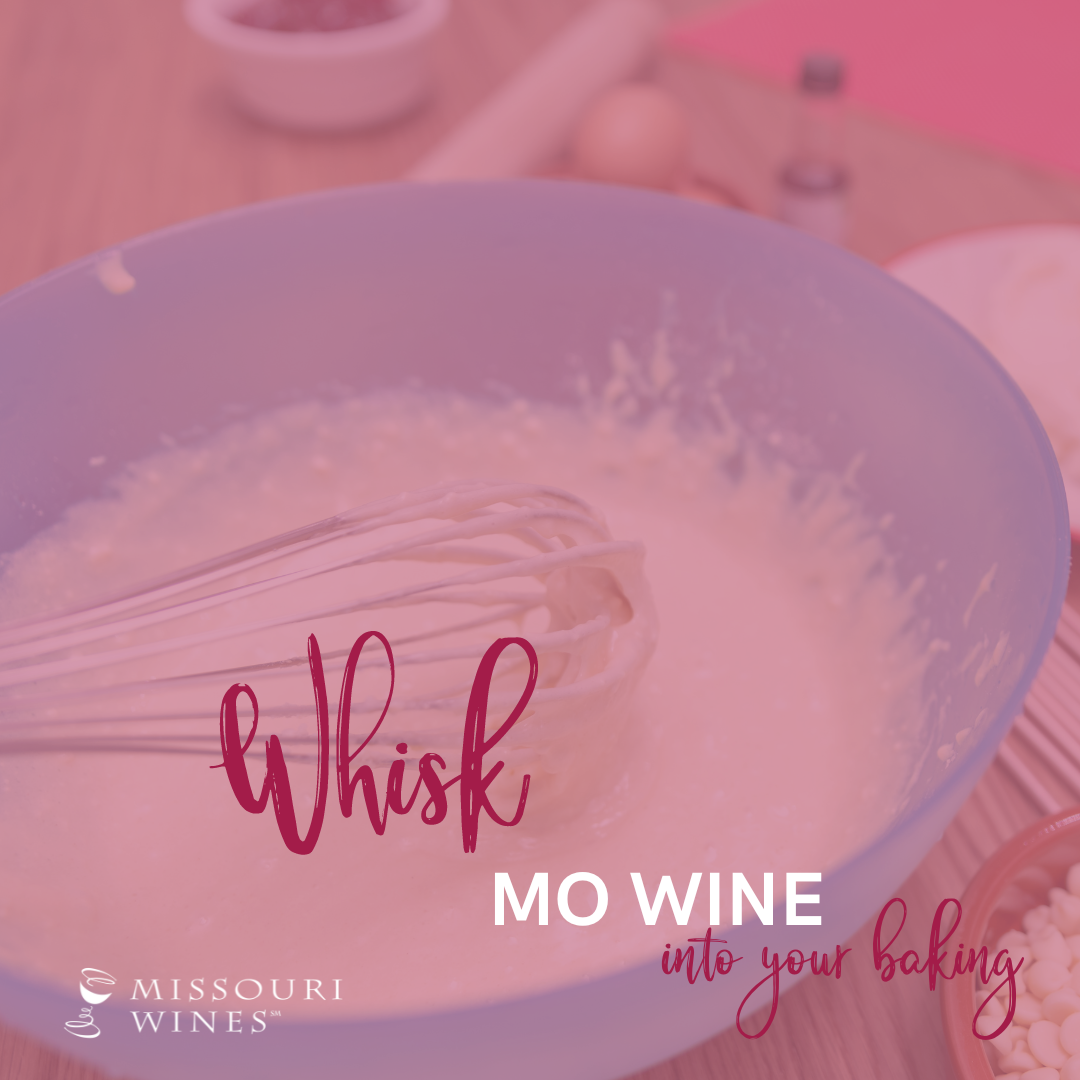 It's widely accepted that cooking is an art, while baking is more of a science. The chemistry involved in successful baking can make it intimidating to experiment, but while there are risks… the rewards can be absolutely delicious. Adding Missouri wine into your baking tool kit may be a little intimidating at first, but once you know the rules, then you know exactly how you can break or bend them. In this post we'll discuss the best ways to incorporate wine into your baked goods.
Pick the perfect wine: You're looking for two main factors: flavor and sweetness. You want a flavor that complements what you're baking and you may need to adjust the other ingredients based on the sweetness of the wine. If you're using a dry wine, no need to adjust the sweetness. A semi-dry wine may call for a very slight reduction in the sugar or other sweetener ingredients. Whereas, a sweet wine has a higher amount of residual sugar and will require a larger reduction of other sweeteners in the recipe.          
Examples of flavor matching:
Vignoles pairs incredibly well with most tropical and stone fruits.
Chambourcin often has jammy notes that work very well with chocolate.
You can find more information about Missouri varietals and their flavor profiles here to help fine the perfect wine for your next baking session.
Drizzle; don't drown: It can be tempting to use a lot of wine in a recipe to ensure the flavor comes through, but in baking, wine often works best in a subtle supporting roll. Remember, you can't take it away once the dish is baked. You can always make a simple wine syrup or glaze to top your creation if you want to up the wine flavor. Consider the liquid content of the recipe as well, you don't want to make the batter or dough too wet. The best way to avoid this is to replace a different wet ingredient completely or partially with wine (i.e. water or oil).
Simple Wine Syrup:
Combine wine with sugar in a wide saucepan or skillet (Good Ratio: 3 parts wine to 1 part sugar). Bring the mixture to a boil, then reduce the heat and simmer until syrupy (i.e. reduced by approximately two thirds). Use it right away or let it cool, bottle, and refrigerate it.
Easy Wine Glaze:
Place 1 cup powdered sugar in a medium-size bowl and add wine a tablespoon at a time until you reach the consistency you'd like your icing or drizzle to be. Mix well and immediately drizzle or spread over cookies, cakes, or breads.
Here are several recipes that already have wine as a featured ingredient. Try them out to get started.
Butterscotch Blondies with Chardonel
Strawberry Catawba Pretzel Tart
Sweet Tooths' Delight Cake Pops
Most importantly, experiment and have fun whisking Missouri wine into your baking!