April 12, 2016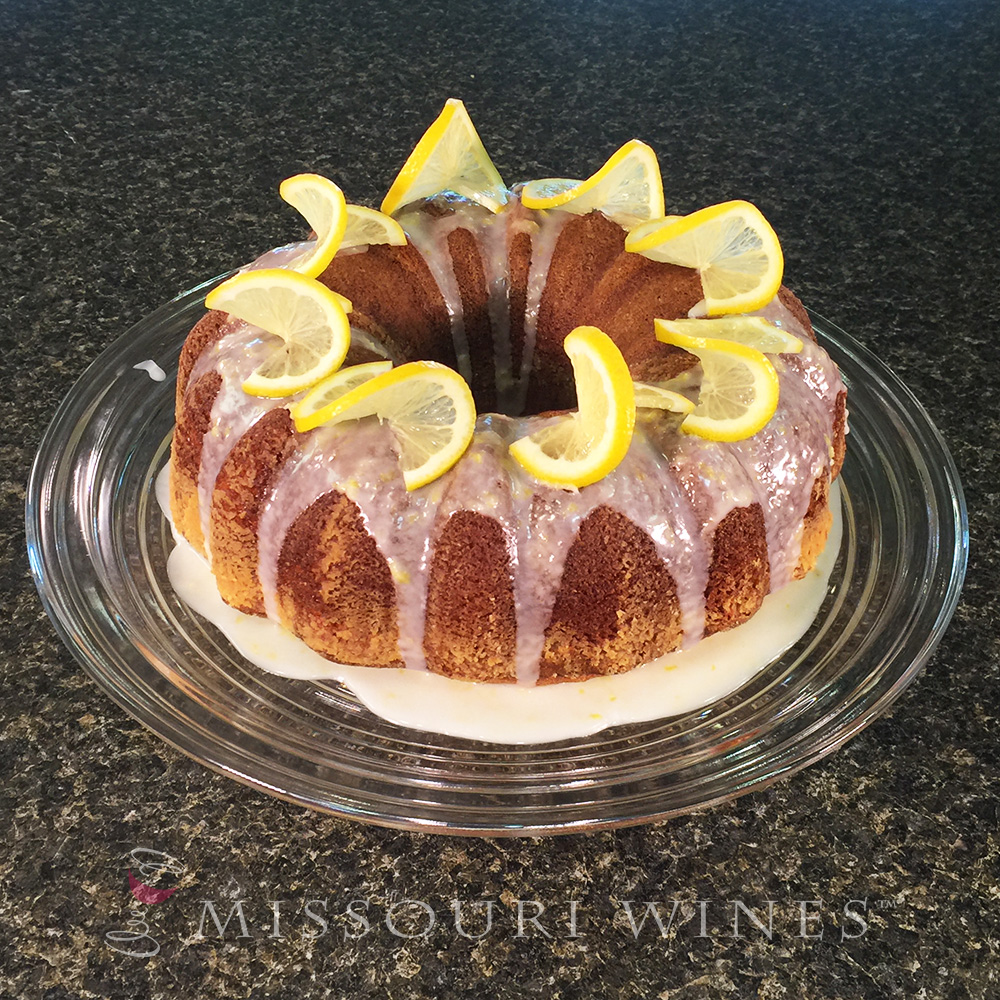 Vidal Blanc wine is light and bright with delicious citrusy notes. It's perfect for adding extra flavor to this springtime lemon cake. This recipe is simple and delightful! Don't forget the glaze; it might be the best part!
Prep Time- 25 minutes         |     Cook Time- 45-55 minutes
Ingredients: 
Pan prep 
2 tbsp    Melted butter
2 tbsp    Flour 
Cake 
1 box     Lemon cake mix 
¼ cup    Brown sugar
¼ cup    White sugar 
1 box     Instant lemon pudding mix (3.4oz)
Zest of 1 lemon
4    Eggs 
¾  cup    Water
¾  cup     Vegetable oil 
½  cup     Missouri Vidal Blanc Wine 
Glaze 
1 cup    Confectioners' Sugar
2 tbsp    Missouri Vidal Blanc Wine  
Zest of 1 lemon 
Directions: 
Preheat oven to 350 degrees (F). 
Melt two tablespoons of butter. Add two tablespoons of flour, and whisk together until smooth. 
Using a pastry brush, coat the inside of a bundt pan generously with the butter/flour mixture. Set aside. 
In a large bowl, combine all the cake ingredients (cake mix, sugars, pudding mix, lemon zest, eggs, water, oil, and wine).  
Beat with an electric mixer until fully incorporated, approximately 2 minutes.
Pour batter into prepared bundt pan.
Bake cake 45-55 minutes, until cake tester comes out clean. 
While the cake is baking, prepare the glaze. 
Glaze instructions: Stir wine into confectioners' sugar one tablespoon at a time until smooth. Stir in the lemon zest and let sit at room temperature for at least 10 minutes. 
Remove cake from oven and let cool in the pan for 10 minutes, then invert on a wire rack to cool completely. 
Once cool, drizzle with glaze. 
www.youtube.com/watch?v=yTon-QgEJoU&feature=youtu
Click play to learn how you too can make a White Wine Lemon Bundt Cake!