Wines to bring with you anywhere
July 01, 2022
Printer Friendly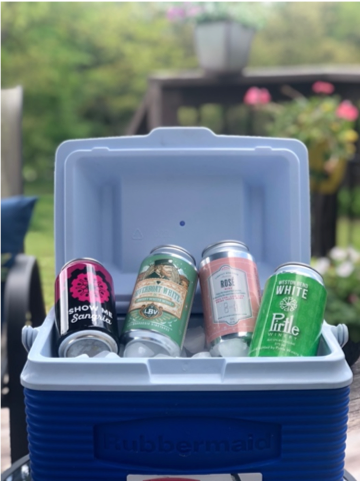 When you're on-the-go enjoying summertime on the water, in the boat or by the pool, don't leave your favorite sips behind. Many Missouri wineries offer alternative packaging that allows you to easily pack and plan with Missouri wine in hand. See several options that make it convenient to pack wine along on your adventures this summer.
*This list was gathered on a survey basis and may not include every winery with such offerings.
Refreshing meets delicious with these canned wines that are unique in flavors and made with real fruit. Noboleis offers their line of Swirl canned wines and their beautiful packaging is just asking to be included in the summer fun.
Get ahold of the refreshing Show Me Sangria perfectly packed in a can from KC Wineworks. You can purchase cans from the winery in Kansas City or at Made in KC Marketplaces and local breweries.
Three of Pirtle Winery's most popular wines are offered in a can. Currently, they offer Rose, Mellow Red and Weston Bend White with this alternative packaging. They will soon release another fan-favorite, Blackberry Mead. You can purchase their cans atthe winery individually or in a four-pack.
Visit the winery to purchase their tasty sangria that is offered in both pin and quart sized plastic bottles. A resealable option that you can pack along.
Les Bourgeois Vineyards at the Blufftop at Rocheport
Captain's Coolers are a fun option if you're looking for something with a bit of 'sparkle' in a can. Offered both in Bonfire Berry and Citrus Cruise. Keep an eye out for other canned favorites like their Riverboat Red.
Several fruit wines are canned by St. James Winery. Look for flavors that include Blackberry, Peach, Strawberry and Mango.
Meramec Vineyards
Enjoy their Sangria in slim cans that are perfectly fit to enjoy at the river or on the lake. The cans can even be recycled when finished.
Enjoy a wine slushie to go from Christine's Vineyard and enjoy in the summertime heat at the river or lake. Served in a collapsible plastic bag fresh and cold.
Their winery offers a sealable pouch that you can fill with your favorite wine or craft cocktail and enjoy later.
The popular wine slushies are offered in to-go pouches that can be easily enjoyed floating on the river, sitting poolside or on the lake.
A few wines are seasonally offered in a convenient pouch. Grab one to-go at the winery when they are in stock.
Check out their canned options at the winery.
Find their canned wines like Sweet Rose on the menu when you visit the winery.
Safely enjoy these Missouri wines all summer long on your adventures. Tag us in the fun on social media @missouriwines and #MissouriWine