Left Section
CONCORD
OVERVIEW:
Concord is an American grape that was selected from the wild in the mid 1800s. Its name is appropriately chosen from its area of origin, Concord, Massachusetts. This varietal produces medium-sized clusters of large berries. It is considered a 'slip skin' grape because its skins is easily separated from the pulp during the winemaking process. Concord is celebrated during the month of July. 
PRONUNCIATION:
kaan - kord
Acres in Missouri:
6.6% - 111.9 acres
Flavors or tasting notes:
Imagine the tastes and aromas that can be enjoyed in a glass of traditional grape juice and you can depict what will be found in a glass of Concord. This sweet red wine often presents a candy-like sweetness with notes of jam.
Taste Profile:
Robust medium-bodied wine that is soft and balanced
Ideal Serving Temperature:
Chilled to 45°F
Food pairings:
Cheddar, aged cheeses, orange chicken, pork chop, barbecue beef, spicy seafood, candied nuts, nutmeg, figs, poached pear, grape pie, peanut butter
Recipe ideas:
 Sweetness Scale: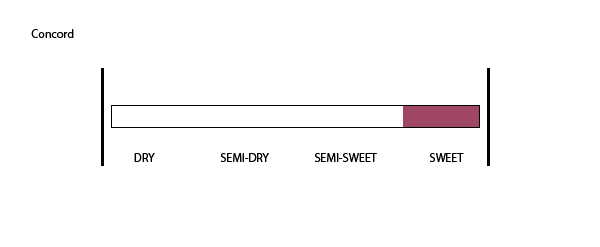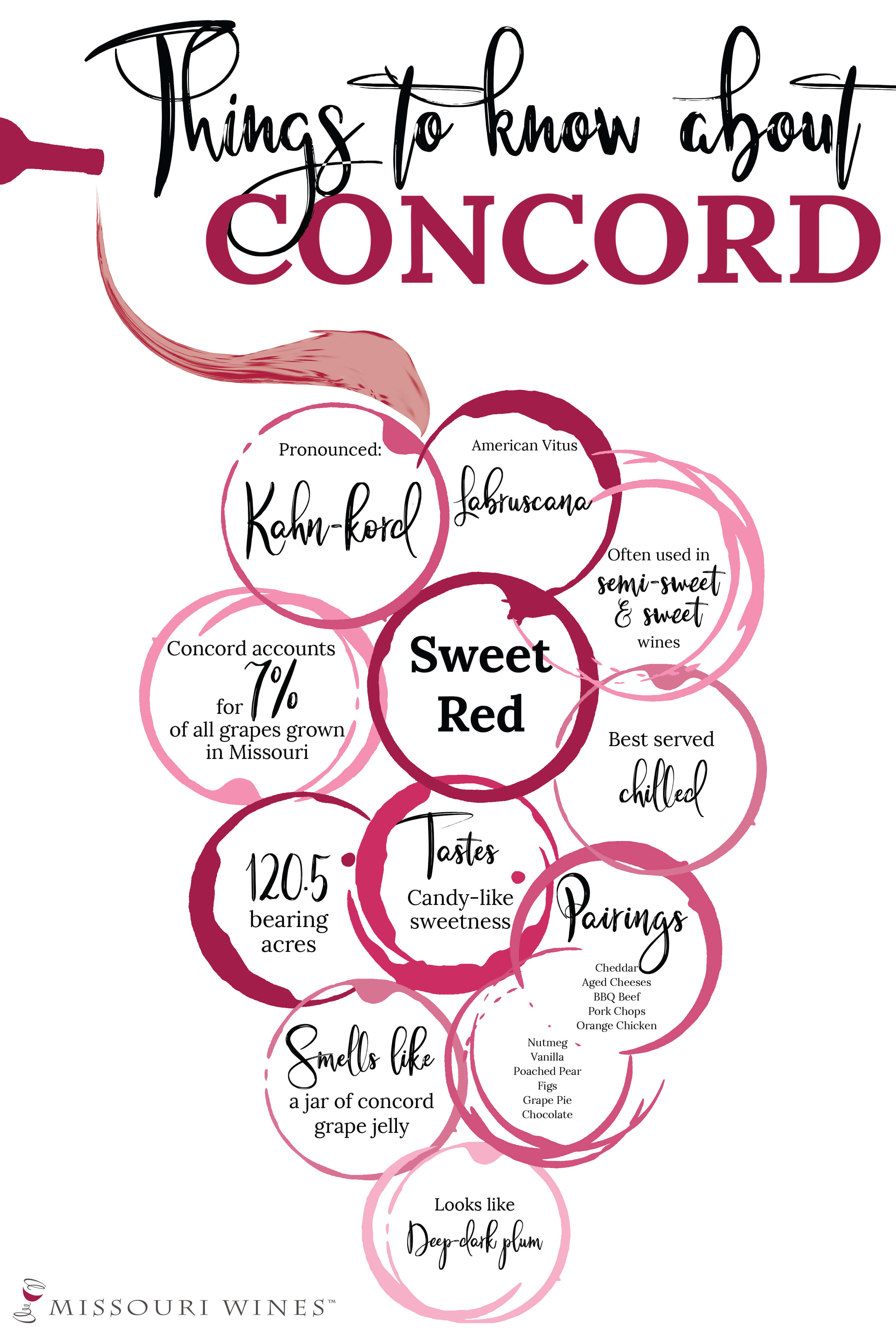 Right Section
LATE HARVEST OR ICE WINE
OVERVIEW:
Late harvest and ice wines are a special type of dessert wines. They are produced by allowing the grapes to stay on the vine past their peak ripeness. As the grape naturally dehydrates, the sugar content becomes more concentrated. Late harvest grapes are typically picked 1-2 months after their normal harvest time.
Ice wine takes things a step further; specifically utilizing grapes left on the vine past the first frost in the fall. This allows them to freeze before they are harvested concentrating the sugar. The grapes are immediately pressed while frozen. Since the water within the grape is frozen, the juice carries more flavor influencing the character and complexity of the wine. Making an ice wine can be difficult since suitable conditions are not always guaranteed.  
Ideal Serving Temperature:
40°F to 50°F
Food pairings:
Gorgonzola, salted or spicy nuts, fruit tart, panna cotta, crème bruleé