July 28, 2022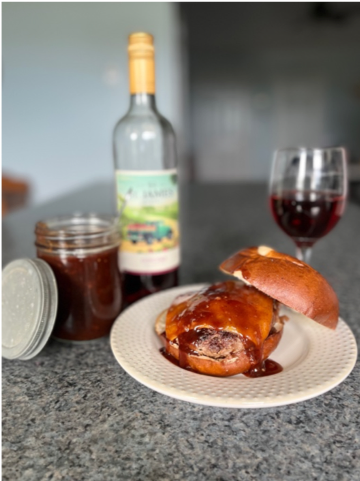 Spice up your summer with some sweet heat from this Concord Wine Barbecue Sauce. This sauce proves that one of Missouri's sweetest grapes can pair well with a little spice. The toasted chili powder gives the finished sauce a kick.
Inspired by the Forager Chef's Spicy Wild Grape BBQ, we think this sauce will work well on summer barbecue staples from wings to pork steaks, and of course a backyard burger. We paired our Concord Wine Barbecue Sauce topped burger with sharp cheddar cheese and a glass of Concord wine.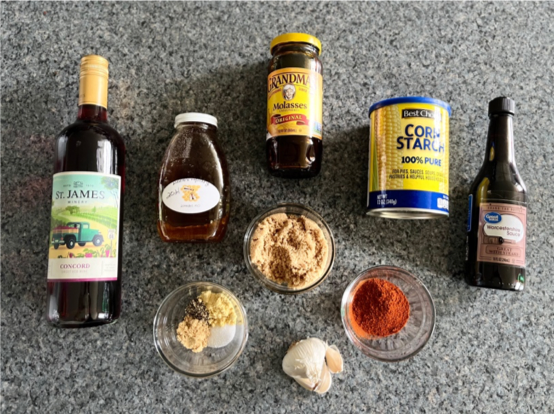 Ingredients
2 c Missouri Concord wine
2 tbsp chili powder
3 tbsp corn starch
½ c brown sugar
3 tbsp honey
1 tsp molasses
1 ½ tsp salt
2 tbsp Worcestershire sauce
1 tsp fresh-cracked black pepper
1 tbsp ground mustard
4 cloves minced garlic
1 tsp ginger
Cook Time: 30 minutes | Yield: 2 cups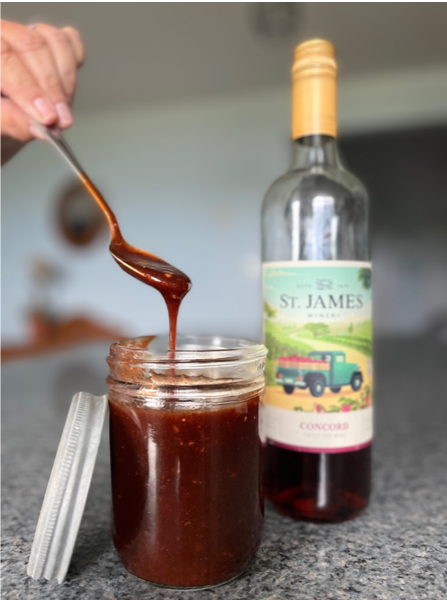 Instructions
Toast the chili powder until it becomes aromatic. Set aside to cool.
Pour 1 ¾ cup of Missouri Concord wine into a medium sauce pan and heat over medium heat.
Combine the remaining ¼ cup of wine with the 3 tablespoons of corn starch to create a thickening slurry. Add the thickening slurry to the wine in the saucepan.
Stir until the cornstarch solution combines with the wine. Then add the honey, molasses and brown sugar.
Continue to stir over medium heat until the liquid comes to a simmer, the cloudiness dissolves and the sauce starts to thicken.
When the sauce approaches the desired consistency, add the remaining spices and seasonings — chili powder, salt, Worcestershire sauce, black pepper, ground mustard, garlic and ginger. Stir to combine.
Let the sauce simmer for a couple minutes to meld the flavors together.
Remove from the heat and enjoy.
Store in the refrigerator in a sealed container for up to a couple of weeks.
Let us know when you give this unique BBQ sauce a try and tag us at #missouriwine and @missouriwine.