June 20, 2013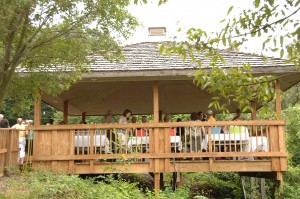 This week we usher in the official start of summer with the Summer Solstice. Missouri has seen a seemingly unseasonably comfortable crescendo into warmer temps this year. As we enter late June, one thing is for sure: these hot and humid conditions are sure to stick around and Missouri wine country is definitely in bloom!
Summertime is the season to unwind. It's time to travel and catch up with family and friends, to be outdoors and relax by a pool. Summer is the season of fun, and what pairs well with fun in the sun? Missouri wine!
Meeting your pals at one of the 120-plus wineries throughout the state is a great way to enjoy Missouri wine country this summer. Check the Missouri Wine events page to see is what exciting things are happening near you. If you're visiting family, pick up a case of your favorite Missouri wine on the way out of town to share. Feel like staying a little closer to home? Host your own barbecue or potluck.
It's summer. It's Missouri wine. Get out and love it!
Beat the heat with Seyval Blanc.
Visit the pool with Vidal Blanc.
Take Catawba to a summer barbecue.
Picnic with Sparkling wine.
Watch the baseball game with Traminette.
Take Vignoles to a family reunion.
Mix things up with a wine cocktail.