Printer Friendly
Vignoles
One of Missouri's most versatile white grapes, this French-American hybrid produces wines ranging from dry to sweet, late harvest dessert wines. Vignoles' luscious floral aroma and fruity flavors of pineapple and apricot make this citrus white wine a favorite among Missouri's wine-buying public.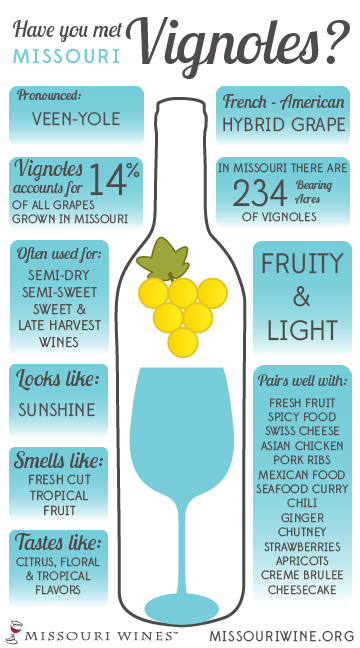 Sounds like: veen-yole
 
Looks like: sunshine 
 
Smells like: fresh cut tropical fruit 
 
Tastes like: an assortment of citrus, floral and tropical flavors 
 
Feels like: light and soft 
 
Pairs well with: fresh fruit and spicy dishes
The Missouri Wine and Grape Board invites you to celebrate August as Vignoles Month.