June 23, 2021
Bright summer days and fresh air are an excellent combination for taking in the outdoors in Missouri wine country. Why not enjoy fantastic wine and scrumptious food together by having a picnic at a Missouri winery? We've got a list of 25 wineries that welcome picnicking patrons to their property.
Please note that this is not an exhaustive list of wineries that allow picnic baskets or outside food, as all information is based on survey responses.
7C's Winery offers up ample picnic space and fully-equipped grills for visitors to enjoy along with their selection of wine and mead. After enjoying your picnic, play a round of disc golf on the winery's on-site course.
Baltimore Bend Vineyard encourages visitors to take in the area's Civil War history as they picnic on the property. For wine enthusiasts who need to substantiate their snacks, the winery offers food for purchase.
Find a shady spot at Blumenhof Vineyards & Winery's patio to enjoy your picnic with friends and catch live music on the weekends. As the weather cools this fall, bring a picnic and cozy up in the winery's heated and enclosed deck.
Brix Urban Winery and Market serves up delightful meads and snacks to accompany your picnic selections. While you're visiting, consider sticking around for a ghost tour or haunted pub crawl of the historic Ste. Genevieve area.
Cave Hollow West Winery is a great spot for guests who want to take in the history and geologic wonder of the nearby Mark Twain Cave and Cameron Cave, and have the ability to picnic as they enjoy delicious wines with Mark Twain-inspired labels.
Cave Vineyard boasts a natural cave where visitors can enjoy their picnic on a hot summer day. Visitors are welcome to bring their own food and non-alcoholic beverages, and the winery offers a mouthwatering selection of fresh bread and local meats and cheeses.
Charleville Vineyard Winery & Microbrewery offers up two scenic patios that are perfect for enjoying a picnic overlooking Ste. Genevieve county. If you're still feeling peckish, sample a variety of local meats and cheeses in the tasting room.
Feel at home in Edg-Clif Farms & Vineyard's rocking chairs and fire pit areas as you enjoy a picnic paired with one of the winery's award-winning wines. Take in the quaint rural scenery as you uncork and unwind.
Fence Stile Vineyard & Winery welcomes guests to sip and snack amongst scenic views of the winery's courtyard and estate vineyards. Visitors can also order snacks and hot paninis from the kitchen.
Four Horses and a Dog Vineyard and Winery invites you to sit back and relax as winery staff bring delectable wines for you to enjoy while you nibble and nosh on your picnic procurements. Let the at-home hospitality and weekend live music ease your spirits as you unwind with food and wine.
Hemman Winery welcomes picnic baskets in their historic building, which was formerly an 1850s country store. Visitors are encouraged to explore the Brazeau village's historic buildings during their visit.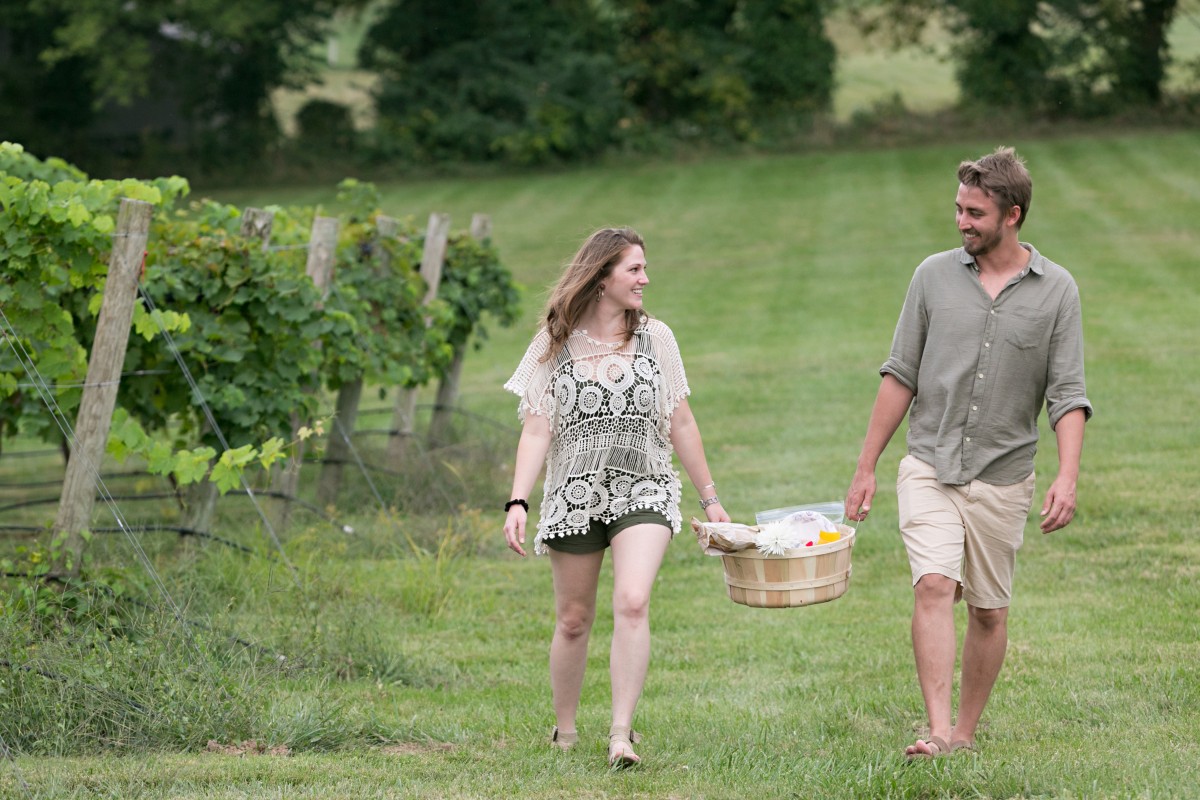 Jowler Creek Winery welcomes guests to bring picnic baskets to their sustainable vineyard, or to try one of their ready-to-enjoy picnic sacks.
Keltoi Vineyard & Winery sets itself apart as a peaceful and serene spot for a picnic and glass (or bottle) of delicious wine. Take a walk around the winery's mile-long trail and marvel at the Celtic-inspired features smattered throughout the property.
Situated between Hermann and New Haven, Kuenzel Valley Winery's signature blue roofs are an ideal cover for enjoying a picnic on a warm summer afternoon. Take in the tranquility of the surrounding valley as you enjoy a glass of great wine with your picnic.
Lambs and Vines Winery allows visitors to enjoy their own picnic foods as they take in the beauty of the Ozarks area. Depending on the time of year, you might catch a glimpse of the woolly workers employed by the winery for vineyard management and wool production.
Lost Creek Vineyard is just off the Katy Trail and an excellent stopping point for a picnic break during your wine adventures. Savor scenic, pastoral views and learn about the lost creek that gave this winery its name.
Bring your picnic basket and experience a guided tasting flight of award-winning mead at Martin Brothers Winery. The rolling hills and surrounding woods are a serene space to relax during your visit.
Noboleis Vineyards gladly welcomes picnic baskets as visitors come to relax with friends under the winery's signature tented pavilion. Forgot to pack enough food for your group? The winery offers a spread of prepared food that pairs flawlessly with their wine selection.
Odessa Country Winery, just outside of the Kansas City area, invites visitors to pack a picnic and enjoy with a bottle of wine on Joe's Catfish Pavilion or in the Hunter's Mancave. Challenge your gang to a free game of pool after sipping and savoring.
Old Farm Winery encourages guests to pack a picnic and spend an afternoon at the winery, where live music and the winery's history are sure to keep you entertained.
Sand Creek Vineyard's spacious veranda is an ideal perch for watching wildlife and enjoying breathtaking views as guests snack on picnic fare. The winery also offers light fare, chocolate and wine-a-ritas for purchase.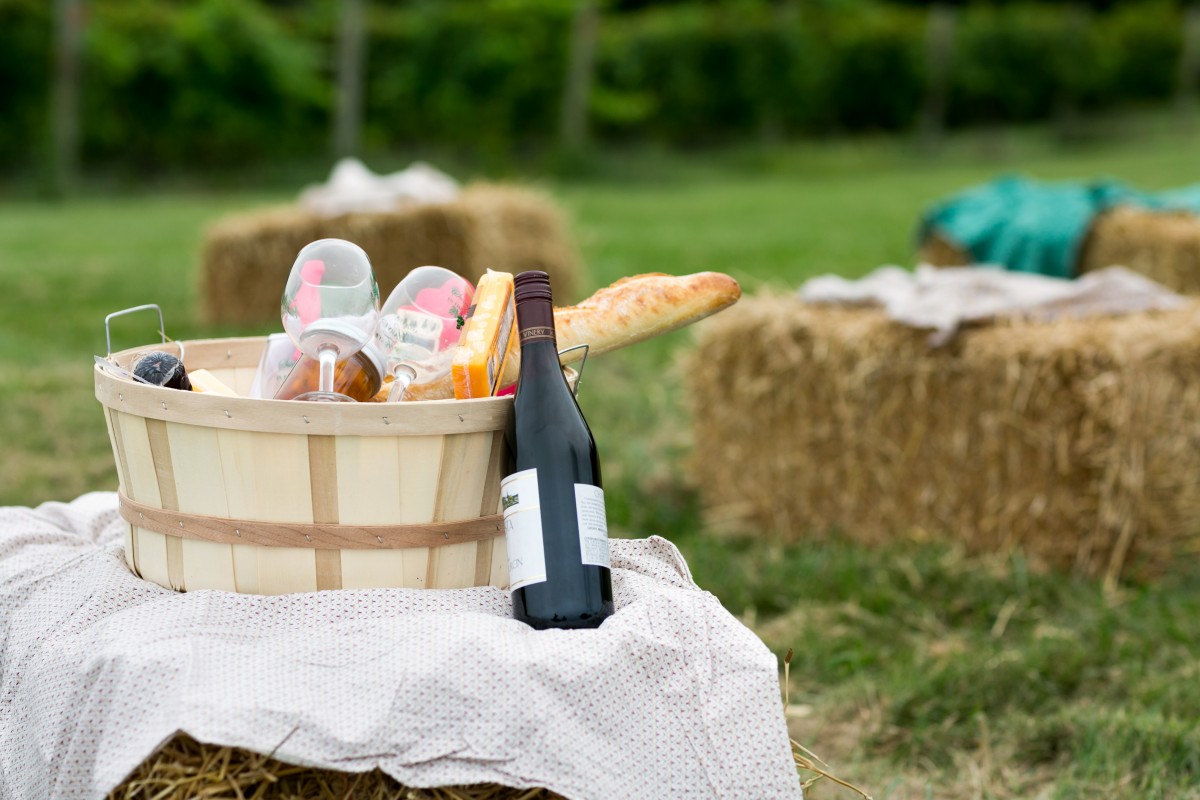 Serenity Valley Winery is a superb lakeside spot for guests to bring their picnic basket for a day of relaxation. Make sure to bring an extra treat to feed the winery's pet ducks and geese that meander the property.
On a steamy summer day, Stone Hill Winery encourages visitors to cool off with a free tour of the winery's historic underground cellars before enjoying a picnic.
Westphalia Vineyards welcomes guests with picnic baskets to enjoy their snacks with sips of sulfite-free wines. While you're visiting the winery, make sure to inquire about local Waygu beef offerings.
Wild Sun Winery & Brewery offers a park-like property with plenty of shade trees for visitors to picnic beneath. The winery has a full menu for especially hungry guests, along with a large selection of wine and beers.
Take a look at our tips for packing the perfect picnic and get ready for your next adventure in Missouri wine country! While you're out and about, make sure to share photos and use #MOWines.