Left Section
TRAMINETTE
OVERVIEW:
Traminette ranges from dry to semi-dry or even semi-sweet. This medium-bodied white wine is similar to its parent Gewürztraminer. Its floral aromas are met with citrus fruit, a tangy acidity and a touch of spice on the end. This fun, complex wine is great for a lunch outing or appetizers. 
PRONUNCIATION:
tra-men-et
Acres in Missouri:
5% - 85.3 acres
Flavors or tasting notes:
floral aromas with tangy citrus and light spice
Taste Profile:
light-bodied, complex and acidic
Ideal Serving Temperature:
Between 44–55°F
Food pairings:
Grilled chicken, pastas or dishes with cream sauce, seafood or vegetable curry, Muenster cheese, and a variety of Asian and Mexican dishes
Recipe ideas:
Feast Magazine: Thai-Style Traminette-Steamed Mussels
Traminette Chicken Fettucine Alfredo
 Sweetness Scale: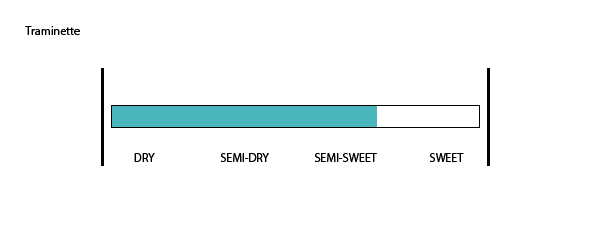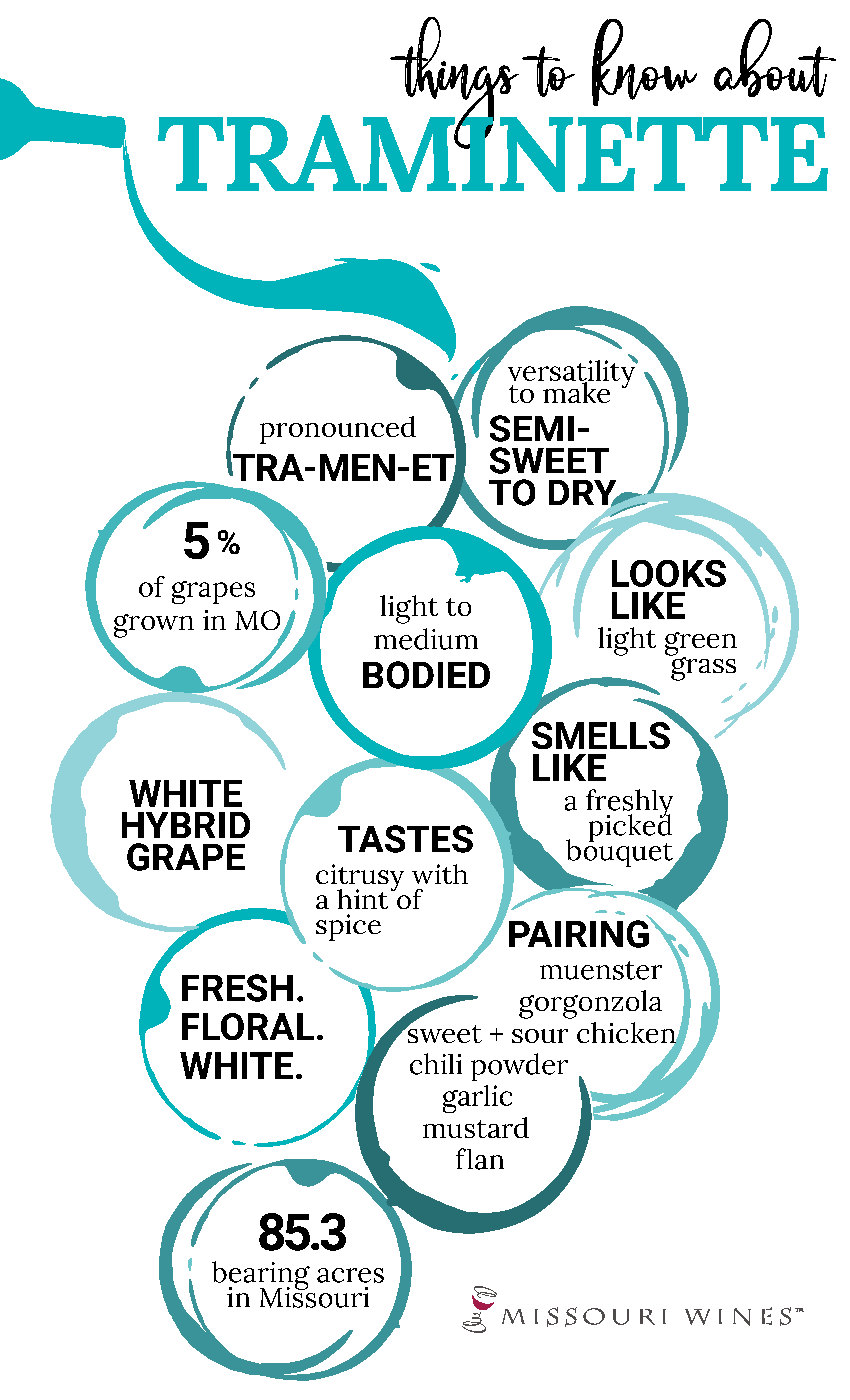 Right Section
VALVIN MUSCAT
OVERVIEW:
Valvin Muscat is a white interspecific grape cultivar developed in the 1960s by Cornell University New York State Agricultural Experiment Station. The vines produce small, compact grape clusters and are moderately cold hardy.
PRONUNCIATION:
VAHL-vin muh-skat
Acres in Missouri:
50.2 acres
Flavors or tasting notes:
This wine has complex aromas fruit notes including peach, mango, nectarine and orange blossom. The spicy undertones and floral aromas work well for producing highly aromatic varietal wines and work well for wine blends.
Taste Profile:
The wines may have some mineral undertones, a clean crisp finish and refreshing acidity.
Ideal Serving Temperature:
Chilled to 55–60°F
Food pairings:
Spicy dishes, Indian, Thai food, brie