December 01, 2022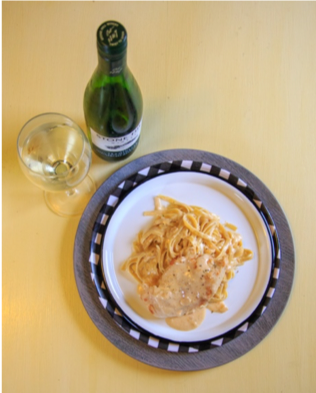 A splash of Missouri Traminette brightens up creamy chicken Fettuccine Alfredo. It lends its light citrus flavors, acidity and hint of spice to this dish's salty and savory dairy elements, like parmesan cheese and heavy cream. Together, alfredo sauce and Traminette make the perfect pairing — in just 30 minutes.
Ingredients
2 chicken breasts, halved into four thin filets
Garlic salt to taste
3 tbsp butter
1 medium onion chopped (1/2c)
4 cloves of garlic (or equivalent minced garlic or garlic paste)
1/3c Missouri Traminette wine
1 2/3c heavy cream
1c grated parmesan
Black pepper to taste (or red pepper flakes if you prefer)
1/2 box Fettucine pasta
1 serving spoon of pasta water
Instructions
Half the chicken breasts lengthwise to make thin filets. Pat chicken dry and season both sides generously with garlic salt.
Add water to a pot for pasta, salt water if desired and begin to bring to a boil for pasta.
Heat large sauté pan over medium-high heat and melt 1 1/2 tablespoons of butter in pan before adding chicken.
Cook chicken filets in pan until fully cooked — approximately 4-8 minutes per side, depending on the thickness.

Remove chicken from pan and set aside to rest.
Add Fettucine noodles to pot of boiling water and prepare according to the package instructions.
Add 1 1/2 more tablespoons of butter and onions to sauté pan where you cooked the chicken. Sweat the onions until they begin to turn translucent.
Add the garlic and heat until it becomes aromatic, being careful not to burn it.
Deglaze the pan with a 1/3 cup of Missouri Traminette wine. Don't worry if the mixture looks brown. The wine is releasing all the chicken fond and butter flavor that has been building in the pan. Bring to a simmer to let the wine cook off slightly before adding the heavy cream.
When the wine/cream mixture begins to simmer, slowly begin adding the cheese until it is all melted and incorporated into the sauce. Add black pepper or chili flakes to taste.
Ladle a spoonful of pasta water into the sauce to make it glossy and smooth.
Drain the pasta.
Toss some sauce with the noodles and top each portion with chicken.
Garnish with herbs or extra parmesan cheese.
Serve & enjoy! 
Try this easy and delicious recipe and let us know what you think. Tag us on social media with @missouriwine and #missouriwine and share!