Left Section
TRAMINETTE
OVERVIEW:
Traminette ranges from dry to semi-dry or even semi-sweet. This medium-bodied white wine is similar to its parent Gewürztraminer. Its floral aromas are met with citrus fruit, a tangy acidity and a touch of spice on the end. This fun, complex wine is great for a lunch outing or appetizers. 
PRONUNCIATION:
tra-men-et
Acres in Missouri:
5% - 85.3 acres
Flavors or tasting notes:
floral aromas with tangy citrus and light spice
Taste Profile:
light-bodied, complex and acidic
Ideal Serving Temperature:
Between 44–55°F
Food pairings:
Grilled chicken, pastas or dishes with cream sauce, seafood or vegetable curry, Muenster cheese, and a variety of Asian and Mexican dishes
Recipe ideas:
Feast Magazine: Thai-Style Traminette-Steamed Mussels
Traminette Chicken Fettucine Alfredo
 Sweetness Scale: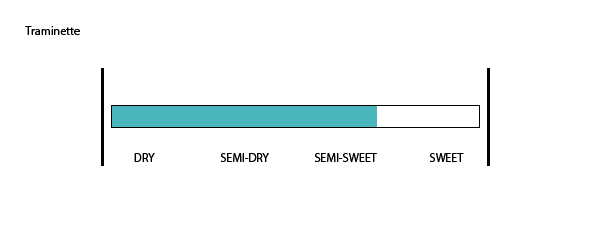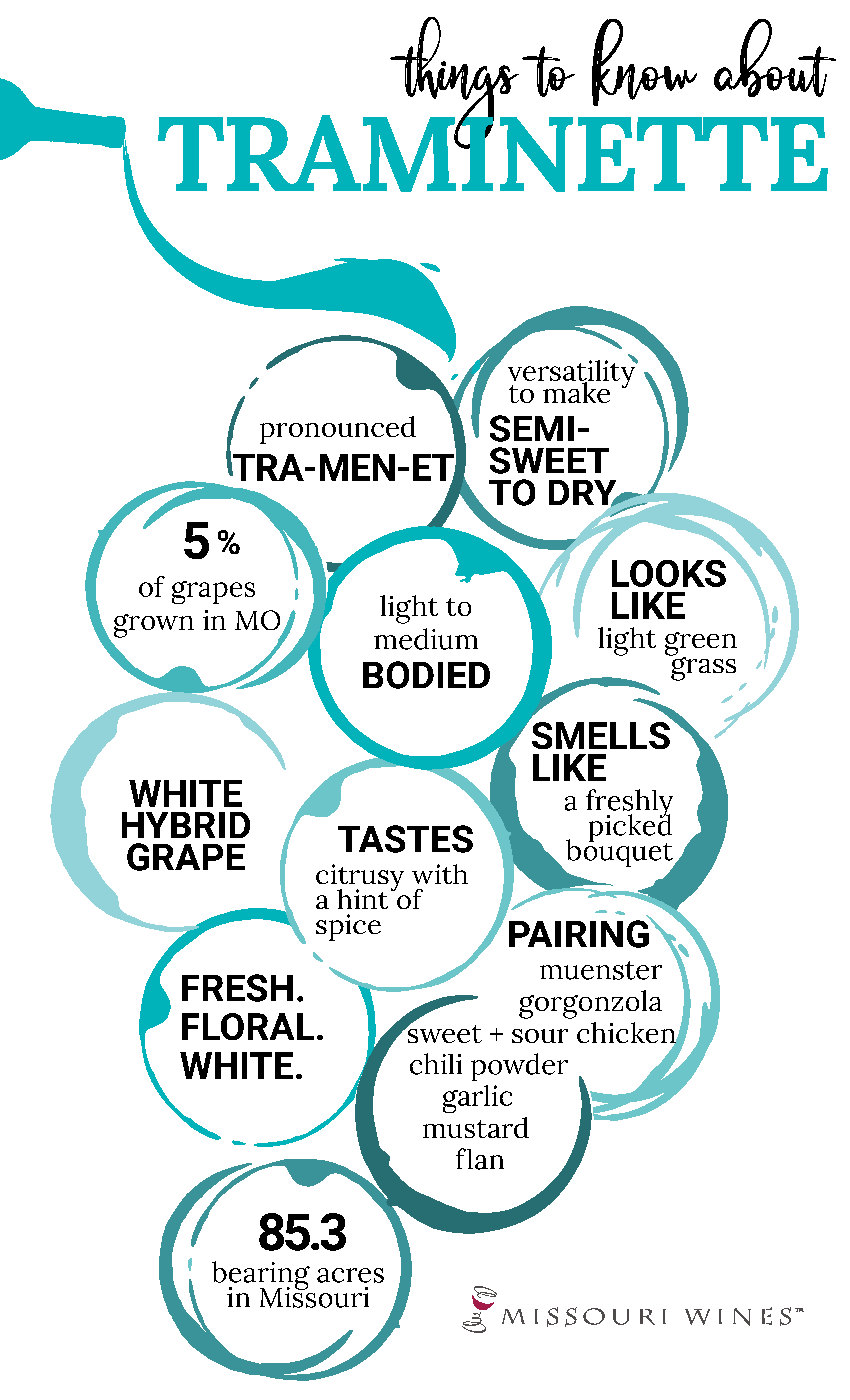 Right Section
SPARKLING WINE
OVERVIEW:
Missouri's sparkling wines range from dry to sweet, white to rosé, and can have a light to medium body. Many of the Show Me State sparkling wines utilize Méthode Champenoise, meaning they are made in the same traditional method used in Champagne. This process is completed with a secondary fermentation within the bottle. This fermentation creates carbon dioxide – the fine bubbles we all love. 
Ideal Serving Temperature:
30 to 40 minutes in ice or three hours in the refrigerator. The ideal temperature to serve sparkling wine is around 40 to 45 °F
Food pairings:
Fried Chicken, Havarti cheese, oysters, popcorn, fresh berries.