Summer Sipping: Wine Slushies
July 20, 2017
Printer Friendly
Wine slushies are the perfect summer sipper. They're light, refreshing and most importantly… they're ice cold! Wineries across the state know how sweltering Missouri summers can be. You'll find a wide variety of wine slushy types and flavors throughout Missouri wine country, everything from peach Bellini, to wine-a-rita, to good old-fashioned Concord. Head out to a local winery to discover what a treat a frosty wine slushy can be on a hot summer day, but don't wait too long, many wineries only feature this chilled treat during the summer months.
Here are some of the wineries where you'll find wine slushies on the menu.
Adam Puchta Winery – Hermann
Baltimore Bend Vineyard – Waverly
Cedar Lake Cellars – Wright City
Edg-Clif Farms & Vineyard – Potosi 
Endless Summer Winery – Hermann
Fahrmeier Farms Winery – Lexington 
Hummingbird Vineyard and Winery – Mexico
KC Wineworks – Kansas City
Ladoga Ridge Winery – Smithville
Les Bourgeois Vineyards – Rocheport
Montelle Winery – Augusta 
Montserrat Vineyards – Knob Noster
Riverwood Winery – Rushville
Serenity Valley Winery – Fulton
Stone Hill Winery – Hermann
Twin Oaks Vineyard and Winery – Farmington
West Winery – Macon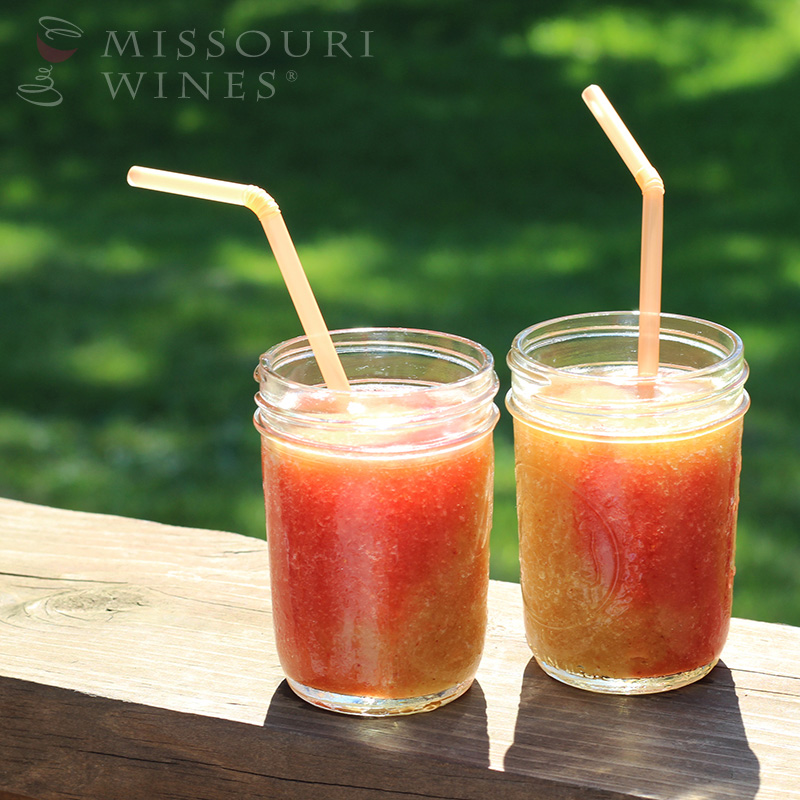 Get inspired by all the delicious wine slushies you discover in Missouri wine country and make your own at home. The possibilities are limitless, but here is a recipe for a Fruity Vignoles Slushy to get you started. Cheers to summer sipping!