June 08, 2013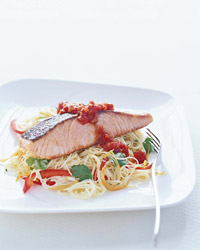 June is National Seafood Month. Summertime is the perfect season for preparing seafood because it is a versatile food that can be prepared numerous ways and offers plenty of flavors and seasonings. And all that variety means plenty of wine-pairing options too.
At one time, it was believed that only pairing white wines with seafood was acceptable. But as mentioned before, some rules are meant to be broken – at least in the food-and-wine-pairing world. Red wines can complement various types of seafood just as well as whites.
Although, there are a few guidelines by which to stand – no one wants complete culinary chaos. The concept that a full-bodied wine goes well with a full-bodied fish still holds true. The preparation technique of the fish can also impact which wine pairs best. For example, a roasted fish will result in a heartier texture therefore will pair well with a more robust wine, like Chambourcin. A fish poached in olive oil will create a softer texture, which will pair better with a light-bodied wine, such as Vidal Blanc. Rosé is also a nice match for various seafood fare.
It's no secret that Missouri is landlocked, but you can find fresh seafood at almost any grocery store or restaurant. Be sure to keep an eye out for locally raised fish from Troutdale Farm.
If you don't have time to test various pairings, it's a good idea to keep a bottle of Vidal on hand. It will pair well with most seafood dishes, particularly lean white fish.
As always, the best food and wine pairing is the one that you like. These recipes will get you started. Enjoy!
Roasted Salmon with Tomato Jam: This recipe produces a flavor-packed result. It's easily simplified by omitting the vermicelli and following the "easy" (i.e., quick) method of making the jam.
Pair with Chambourcin.
Fried Beer-Battered Fish: A classic! Skip the fries, and whip up a fresh salad with Missouri-grown produce for a nutrient-rich side.
Pair with a Sparkling wine.
Poached Scallops: Scallops have a natural, slightly sweet flavor that is highlighted in this recipe. Served with green beans, you've got a perfect midsummer's night meal.
Pair with Vidal Blanc or Chardonel.
Spicy Coconut Fish Curry: This dish packs some heat along with plenty of sweet and spicy flavor.
Pair with Vignoles.
Shrimp in Garlic Sauce: These tasty shrimp can be served as an appetizer or as a main dish. The recipe combines garlic, spicy olive oil, lemon juice and plump shrimp. What's not to love?
Pair with an oaky Chardonel.
Sushi Bites: Follow these steps for a creative take on a traditional sushi roll. This recipe is quick, easy and delicious – it's the perfect summer appetizer!
Pair with a Sparkling wine.
Creamy Seafood Risotto: Shrimp and crab folded into a creamy combination of clam base and risotto will delight your taste buds. This dish can be filling, so it's perfect to serve to a crowd at a summer get-together.
Pair with Traminette.