Missouri Wine 2019 Bucket List
January 08, 2019
Printer Friendly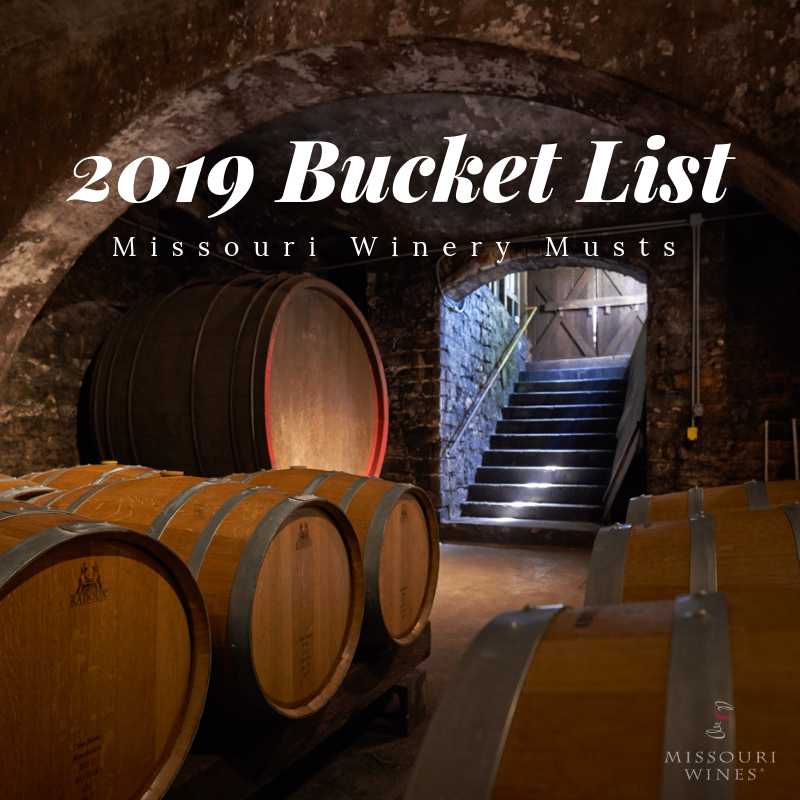 The year is full of possibility with many great opportunities to explore Missouri wine country. Not sure where to start? We invite you to take our 2019 Bucket List challenge. See how many of these wonderful experiences you can mark off your list. Make 2019 a year to remember!
Experiences you won't want to miss this year:
Enjoy the many Missouri Wine Trails – Did you know there are 11 wine trails across the state? 
Capture the perfect selfie – with the breathtaking views of valleys and rivers across the state, the chances of capturing the perfect selfie with great lighting are likely!
Get your band fix while listening to live music – many Missouri wineries feature live music throughout the year. 
Break a sweat in the vineyard – or don't! But seriously, enjoy yoga in the vineyard at several wineries across the Show Me State. Watch our calendar for upcoming yoga events. 
Stay and play – there are 21 wineries that have on-site lodging for you, your friends and family.
Get the behind-the-scenes scoop – 63 wineries across the state offer tours of their facilities. 
Deepen your appreciation for the winemaking business – experience harvest season by traveling to harvest festivals across the state. Many wineries have a lot of fun with this time of year and thoroughly enjoy getting to share this time with folks from all over. 
Channel your inner explorer self – get out and see the eight things you never thought you'd find in Missouri wine country.
Be on the lookout for special events year 'round – like special Valentine's Day events, Mother's Day outings and even fireworks on Independence Day. 
Worried that not everyone in your group enjoys wine? – Don't fret, there are many wineries in the state that also brew their own beer. 
There are so many things to see and do across Missouri wine country that we recommend visiting in 2019. As you're out and about and checking items off of your bucket list, get rewarded for your visits! Become a Missouri Wine MVP member today!