As with many things in life, camping is all about location. From waking to take in the fresh, crisp air, to enjoying the evening stargazing by a campfire, camping is an amazing way to relax and connect with nature. Bringing Missouri wine along for the trip only adds to the experience. While enjoying the great outdoors has many positives, it also can bring challenges. Read on for tips and ideas for wine-lovers headed out on the trail.
Containers:
You shouldn't judge a book by its cover, but a wine's container can make a big difference when you're camping. Some campsites don't allow glass. Wine bottles, while beautiful, do not always fit well in coolers, and they can add significant weight if you're backpacking or just bringing a picnic along on a hike. Don't fret - there are ways to face this challenge.
Alternative packaging, such as cans, is becoming more readily available. Click here for a list of wineries offering alternative packaging. Reusable re-packaging options are available as well, such as insulated, metal growlers and unbreakable bottle bag options. You can also fill a bladder pack with wine. The key for repackaging your wine is ensuring the least amount of air exposure as possible. Remove as much air as you can and it should last 4-5 days.
Temperature:
The weather is obviously a major concern when camping as you're much more exposed to the elements. If you're camping in warm weather, you don't have to take up valuable cooler space. Remember that red wine is best served at cellar temperatures (i.e. approximately 55-60 degrees), but there are other ways to chill wine if you prefer white or rosé.
If you're camping near water, let the water do the work. Just ensure your wine is well sealed and the bag being submerged is secured. Pre-freeze your own sangria concentrate using fruit juice, fruit, and sweetener as desired, and keep it in an airtight container with your other ice. Simply add your wine to both chill it and make a quick and delicious sangria.
If you're cold-weather camping, leaving your wine outside for a few hours or in a snowbank is a great way to chill it, but not for too long as it can freeze. Treat it as you would any food items if you are in bear country.
Tools: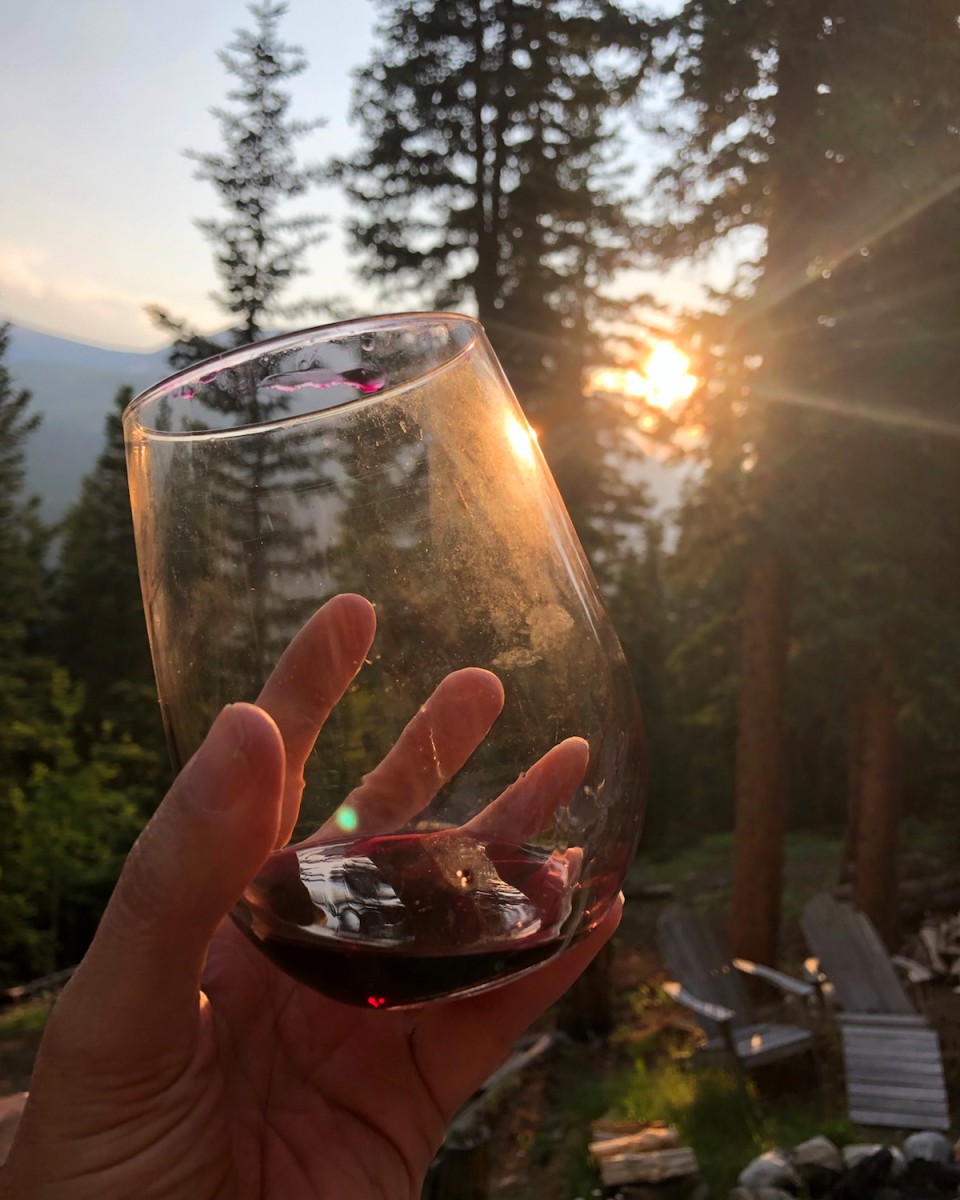 If you choose to bring wine with a cork closure or you plan to visit wineries while you're traveling, remember to bring a corkscrew. Swiss Army knives or multi-tools often have corkscrews and can be very useful when camping. Also, silicone or plastic wine glasses are quite easy to find and can elevate your camping experience. Take a look at your favorite local winery gift shops for some fantastic options.
Pairings:
Most camping meals are cooked over an open fire. The smokiness and richness this adds to food makes Norton and Chambourcin wonderful options for pairing. However, don't count out white wines such as the mild butter and earthiness of Chardonel and refreshing fruitiness of Vignoles.
When you plan your next camping trip, keep these tips and ideas in mind for bringing Missouri wine along for the adventure! Click here for a list of places to camp in Missouri wine country.