Left Section
CABERNET FRANC
OVERVIEW:
Cabernet Franc is a well-known grape that originated in France in the 17th century. The grape's ability to adapt to various soil types allows it to be grown in many parts of the world.  
PRONUNCIATION:
Kah-behr-neh Fronk
Acres in Missouri:
3.7 acres
Flavors or tasting notes:
Cabernet Franc provides classic fruit notes of strawberry and black cherry in addition to hints of roasted pepper and tobacco.
Taste Profile:
The grape typically produces medium-body dry red wine with balanced acidity and firm tannins.
Ideal Serving Temperature:
Chilled to 65°F
Food pairings:
Lamb, duck, turkey, roasted pork, Feta, Brie, Boursin, red sauce with fresh herbs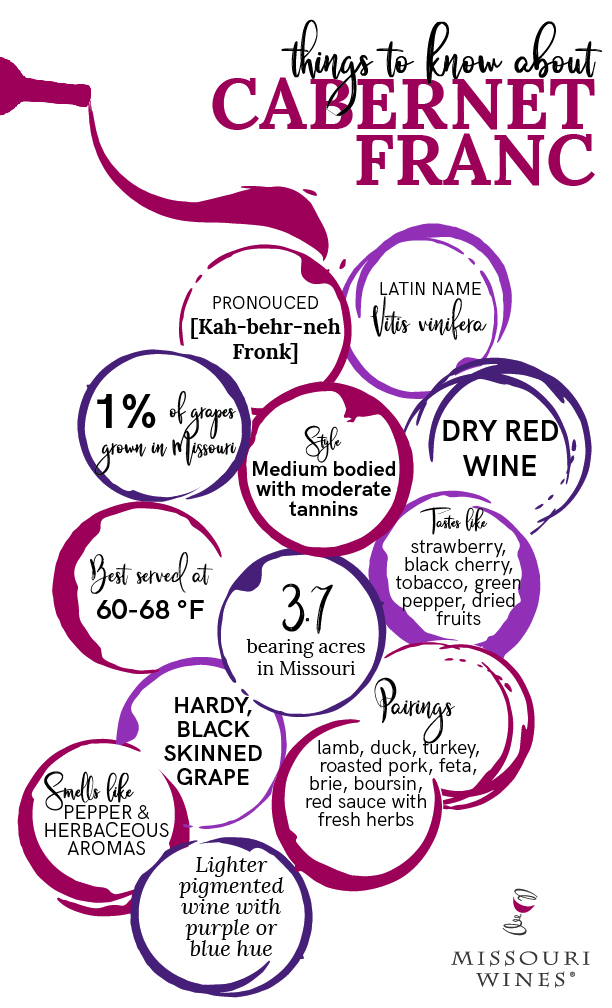 Right Section
SEYVAL BLANC
OVERVIEW:
Seyval Blanc is a French-American hybrid grape that makes a dry to semi-dry, clean, crisp medium-bodied wine with an herbal, fresh flavor. When it is barrel fermented, it can take on an oak complexity indicative of Chardonel.
PRONUNCIATION:
say-vahl-blahnc
Acres in Missouri:
2.5% - 41.8 acres
Flavors or tasting notes:
herbal spices, pear and oak (if fermented in barrels)
Taste Profile:
medium-bodied, clean and crisp
Ideal Serving Temperature:
Between 38–45°F
Food pairings:
Grilled chicken and fish, green vegetables, sushi, white cheeses, pasta & cream sauce, lemon cake & melon
Recipe ideas:
Missouri White Wine Shrimp Linguine
Sweetness Scale: