Tourism Tools for Exploring MO Wine Country
September 26, 2017
Printer Friendly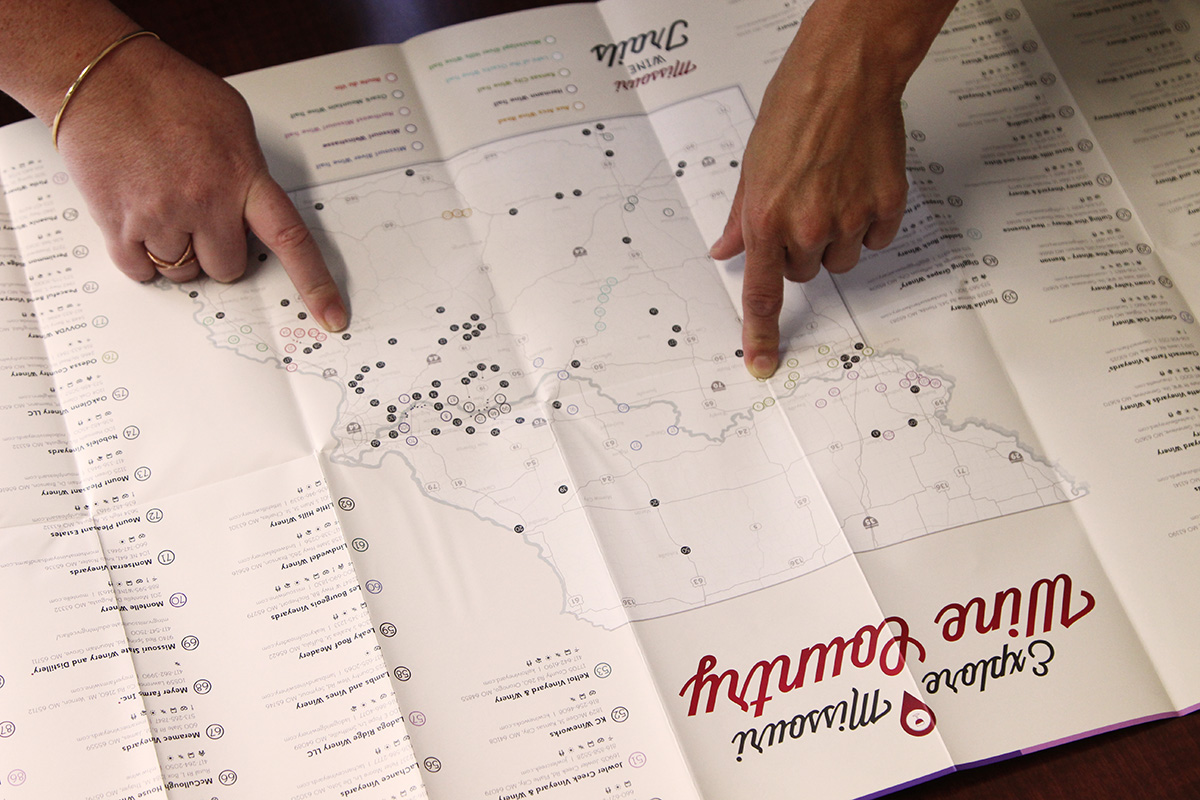 September 27th is Tourism Day, but we think every day is a good day to explore Missouri wine country. However, with more than 130 wineries and 12 wine trails scattered all over the state, how are you supposed to figure out where to go and when? We know it can be daunting, so we have several tools to make planning your next vino adventure easier.
Interactive Winery Maps
On the wineries section of our website, we have an interactive map search that can be used in two different ways, by distance or keyword. If you want to plan your trip based on location, select Distance. From there enter the zip code and how far away from that zip code you're interested in going and Submit. The map will show you all of the wineries in that area. You can see details about the winery by clicking on the map dots or select Show List View if you prefer to evaluate the results in a list format. The keyword search works very similarly except that the map shows the wineries that match the keywords you entered. You can take your search even further by using the Refine by Amenities option. If you'd like wineries that offer tours or food or are pet friendly, you can narrow the results using this tool. If you prefer to use a physical map, we have that too and can send you one when you use the Request a Winery Guide form.
Wine Trails Map and Info
There are now 12 wine trails across the state, each offering a unique experience. You can see where they lie on the map, a description of what they're all about, and a list of member wineries on the wine trail section of our site. You'll also find links to the wine trails' websites for specific event and promotion details.
Pre-planned Wine-tineraries
On the Travel section of our site, we have several downloadable trip ideas ranging from wineries and attractions along Route 66, to a triangle tour of Missouri's metro areas and nearby wineries. These can be adjusted or used as a ready-to-go getaway guide. You'll also find travel and tourism related blog posts on this page to help inspire your next Missouri wine adventure.
Go, Do Calendar
One of the best things about having such a varied group of wineries in the state are all the unique and exciting events they host. Check out this calendar for event listings at area wineries or where Missouri wines will be featured. You'll find everything from DIY craft nights, to yoga in the vineyards, to wine festivals.
We hope these tools help you plan your next trip to explore Missouri wine country, and don't forget you can earn rewards just for visiting participating wineries as an MVP. Click here for more info about the rewards program.