June 07, 2022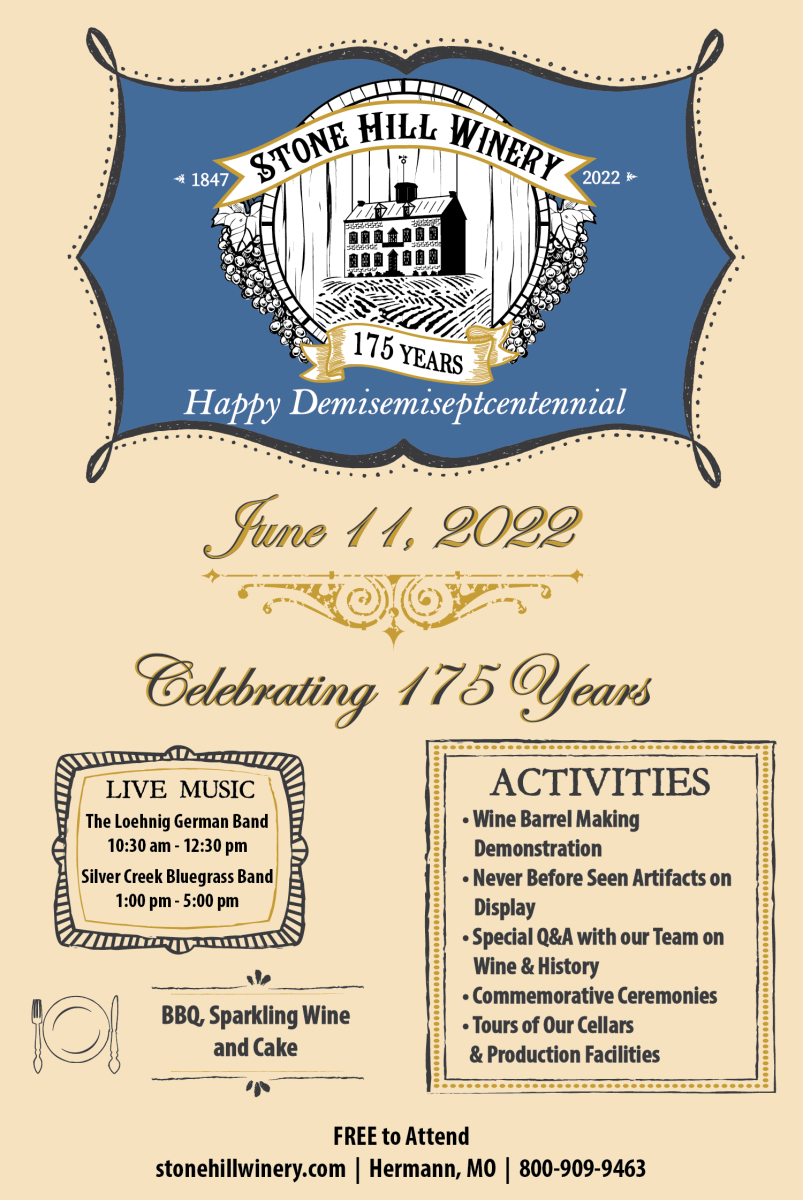 Stone Hill Winery in Hermann, Missouri is celebrating its 175th anniversary this year. Known as the oldest winery in the state, Stone Hill Winery paved the way for Missouri wines by exhibiting the quality of native and hybrid grape wines to an international audience. In 1873, the winery received the top honor at Vienna's World Fair with their wine being named the Best Red of All Nations. Much other award and acclaim has been attributed to their wines during this time. Not only were they the second largest winery nationwide, but also elevated Missouri to the second largest wine producing state pre-prohibition.
The Great Wine Blight threatened European wines, creating huge losses of their grape crop for decades in the late 1800s. Stone Hill Winery generously shared vines to aid in combatting the phylloxera louse to create solutions preserving a number of European grape species.
Prohibition was detrimental to Missouri's wine industry, eliminating all wineries from production in the early 1900s. Stone Hill Winery's famed cellars were put to good use during this lull of time. White cap mushrooms were grown for the next several decades until Jim and Betty Held purchased the winery in 1965. The Held family helped reinvigorate the Missouri wine and grape industry and still operate the winery today. They mirror pre-prohibition acclaim as they are recognized for their large number of national and international awards.
The "Demisemiseptcentennial" celebration will be held June 11 from 10:30 AM to 5:00 PM at the winery. This Jubilee Celebration features many free activities including:
Live music from "The Loehnig German Band" & "Silver Creek Bluegrass Band"
Q & A session with Stone Hill Winery team featuring Jim and Nathan Held
BBQ, sparkling wine, wine slushies and cake
Commemorative ceremonies
Release of a limited-edition Cream Sherry (aged 21 years in the barrel)
Wine barrel making demonstrations by the Independent Stave Company
Never-before-seen historical winery artifacts in the museum room
Cellar and production facility tours
Congratulations to Stone Hill Winery on celebrating this milestone. All are encouraged to attend the free event! Tag us on social media with #missouriwine and @missouriwine