Pizza at the Winery
May 19, 2022
Printer Friendly
Pizza and wine make a delectable pair meant to be enjoyed at all times of the year. These 21 wineries offer unique pizza choices. If you love pizza and visiting Missouri's beautiful wineries, then these should be on your list of places to visit.
Please note that this list was gathered from a survey from participating wineries.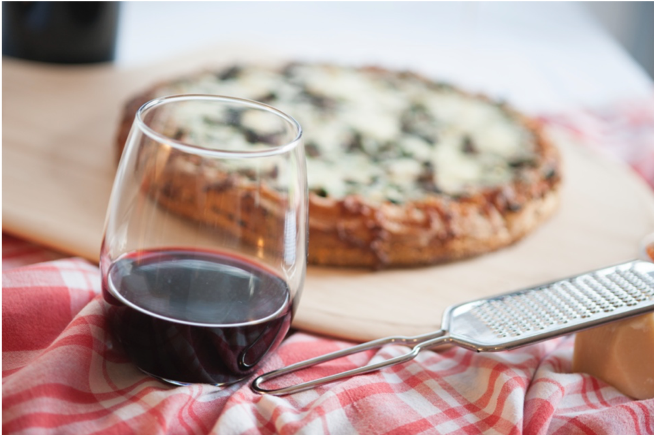 1.Steele Crest Winery – Jackson, MO
Steele Crest Winery offers a unique menu of artisan flatbread pizzas. Offered in two sizes, you can get classic toppings like Supreme, Hawaiian and more. Mix it up and add your favorite choices on top to customize the perfect pizza for your taste.
2.KC Wineworks – Kansas City, MO
KC Wineworks has two delicious flatbread pizzas on their menu. The first is a white sauce cheese pizza with optional pesto drizzle, and a red sauce veggie pizza with spinach, arugula, feta and olives. Pepperoni is a bonus option to add to either pizza choice.
3.Viandel Vineyard – Mountain View, MO
Viandel presents a full menu of food made in-house from scratch using high quality ingredients grown by local farmers when possible. Their menu changes seasonally based on the availability of fresh ingredients. Their pizzas are cooked in a Napoli Forno Bravo Wood-Fired Pizza Oven that cooks at extremely high temperatures. Pizzas are baked for about 90 seconds at 750 degrees.
4.Cave Vineyard – Ste. Genevieve, MO
Cave Vineyard is proud to offer a pizza selection from Katie's Pizza & Pasta in St. Louis. They are 10" pizzas with choices of Margherita, Pepperoni, Black Garlic, and Sausage – Mushroom – uncured Bacon. Pizzas are offered on Saturdays.
5.Wild Sun Winery – Hillsboro, MO
Wild Sun Winery offers 12" pizzas with varieties of Italian Sausage, Pepperoni, Gourmet Veggie with goat cheese, Bacon & Spinach, and the fan favorite, Meat Lover's Pizza. They suggest to 'come hungry' on your next visit and order this "go-to" item off the menu.
6.Backyard Vine and Wine – Maryville, MO
Backyard Vine and Wine offers a great selection of pizzas from Shakespeare's Pizza in Columbia, MO. In the cooler months, pizzas are baked in the pizza oven. Warmer weather allows them to cook on a grill which provides a smoky pizza oven taste.
7.La Bella Vineyards & Winery – Wellington, MO
La Bella Winery offers delicious pizzas which include options of both thin crust and gluten free crust - great options for everyone.
8.LaChance Vineyards – DeSoto, MO
LaChance Vineyards has a mouth-watering menu of specialty flatbread pizzas. All made as a personal size, their pizzas are guaranteed to bring you back for more the next visit.
9.Riverwood Winery – Rushville, MO
Riverwood Winery makes five varieties of delicious flatbread pizzas. All of which are made fresh at the winery and baked to order in their 800 degree pizza ovens. Their options include Prosciutto with Fresh Mozzerella, Italian Sausage, Pepperoni, Barbecue Chicken with Crispy Pancetta, and Three Cheese Bianco.
10.Meramec Vineyards Winery – Saint James, MO
Along with the rest of their delicious food menu, Meramec Vineyards Winery also offers several kinds of pizza which include both meat and vegetarian options.
11.Les Bourgeois Vineyards at The Blufftop at Rocheport – Rocheport, MO
The Bistro offers a non-traditional pizza on the appetizer menu. The flatbread is topped with warm brie, poached cranberries, fresh apples, pecans, fresh berries and Jeunette Rouge gastrique.
12.Arcadian Moon Winery & Brewery – Higginsville, MO
The wood-fired pizzas at Arcadian Moon Winery & Brewery are crafted with house-made dough that is hand stretched and fermented for 24 hours. They offer a huge selection of traditional and specialty pizzas. Serving up slices for everyone!
13.Villa Antonio Winery – Hillsboro, MO
Explore the many made-from-scratch pizza options offered at Villa Antonio Winery. Fun flavors come to life when cooked in their traditional wood fired pizza oven at 750 degrees.
14.Van Till Family Farm Winery – Rayville, MO
The Van Till Family makes pairing pizza with wine easy! Every Friday and Saturday night, artisan pizzas can be enjoyed in their Wine Garden. Their imported French Le Panyol wood-fired oven makes some of the finest gourmet pizza around. Gluten free crust is always an option!
15.Balducci Vineyards – Augusta, MO
Choose between Balducci Vineyards' 10" original thin crust or a 10" deep pan pizza. Each style is available in a variety of specialty and traditional flavors, with gluten free thin crust available as well. This winery visit is worth the deep dive into pairing.
16.Belmont Vineyards – Leasburg, MO
Take advantage of Belmont Vineyards' summer menu on Fridays and Saturdays! Create your own specialty pizza by ordering "My Pie" or lean into ordering a delicious classic such as Margherita or Meat Lovers. Either way, you'll enjoy the 'za.
17.Chaumette Vineyards & Winery – Ste. Genevieve, MO
Try one of the delicious flatbreads the next time you visit Chaumette Vineyards & Winery. Their award-winning food has been recognized nationally. Pick between four cheese, roasted chicken or Italian sausage – you can't go wrong!
18.Montelle Winery – Augusta, MO
Stop in at Montelle Winery's Klondike Café to try one of their fresh baked pizzas. Classic and specialty pizzas with strong Italian flavors are offered. Pizza lovers can mix it up by ordering their Tuscan, Fromage or Chicken Florentine pizzas.
19.Noboleis Vineyards– Augusta, MO
Noboleis creates unique 14" pizzas on regular or gluten free crust. Choose between classic toppings or build your own pizza with fresh, delicious ingredients of your choice. The combination options are endless – check them out next time you're in Augusta.
20.Sand Creek Vineyard – Farmington, MO
Calling all thin crust lovers! Stop in Farmington to enjoy a variety of traditional pizza offerings on a unique, delicious thin crust you won't be able to forget.
21.White Mule Winery – Owensville, MO
Create your own thick or thin crust pizza at White Mule Winery on Saturdays. Choose from one or two topping, pepperoni, sausage mushroom, and meat lovers made with their home raised beef hamburger. Get creative or keep it simple, it is deliciously made either way.
For more pizza inspiration, check out our pizza and wine pairing graphic. This list of delicious pizza choices in Missouri wine country should leave you hungry and craving a slice or two. Let us know which pizzas you try and tag us on social media @missouriwines and #MissouriWine.