Missouri's Dessert Wines: Discover More In Missouri Wine Country
January 30, 2018
Printer Friendly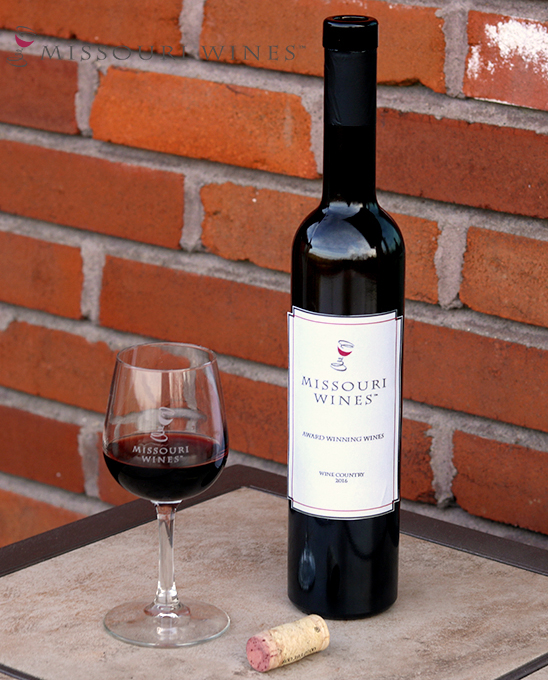 Dry, sweet and everything in-between. You may think you've discovered all that Missouri wine country has to offer, but have you sipped our delicious dessert wines?
Port, or dessert wine as it's commonly referred to in Missouri, is wine that has been fortified by brandy. Adding brandy to wine during fermentation stops the process and allows the wine to retain a lot of its natural sweetness. Fortified wine has more body and palate density than other wines. Dessert wine comes in sweet, dry and semi-dry styles and red and white varieties.
Missouri winemakers craft unique dessert wines, blending grape varietals to put their own spin on classic port-style dessert wines. The next time you travel to Missouri wine country, stop by one of the following wineries and discover their delicious dessert wine.
Adam Puchta Winery – The winery offers two ports, Signature Port and Anniversary Port. Signature Port exhibits the style of Ruby character Ports known for their rich fruity quality and emphasizes ripeness, depth and smoothness. Anniversary Port is reminiscent of vintage Ports and has been aged for six years with toasted French and American oak to create caramel and vanilla character on the nose and palate. Norton-based Anniversary Port features fig, plum and black cherry flavors combined with hints of spice and coffee.  
Arcadian Moon Winery & Brewery – Bellona is a blend of Chambourcin and Norton that includes notes of blackberry, cherry, fig, dark chocolate and hints of tobacco and pepper.
Augusta Winery – The winery features three dessert wines – Vintage Port, 5 Year Old Tawny and Augusta Icewine. Augusta Winery uses the traditional method for making Port and the Solera method to produce the 5-year -old Tawny. The winery's Icewine is a rare dessert wine.
Balducci Vineyards –Time Signature Release Two is an intensely flavored dessert wine, a blend of 80 percent Norton and 20 percent Chambourcin.
Baltimore Bend Vineyard – The Norton-based Port of Waverly is named after the historic port at the Missouri River in Waverly, Mo. 
Cave Hollow West Winery –The Gilded Page is a white dessert wine made from Missouri-grown Vidal Blanc. The dessert wine is lightly oaked with a taste of apricot.
Cave Vineyard – Vino Grande is the winery's first fortified wine. The dessert wine is 100 percent Norton and fortified with brandy made from the winery's own Norton grapes.
Curling Vine Winery – Profound is made from the Norton grape and fortified with a grape brandy.
Edg-Clif Farms & Vineyard – Edg-Clif Port is crafted from barrel-aged Chambourcin.
Grindstone Valley Winery – Plum-Tastic is a dessert wine made from Geneva Red.
Jowler Creek Vineyard & Winery – Nort is made with Norton grapes and features aromas of blackberries, plums and chocolate.   
Keltoi Vineyard & Winery – Celtic Goddess is made from Chambourcin.
Les Bourgeois Vineyards – Rocheport, named after the town in which the winery resides, is a sweet, silky port-style dessert wine with aromas of dark confectioneries and ripe berries which proceed the rich, rustic flavors characteristic of the Norton grape.
Montelle Winery – Cynthiana Port features Norton (aka Cynthiana) and is similar to a Portuguese Port. Framboise is a sweet raspberry dessert wine made from 100 percent raspberries.   
Mount Pleasant Estates & Winery – Vintage Port, Tawny Port, Ten Year Old Port and Barrel Select Port are crafted with Norton and other grape varietals.
Noboleis Vineyards ­– Volume IV is fortified with grape brandy, featuring aromas and flavors of dark chocolate and dried fruits.
Pirtle Winery – The winery's Premium Port is aged in French and American Oak.
Riverwood Winery – Visitors can try three distinct dessert wines: Riverwood Chocolate Cherry Dessert Wine, Riverwood Red Eminence and Riverwood Blackberry Dessert Wine. These blends feature Chambourcin, Norton, Syrah and Cabernet Sauvignon.
Seven Springs Winery – Left Side White is Vignoles-based and tastes like a green caramel apple, while Left Side Red is a Norton-based dessert wine and features a very soft pallet with a tremendous amount of depth.
Stone Hill Winery – The 2013 Stone Hill Winery Port is oak aged in both small American and French oak barrels for one year, then bottle aged to produce a rich, dark dessert wine that has stunningly powerful blackberry and cassis flavors.
Wenwood Farm Winery – Tawny is a red dessert wine that offers a rich, mellow sweetness and hints of exotic fire to warm the palate.
West Winery – Whisper is a red dessert wine that features Missouri-grown Norton grapes.
Wild Sun Winery – Eclipse is aged in French oak barrels and boasts big flavors of chocolate and berry notes.
Vox Vineyards – Munson RePort has notes of figs, baked black cherries and pomegranate molasses cradled by overtones of red apple skin, dried eucalyptus, tamarind and freshly-baked sticky buns. Wetumka RePort has intense notes of lemon verbena, pineapple syrup and clove with hints of home-made applesauce, candied grape, vanilla bean and wood.