Discover Delicious Wines and Food at these Missouri Wineries
April 25, 2019
Printer Friendly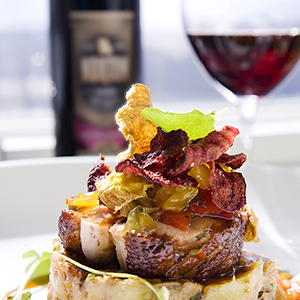 During your next excursion to Missouri wine country, please your palate with delicious wines and food. Chefs at several Missouri wineries offer patrons incredible dining experiences. Enjoy culinary masterpieces, ranging from traditional German fare to artisanal pizzas, and perfectly-paired wine at these wineries. 
 *The information in this article is based on wineries that responded to a survey so it may not include all Missouri wineries with restaurants.
14020 West Hwy BB
Rocheport, MO 65279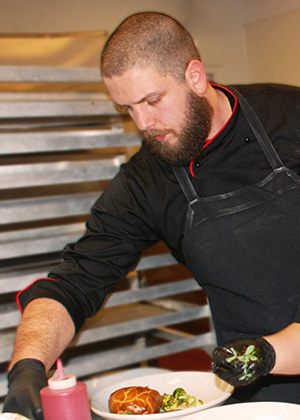 Chef David Cabañas
Les Bourgeois Vineyards' Blufftop Bistro sits above the Missouri River and offers a feast for diners' eyes as well as their palates with a breathtaking view and delicious food. Executive Chef, David Cabañas, has spent the last 15 years honing his craft in the kitchens of many establishments across mid-Missouri. While he never planned to become an executive chef, his talents and passion for creating culinary experiences have propelled him to the top spot in the LBV Bistro kitchen. He defines his style as comfort food with a Mediterranean flair and is often lauded for preparing "the best steaks." Cabañas is always looking for new and interesting ways to incorporate LBV's award-winning wines through sauces, wine-poached fruit and inspired pairings. He enjoys seeing all of the organization and preparation come to fruition through a great meal service. Cabañas recently updated the Sunday Brunch menu at the Bistro and hopes diners enjoy every bite!   
1942 Highway T
Steelville, MO 65565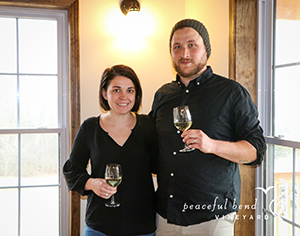 Chefs Endi and August Roluf
Peaceful Bend Vineyard's chef, August Rolufs, is a recent graduate of Mizzou's hospitality program. Along with his wife Endi Rolufs, August manages all aspects of the winery's eatery operations. August is well-versed in classic French cooking techniques, but has a passion for southern cooking as well. He credits the use of quality, local ingredients as the base for the multi-layered flavors and textures of his creations. His vision makes the winery's cuisine a unique offering that appeals to anyone who walks through the door, whether they are looking for down-home comfort food or something more adventurous. His burgers are made from beef raised across the street from the winery and receive high praise from anyone who orders one; however, street-style tacos are his favorite dishes to make and are quite popular in the area. Top off any entrée with desserts from pastry-chef and restaurant manager, Endi, to end your meal with a true touch of elegance.
1110 Stone Hill Highway
Hermann, MO 65041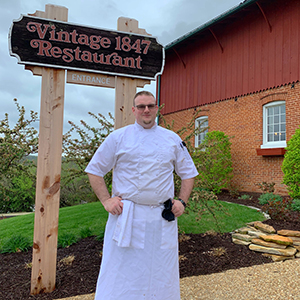 Chef Josh Piacentini
Josh Piacentini enjoys creating dishes that bring families and people together for holidays and other occasions. Piacentini, the Executive Chef at Stone Hill Winery's Vintage Restaurant, worked in three major PGA tournaments, including the championship held at the Bellerive Country Club in 2018.  He mentored under the Executive Chef at the country club for 12 years.
Piancentini credits his grandmother, a great baker, as being the person who first inspired his culinary dreams. From an early age, he took an interest in watching and reading about chefs. Piancentini enjoys making all types of food, but his favorite dish to create is soup. He specializes in contemporary world cuisine, including German specialties at Vintage Restaurant.
13986 Highway C
Rayville, MO 64084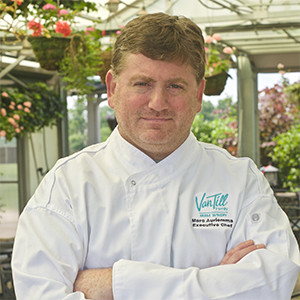 Chef Marc Auriemma
A Kansas City native, Chef Marc Auriemma graduated from the Arizona Culinary Institute in 2003. Marc cut his teeth at Aixois, a French bistro in Brookside, and honed his craft working as a contractor at Cerner. Influenced by his Italian grandmother's cooking, Marc was drawn to working with producers of fresh ingredients and fine wines. Marc started at Van Till Family Farm Winery on Valentine's weekend in 2017 when he impressed visitors with his four-course sweetheart dinner. Marc enjoys flexing his creativity with artisanal pizzas, featuring creations such as Lemon Pancetta Pizza and Spicy Blood Orange Sirloin Pizza. 
​