Be the Perfect Host with These Simple Tips
February 19, 2019
Printer Friendly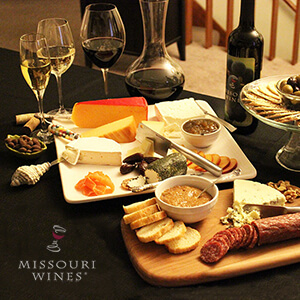 Before the date is set and the invites have been sent, there are many details to consider when hosting a celebration with family and friends. Whether you're planning a large-scale event or a more intimate one, these great tips from Missouri Wines will help you deliver an experience your guests will never forget.
Select the perfect wine – Missouri winemakers craft wines in a variety of styles, ranging from dry to sweet and in-between. Feature wines from both sides of the spectrum and don't forget to include a semi-sweet style at your get-together. Another great idea – ask your guests to bring their favorite Missouri wine. That way everyone will have the opportunity to try something different and discover a new favorite.
Stem or stemless glassware – Over the past few years, stemless glassware has become an increasingly popular choice among wine consumers. The tumblers tend to be a little harder to break and some people find them easier to hold. However, a stemless glassware has its perks. The bowl size may be larger allowing the wine to open up more so you can detect all of its amazing aromas. In the end, it comes down to your preference and what glassware you have on hand. 
Individualize your guests' glassware – Use dry erase markers to write people's names on the bowl of a stemless glass or the foot of a stemmed wine glass. The non-toxic ink easily washes off with a little soap and water. You may also choose to personalize your guests' glassware with charms. 
Feature delicious foods that compliment your wine choices -  Our food and wine pairing guide takes the guesswork out of selecting wines that pair well with your favorite entrees, side dishes and desserts. You can also check out our infographic gallery to see which Missouri wines are the perfect match for your favorite chocolates or cheeses. If you're still in the planning stages and figuring out what to serve your guests, check out our tried-and-tested delicious recipes featuring Missouri wine. 
We hope these tips make it easier for you to prepare for your special gathering. With proper planning, you'll be able to spend more time making memories with family and friends and less time stressing about the details.