September 21, 2021
Missouri wine country not only offers fantastic wines, it also is home to creative artisans who repurpose wine industry materials into home goods and custom gifts. Check out these talented artisans and the products that they offer in Missouri wine country.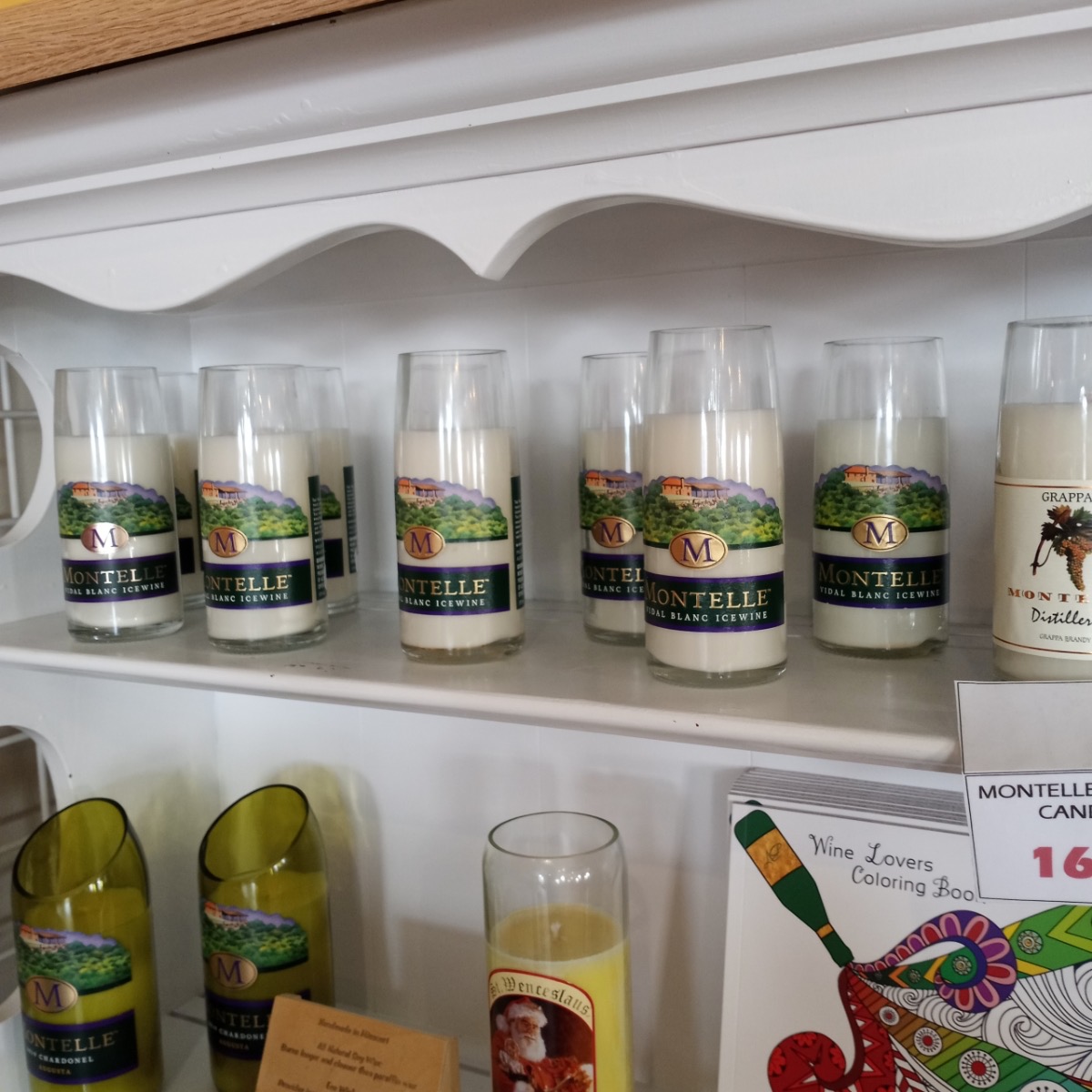 Paul Cassimatis – My Big Fat Greek Candle
My Big Fat Greek Candle started almost by accident. Paul Cassimatis' wife came to him with a Pinterest project – candles made from used bottles. The Cassimatis family has always been a big fan of Missouri wineries, Paul and his wife's first date was to Stone Hill Winery in 1998, and today, she owns a business in the heart of Missouri wine country — Hermann, Missouri.  So, the couple thought the beautiful blue bottles used for certain Missouri wines, such as Vignoles, would be perfect to try their hand at candle making.
But, when Paul stopped into Hermannhoff Winery to ask for a couple leftover blue bottles he left with a trial order instead. Today, Paul's candle creations are found in several Missouri wineries from Hermann to Augusta, Missouri, as well as a couple select retail locations and his online Etsy storefront.
Paul stops by each of his client wineries to collect bottles from some of their favorite wines. In his workshop, Paul carefully cuts and hand polishes the edges of each bottle before filling it with high quality wax and wick to make the perfect candle. His candle creations' colors and scents are selected by Paul and winery staff to appeal to each winery's patrons. Often, the candles reflect the wine bottle which holds it. For example, bright citrus scents are often used for candles in crisp, white wines with citrus tasting notes, while deep, dry red wine bottles often hold candles with more earthy tones.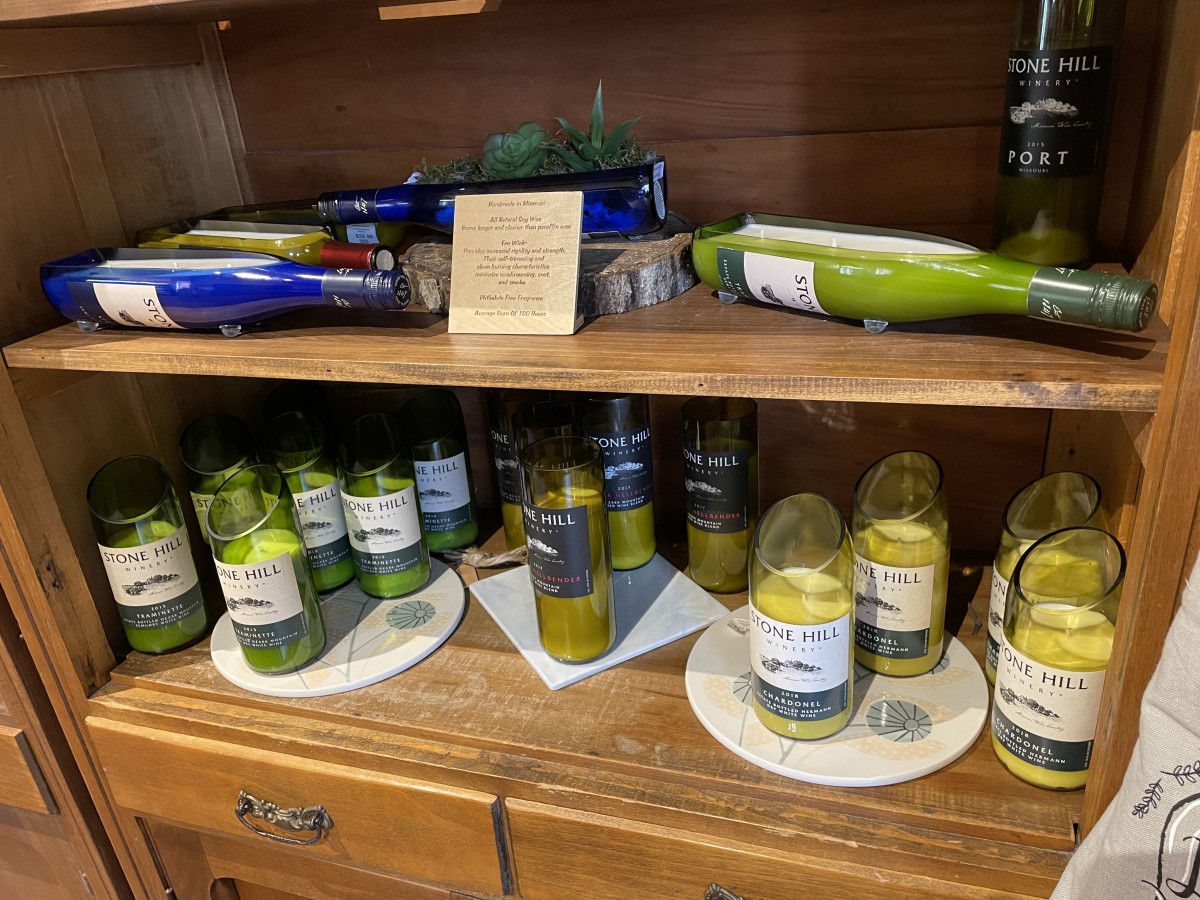 Besides being inspired by the beautiful colors, shapes and smells of Missouri wines, and their bottles and labels, Paul hopes to capture some of the Missouri wine memories in each candle.
"I love the wine country and the wine people," Paul says. "Just the spirit and the whole culture there is this warm, family surrounding; Missouri wineries just feel like family."
When Paul isn't creating candles, you may find him playing acoustic sets at some of the same wineries for which he creates candles. Needless to say, Paul loves helping wine lovers of all ages make memories at Missouri wineries, and he knows his candles are the perfect gift for friends and family to help recall those wonderful times spent together sipping their favorite Missouri wines.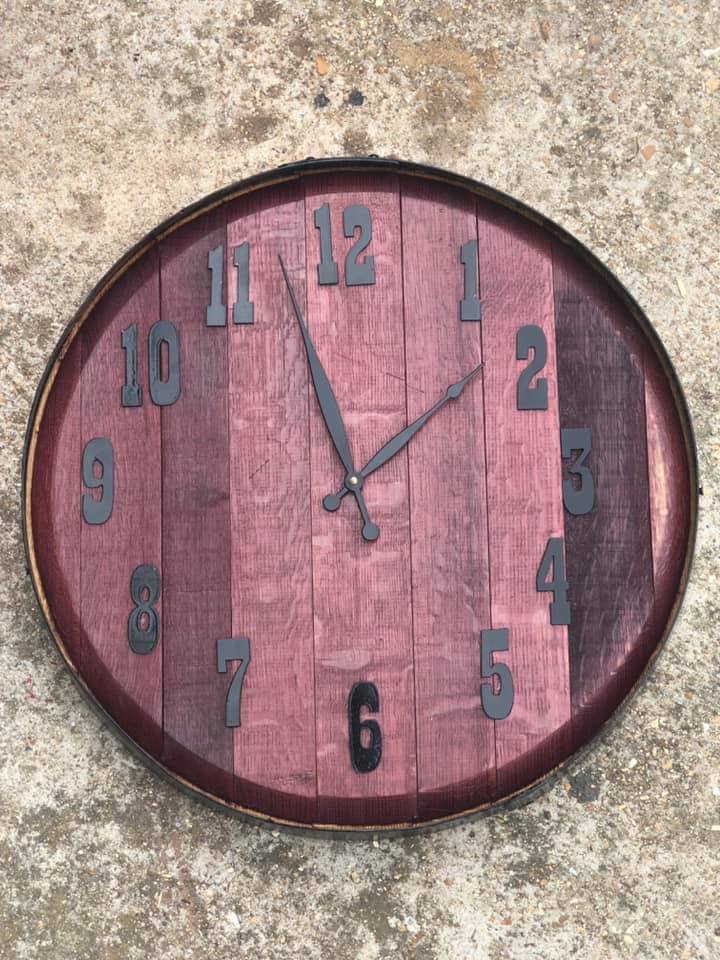 Scott Rombach – Basement Projects Woodworking
Scott Rombach's love for woodworking started in an eighth-grade wood shop class, and his passion for Missouri wine blossomed from some gifted grape vines and visit to Wenwood Farm Winery. A couple years ago, Scott's appreciation for woodworking and wine intersected when he started creating unique, one-of-a-kind pieces inspired by Missouri wines and the materials that make them.
While Scott works fulltime for UPS, he does enjoy using his talents for custom commissioned pieces or even for donated items for causes he supports through his woodworking shop he calls Basement Projects Woodworking.
Some of the creations Scott has made include: a wine map of Missouri that he and his wife, Tonya, pin the wineries they've visited, tea candle holder out of a wine staves, wine clock from the top of a barrel, wine table with the wine barrel as the base, wine holders and cork holders.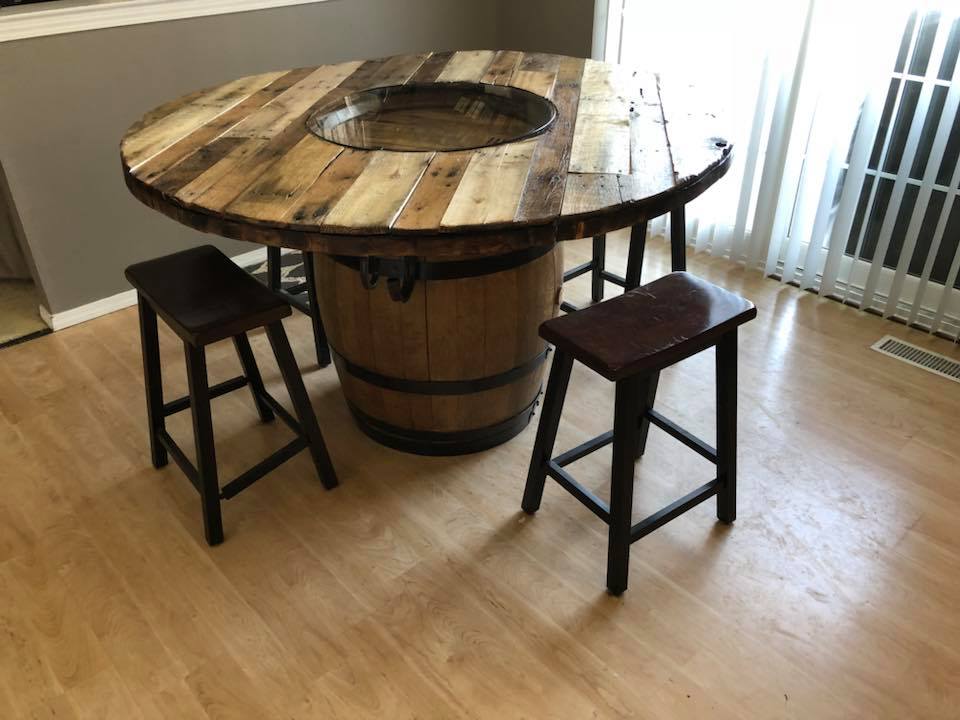 The Rombachs refer to Wenwood as their gateway winery. Scott still recalls their first visit, where they were greeted by the owner's dogs — Corky and Shaggy. As avid dog lovers, the couple felt right at home. Tom Kalb provided the tasting that day at Wenwood, and he and Scott bonded over their previous and current UPS employment while Scott learned more about Missouri wines. Wenwood's wine, winery, owners and staff, along with the experiences it provided made the Rombachs want to see what else was out there, so visiting Missouri wineries became the couple's new pastime. When they enrolled in the Missouri Wine's MVP program, the couple kicked it into high gear and started planning road-trips through Missouri wine country. Scott and Tonya enjoy Missouri wineries enough that they started documenting their experience on Rombach's Missouri Winery Review Facebook page. "Visiting so many wineries gave me an idea to combine two things I love, woodworking and Missouri wine."
Michele, Leslie and Lisa – Three Crafty Foodie Chicks
Three Crafty Foodie Chicks are best friends who love wine — especially Missouri wines, music and their families. When COVID-19 brought the world to a screeching halt, the friends found themselves with a lot more free time. Wine was always their beverage of choice, according to Michele Cohen, one of the Crafty Foodie Chicks trio. The women loved how enjoying wine was more than taking a sip it was an experience, so they found a way to preserve bottles they adored.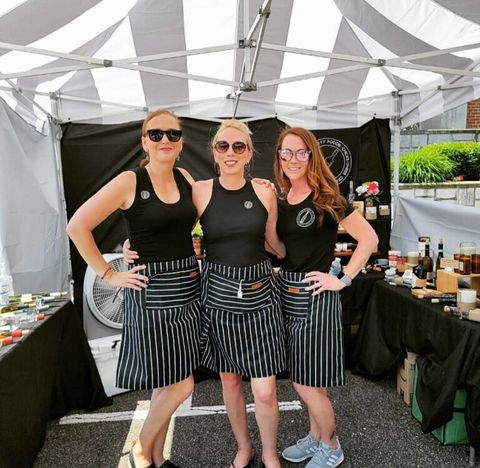 The friends started by creating wine servers before adding candles and flower vases to their offering. There was a lot to learn along the way, and there were a lot of nerves and broken glass before they perfected the process. Today, the trio offers unique serving pieces, flower vases, succulent planters and candles crafted from wine bottles in a way that preserves the beauty of the bottles' labels. Three Crafty Foodie Chicks even offer custom products made from customers' bottles holding special meaning.
"All of our pieces are cut and polished by us personally, and we take a lot of pride and take a lot of time to make sure that every piece is amazing," Michele says.  "There is a unique and organic feel to each piece that we produce."
The uniqueness of their products echoes the unique nature of each bottle of wine. The friends admire the many different flavor profiles, bottle shapes, colors and labels of each bottle of wine. They're careful to preserve that when crafting their creations. Three Crafty Foodie Chicks think of sipping Missouri wines as an experience, and its one they like to share.
"We love the unique nature of the varietals that we have here in Missouri and the amazing wineries that produce them.  When we visit a winery, we love to hear the story, each wine has a story of how it was created and how it was named," Michele says.
 You can follow the Three Crafty Foodie Chicks on their Facebook or Instagram. The trio often offers their creations at festivals and shows, as well as through social media. Their products are also available at the Blooming Daisy Marketplace in Cottleville, Mo.