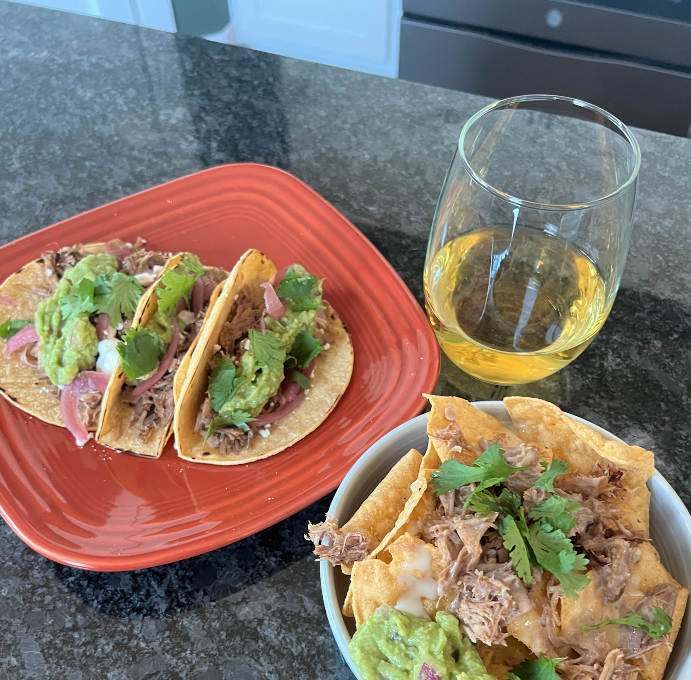 If you love convenient cooking with few ingredients and tossing things into your Instant Pot, then this carnita recipe is for you. This recipe offers the perfect mix of sweet and spicy for Mexican pulled pork to serve as a traditional pork taco or load up a pile of chips for some tasty nachos. The best part, throw just three ingredients into your pressure cooker and be amazed at the tender and flavorful result.
Serves: 8
Prep time: 5 minutes
Cook time: 45 minutes
Ingredients
4 lb pork – we recommend using pork butt/shoulder
1 c white wine + additional (we used a semi-sweet Vignoles to offer a splash of sweet citrus)
1 large lime
3 packets Fajita seasoning (or make your own with your choice of spices)
Instructions
Cut pork into 2-inch pieces and add to cooker.
Juice lime and add to pressure cooker. Cover pork in seasoning and add wine. Stir to evenly coat the pork.
Close the pressure cooker. Cook on "Meat" mode for 45 minutes on high pressure.
Release pressure with care once complete. Remove pork and shred/pull with forks to get desired consistency.
Crisp the pulled pork on medium-high heat in a skillet adding 2-3 tablespoons of additional wine and cook for 3-5 minutes.
Remove carnitas and serve.
Ideas for serving Carnitas or Pork Nachos:
Offer up your favorite garnishes like: cheese, pickled onions, guacamole, cilantro, salsa, sour cream, queso, etc.
Crisp your corn or flour tortillas for about 30 seconds each side in a hot skillet.
Pour a glass of leftover wine to enjoy with the finished dish.
We hope you enjoy this savory and simple 3-ingredient carnita recipe! Share your finished results with us on social media by tagging @missouriwine or #MissouriWine.