May 24, 2022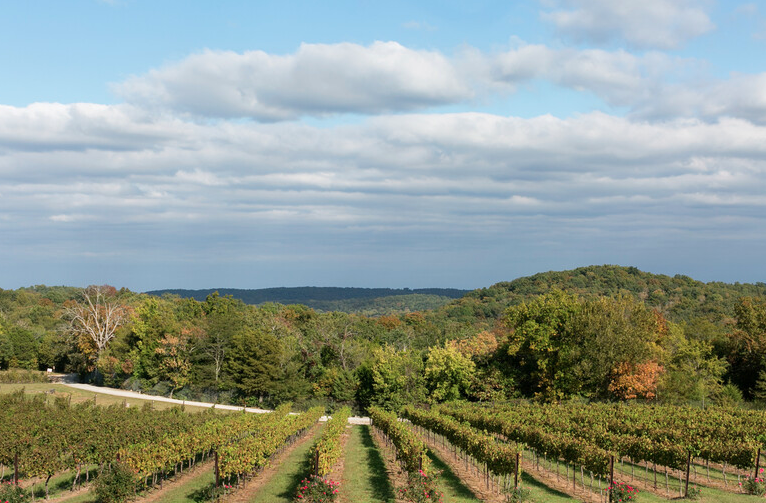 Missouri wine country is the perfect place to explore. Missouri's wineries and vineyards offer it all, whether you're looking for adventure, local agriculture, a fun evening with friends, or a sunny patio just to kick back and relax. To celebrate all the experiences you can have while sipping a glass of the Show Me State's finest wines, we curated a Missouri Wine Scavenger Hunt just in time for National Scavenger Hunt Day.
To participate, capture any of these ten sights you will find in Missouri wine country. Snap a pic and tag #exploreMOwines to be entered in a drawing to win some wine-themed prizes. Each picture counts as one entry, so the more pictures you capture at Missouri wineries, the more chances you have to win. Post your pictures as you travel - deadline for all photos is October 1.
1.Take a picture in a cellar.
2.Snap a photo in a vineyard.
3.Find and photograph a historical landmark related to a winery or the grape industry.
4.Grab a quick shot of a riddling rack.
5.Pose with your favorite winery team member.
6.Take a 'Gram-worthy pic of your favorite meal paired with a Missouri wine.
7.Snap a shot of your favorite Missouri varietal — bottle or grapes.
8.Picture any branded winery glassware featuring your favorite Missouri wine logo — at home or the winery.
9.Snap a selfie with a Rewards Uncorked window cling at a participating winery.
10.Take a shot of you or your friends enjoying a tasting at a Missouri winery.
Additionally, you can enter these pictures in the upcoming Missouri Wine: Through the Glass photo contest. Be sure to look for details about the competition, as winners are invited to the Missouri Governor's Cup presentation at the Governor's Mansion in Jefferson City. There, they can rub elbows with some of the state's most award-winning winemakers and vineyard owners.
But, if two chances to be rewarded in Missouri wine country aren't enough, we recently launched a new loyalty program — Rewards Uncorked. Join this free, mobile-based program to reap the rewards from simply enjoying your time at participating wineries across the state. Users can sign up today and start earning following account set up. Just check in on your phone when you visit participating wineries, so you can rack up points to redeem for Missouri wine rewards. 
So, get out and explore Missouri wine country today, sip as you travel through the Show Me State, and enjoy the many ways you can win big with Missouri wine.