April 12, 2016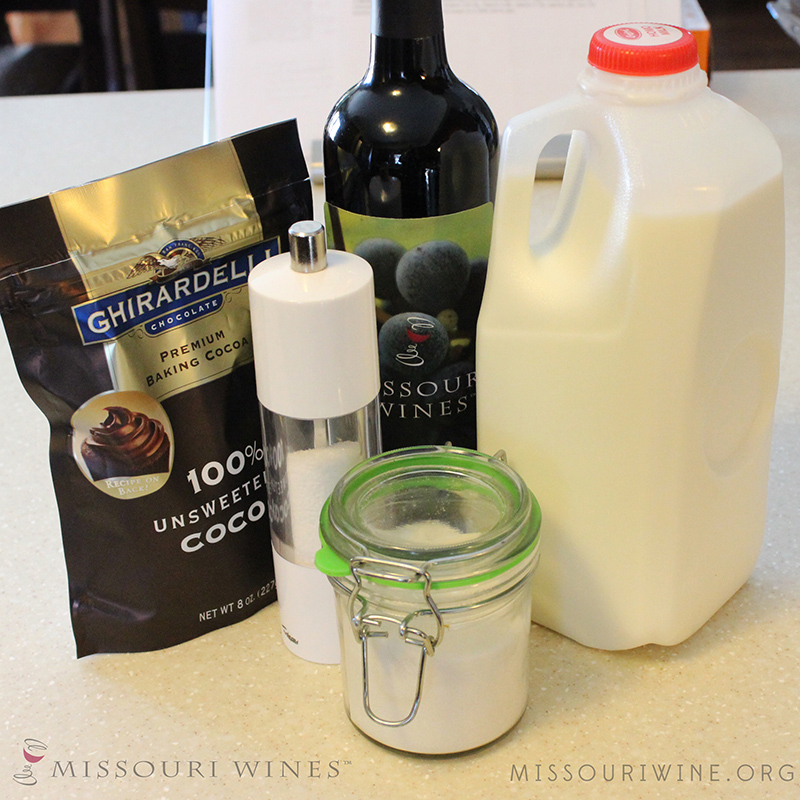 What's better than a steaming mug of hot cocoa when the temperature is too low to think about outside? That's easy… hot cocoa with red wine! This recipe is simple, quick and delicious. Warm up with a mug full of Missouri wine hot cocoa tonight. 
Missouri Wine Hot Chocolate 
Makes 2-3 servings    Prep Time: 5 minutes, Cook time: 5-7 minutes 
Ingredients:
2 ½  tbsp    Unsweetened dark cocoa powder
3  tbsp        Sugar
2/3 cup       Missouri red wine (we recommend a big, bold Norton) 
2 cup          Milk (whole milk makes a richer hot cocoa) 
1 tsp           Pure vanilla extract
¼ tsp          Salt
Directions: 
In a bowl combine the cocoa, sugar and ½ cup of the milk. Whisk until well combined.
Pour into a medium saucepan, and add in the rest of the milk and whisk until smooth.
Slowly add in the wine to the mixture, stirring constantly.
Once all ingredients are combined, heat the mixture over medium-high heat for 5-7 minutes, stirring often.
Remove from heat, stir in the vanilla and salt, and serve. 
Enjoy! 
If you want to try this recipe with a sweet Missouri red wine or fruit wine (raspberry or cherry, perhaps), omit the sugar from the first step. Wait until the mixture is fairly warm, taste it, and add sugar to taste.
www.youtube.com/watch?v=1wrtBLZXLK4&feature=youtu
Click play to learn how you can warm up with Missouri Wine Hot Cocoa!