August 01, 2016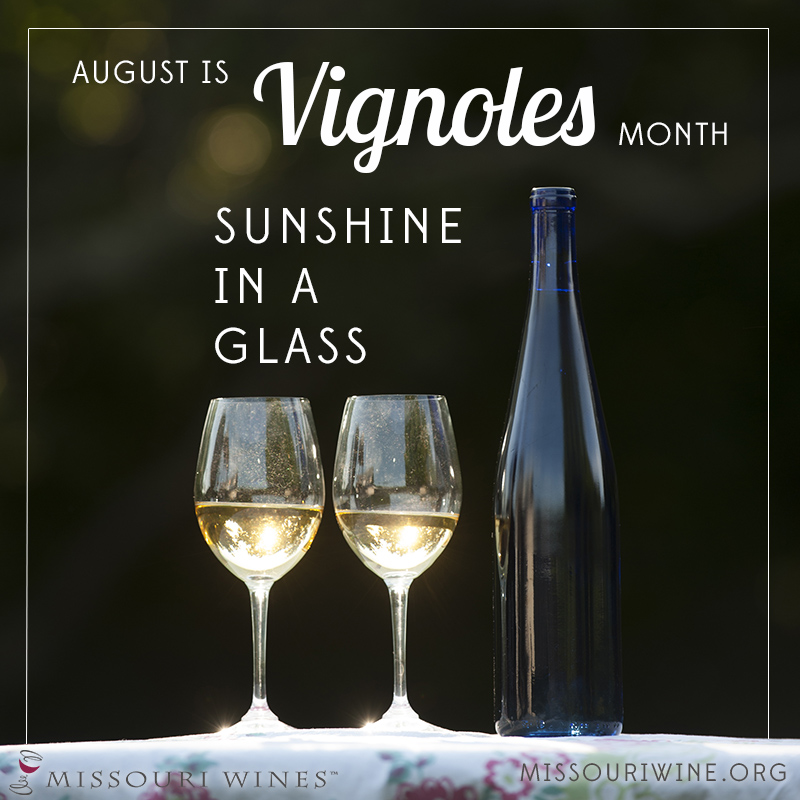 Sunshine in a glass… the perfect description of Missouri Vignoles wine, and why August has been named Vignoles Month. August cues the winding down of summer activities, but a glass of Missouri Vignoles is the perfect way to hang on to the sunshine and summer fun all month long!
The Vignoles (veen-yole) grape is a French-American hybrid varietal that thrives in Missouri wine country. It is the most popular white grape in the state; 14 percent of all grapes grown in the "Show Me" State are Vignoles.
Vignoles grapes are used to make a wines that range in style and sweetness from dry, refreshing white wines to sweet, luscious Late Harvest dessert wines, and everything in between. A 2015 Vignoles from St. James Winery was recently awarded the Governor's Cup for best wine in the state at the 2016 Missouri Wine Competition.
Vignoles wines are known for fragrances of fresh cut tropical fruit. This refreshing varietal boasts citrus, floral and tropical flavors which make it a great choice on hot summer days. Vignoles is a food friendly wine; fresh fruit and spicy dishes pair especially well with Vignoles.
Add sunshine to your wine glass with Missouri Vignoles this August! During the month of August, Missouri wineries will feature Vignoles with wine releases, special events, themed tastings and much more.
With 130 wineries and 10 wine trails in Missouri wine country, what are you waiting for? Head out to a nearby winery and experience Vignoles – it's the perfect way to celebrate a unique grape variety and an award-winning wine industry dating back more than 160 years.