Vidal Blanc Mustard Barbecue Sauce
November 23, 2015
Printer Friendly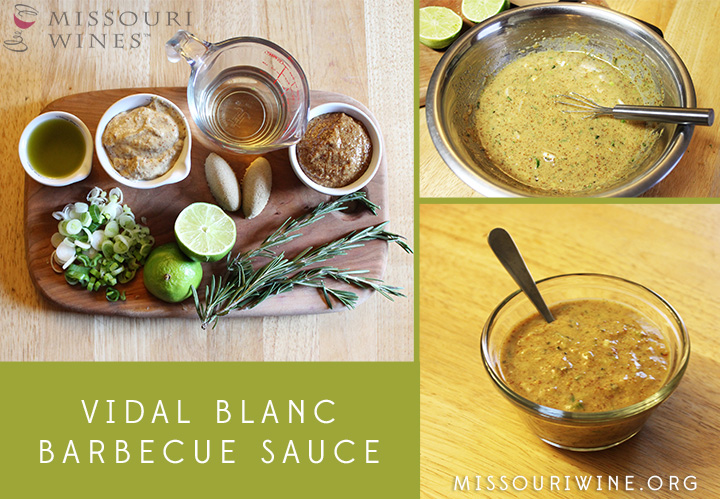 This sauce is amazing with grilled poultry, seafood and even pork. It's perfect if you're looking to get away from the traditional tomato based barbecue sauce. This sauce features bold and bright flavors of mustard, fresh rosemary, garlic and lime. It's accented perfectly by the citrus flavors and acidity of Vidal Blanc.
Ingredients:
4 fresh rosemary sprigs, approximately 3 inches long each (if you don't have fresh rosemary, you can substitute 1 Tbs. of dried rosemary)

Zest of 2 limes

1 green onion, thinly sliced

2 garlic cloves, minced

1/2 cup Dijon mustard

1/2 cup whole-grain mustard

1/4 cup Missouri Vidal Blanc, a crisp, dry white wine with bright citrus flavors

1/4 cup extra-virgin olive oil

2 Tbs. firmly packed light brown sugar

1/2 tsp. red pepper flakes
Directions:
Rinse the rosemary sprigs and pat dry. Strip off the leaves and finely chop the rosemary. It should be approximately 2 tablespoons.
In a nonreactive bowl, whisk together the Dijon mustard, whole-grain mustard, rosemary, lime zest, green onion, garlic, wine, olive oil, brown sugar and red pepper flakes until combined. Cover and let stand at room temperature for at least 30 minutes to allow the flavors to blend.
Store the sauce in a covered container in the refrigerator. It should be good for up to 2 weeks. Makes about 1 3/4 cups, but can easily be doubled if you're expecting a crowd.
Recipe adapted from Williams-Sonoma.