June 02, 2022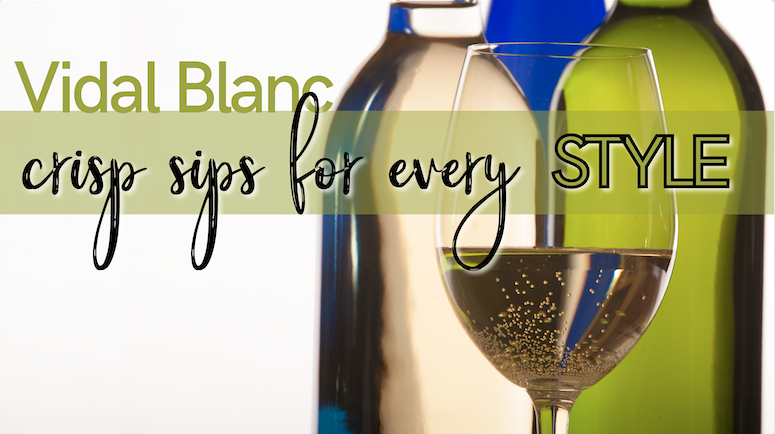 This varietal takes versatility to the next level. Vidal can be used to make delicious dry to off-dry wines, while also delivering specialty offerings like ice wines and sparkling wines. Learn more about what makes this varietal unique and expand your knowledge of the Vidal we know and love.
Jean Louis Vidal created this varietal in the 1930s by crossing a vitis vinifera known as Ungi Blanc with Rayon d'Or. It was originally bred to meet demand for Cognac in colder regions of France but ended up being better suited for ice wines instead, due to the combined sweetness and high acidity. During the 1940s, Vidal Blanc became very popular in Canada due to its hardy nature and its popularity eventually spread across the United States and parts of Sweden.
Vidal Blanc excels in the continental climate found in these regions. This hybrid's cold-hardiness and resistance to noble rot ensures its success on the vine. It is a mid-ripening grape that can accumulate both smaller sugar levels or larger sugar levels depending how long it is left on the vine. It can be harvested at normal times, allowing vintners to create drier varieties of wine. Its complex, hybrid nature allows it to last longer on the vine until the berries have frozen. This temperature change allows the grapes to harness its sugars, setting up winemakers to produce excellent ice wines. The must is then pressed from the grapes, creating a more concentrated juice featured in these delectable dessert wines.
When harvested at normal times, Vidal continues to produce a flavorful wine, no matter dry or sweet. These bold fruity flavors carry hints of tropical fruit while providing a lasting bright and clean finish. Vidal is commonly produced in Missouri as a dry or off-dry wine, as well as sparkling. Sparkling wines made from Vidal Blanc also showcase the same bright and fruity palate while also being sensory, enhanced through bubbly flavors.
When it comes to pairing, Vidal's flexibility mirrors its winemaking. Flavors are heightened by pairing Vidal with seafood, such as salmon, shrimp, ceviche and crab. It pairs easily with chicken, white cheeses, and grilled vegetables. Textures found in buttery or creamy pasta dishes are a favorite to complement Vidal's bright and crisp flavors. Fruits such as melon and citrus are a superb combination with Vidal Blanc.
Explore all the types of Vidal showcased in wines across the state. With 5.9% of acreage attributed to this varietal, there are plenty of wines to explore. Tag us when you try new types of Vidal at Missouri wineries with #missouriwine and @missouriwine on social media.