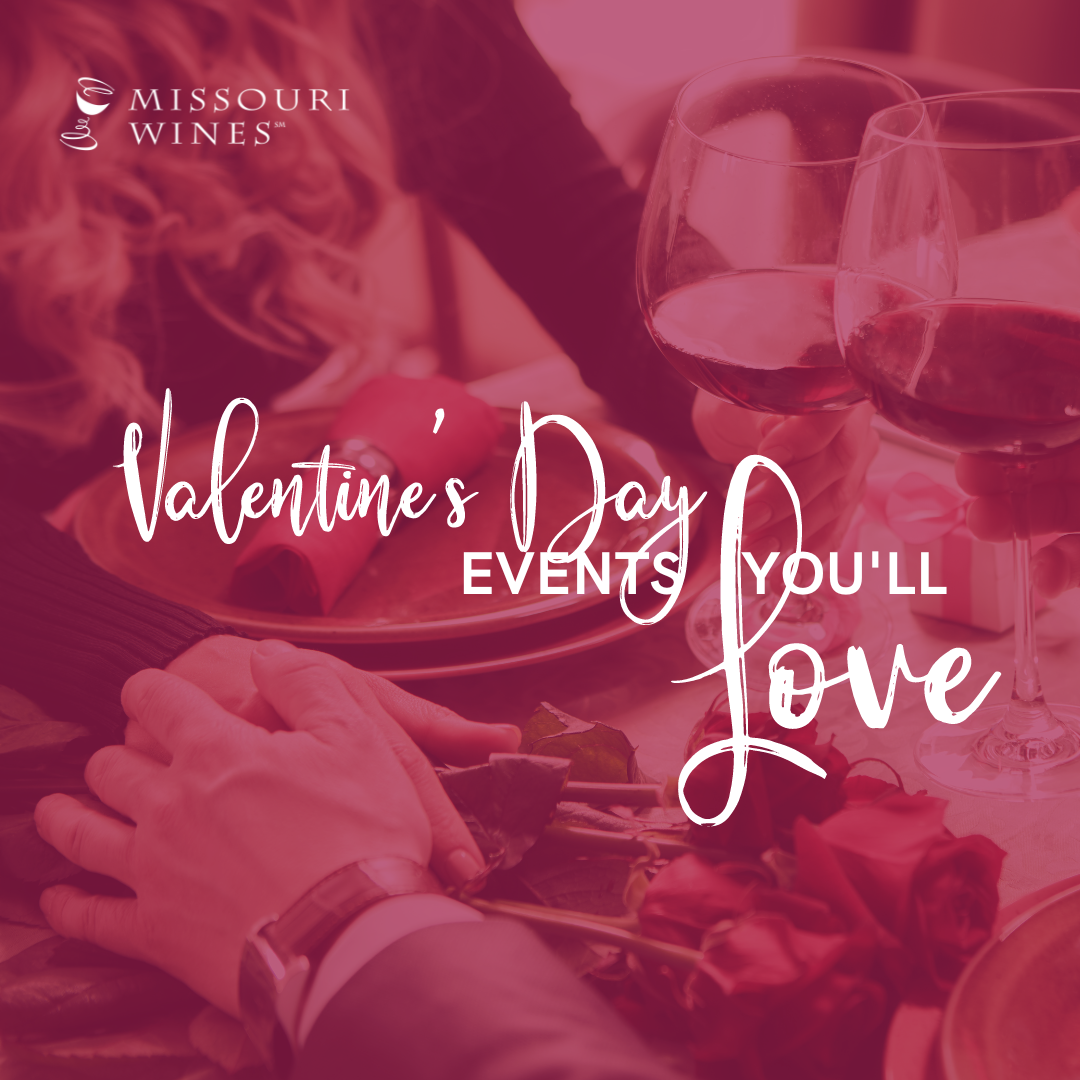 Whether you're searching for a romantic evening or a fun night out for "Galentine's Day" you'll be sure to find an event you love at a Missouri winery. Here is a sampling of events in Missouri wine country.
Adam Puchta Winery Valentine's Dinner
Friday, Feb. 10 and Saturday, Feb. 11
Tickets: $75/person
Adam Puchta Winery is hosting the perfect dinner to treat your sweetheart this Valentine's Day. This dinner will feature four courses from their 1855 Cellar Bistro paired perfectly with their award-winning wines.
Chaumette Vineyards & Winery – Weekend Getaway Special
Friday, Feb. 10 and Saturday, Feb. 11
Prices available online.
Stay with Chaumette for Valentine's Day. Get two adjacent nights for only $100 more when you book a two-night stay on Friday and Saturday. Valentine's Villa add-on packages available (for additional cost) which include: a bouquet of roses, chocolates, a bottle of wine and a festive balloon. The Executive Chef is offering special features in addition to our regular menu, including Pork Ossu Buco, Prime Grade Filet of Beef Tenderloin, Baked French Brie and more.
Cave Vineyards Romancing the Grape, Vine to Wine Experience.
Saturday, Feb. 11, 11 a.m.-noon or 12:30 p.m.
Tickets: $35/person
Learn more about wine in a relaxed environment with this tasting experience. Staff will walk guests through growing Missouri grapes, winemaking and tasting wine. This experience also includes cheese and chocolate samples to help understand how food and wine complement each other.
Chandler Hill – Wine Club Valentine's Dinner 
Saturday. Feb. 11, 7 p.m.
$50 deposit required with reservation
These exclusive events are another reason to join a wine club. Chandler Hill is presenting a romantic dinner pairing everyone's two favorite things: wine and chocolate. This year Chef Michael Brewer will be crafting a delicious chocolate inspired menu that will pair elegantly with a sommelier selected wine for each course.
Defiance Ridge Vineyards Valentine's Day Dinner
Tuesday, Feb. 14, 6-9 p.m.
Reservations only; menu and prices available online
Join Defiance Ridge Vineyards this Valentine's Day for a wonderful dining experience with your loved one. Reservations will be taken in time slots of: 6 p.m., 6:30 p.m., 7 p.m., and 7:30 p.m.
Valentines/Galentines Days at Edg-Clif Winery
Friday, Feb. 10, Saturday, Feb. 11 and Sunday, Feb. 12, 11 a.m.-5 p.m.
Tickets: $5-20/person
Make a reservation for special wine tastings with chocolate treats and souvenir glasses to take home.
Edg-Clif is offered a weekend special, "Wine Lovers Bouquet of Rose Wines", buy a dozen pink wines and get two free (includes Rose, Sunset and Twilight). Call ahead and just drive up for car-side delivery. Romantic couples or party friends can also buy a gift certificate for a VIP Tours and tastings.
Fence Stile Vineyards, Winery & Distillery – Four Valentine's Events
Friday, Feb. 11, Saturday, Feb. 12, and Tuesday, Feb. 14, various times
Tickets: $28-59/person
Fence Stile offers candlelit wine, cheese and chocolate pairings all weekend (Feb. 11-12) in the wine cave. They also have a special wine cave tour and candlelit tasting on Valentine's Day with chocolates and sparkling wine.
Self Love Pop-up Event - KC Wineworks
Friday, Feb. 10, 6-9 pm
Treat yourself to an evening of self-care with local vendors. Get linked with jewelry, have your tarot cards read or pick up a bath bomb for later all while enjoying a glass to Missouri wine.
KC Wineworks – Wine is my Valentine
All February long
For the entire month of February enjoy a Valentine's themes cocktail alongside their regular wine tastings. No reservations required.  
Les Bourgeois Vineyards/The Blufftop at Rocheport – Couples Wine + Chocolate Pairing
All February long, 10 a.m.-6 p.m.
Tickets: $25/couple
Enjoy a sample of four distinct wines, each expertly paired with artisan chocolates.
Les Bourgeois Vineyards/The Blufftop at Rocheport - Wine Lover's Tasting and Tour for Two
Wednesday, Feb. 1 – Thursday, Feb. 16, Contact tasting room for times
Tickets: $40/couple
Romantic candle lit tour of the cellar and winery with a Port and artisan chocolate tasting.
Les Bourgeois Vineyards/The Blufftop at Rocheport – Romantic Four Course Dinner
Tuesday, Feb. 14, 5-9 p.m.
Tickets: $95/person, reservations and payments required in advance
Special prix fixe four course meal with a complementary glass of Brut with live harp music in our Bistro dining room that has magnificent views of the Missouri River.
McKelvey Vineyards  — Adult Cookie Decorating Class – Valentine's edition
Thursday, Feb. 9, 6-8:30 p.m.
Tickets $45/person
Decorate six shortbread cookies with Heidi Ramspott from Birdie's Bakeshop. The bar will be open and food is available to sip and snack while you decorate.
Valentine's Date Night at McKelvey Vineyards
Tuesday, Feb. 14, 6-9 p.m.
Tickets: $65/person
Wine, dine and dance with a two-course meal (steak, chicken and vegetarian options) while listening to some live jazz and blues music. Arrive at 6 p.m. to kick off your romantic evening with light appetizers and a cash bar.
Shawnee Bluff Winery Valentine's Paint & Pour
Friday, Feb. 10, 5-7pm
Tickets: $35/person, includes all materials and 1 glass of wine
Enjoy an evening painting at Shawnee Bluff Winery 2430 Bagnell Dam Blvd. Email info@shawneebluffwinery.com for tickets.
St. James Winery Progressive Valentine's Day Dinner
Saturday, Feb. 11, 6-9p.m.
Tickets: $60/person
Meet at St. James Winery Tasting Room to do something fun and unique with your special someone for Valentine's Day. The Progressive Valentine's Dinner is a gourmet four-course dinner, wine and beer pairings throughout the evening, and guided tours of the winery and brewery.
Terravox Art & Wine at the Mansion
Tuesday, Feb. 14, Check-in at 4 p.m., festivities begin at 6 p.m. and check-out is 10 a.m. Feb. 15
Tickets: $400/package for two
TerraVox will be pairing their wines to the Kansas City Art Institute's current display of artwork at the historic Oak Street Mansion. Join them for a coursed dinner, wine pairings, the presentation and a stay for two at the hotel.
Valentine's Day at TerraVox Winery - Couples Taste & Tours
Multiple dates
Tickets: $95/package of two
TerraVox Winery and Christopher Elbow are teaming up to bring you an unforgettable afternoon exploring the delectable world of Port wine and chocolate!
Weston Wine Company - Tarot Readings by Veil and Vow
Sunday, Feb. 12, Noon-5 p.m.
Readings: $20, reservations can be made online
Grab a glass of wine from Weston Wine company to sip during your reading, which is perfect whether you want to know what's going on in your love life, get guidance about your career or look deeper into what is holding you back.
Willow Springs Mercantile – Valentine's Four Course Wine Dinner
Friday, Feb. 17, 7-10 p.m.
Tickets: $85/person
An intimate dinner in a wine cellar enjoying wines from around the region that is paired perfectly with culinary fare to showcase the best flavors of the food and wine together. This dinner includes a delicious dinner with Missouri's Norton wine.  Dessert will include a delectable chocolate decadence paired with award winning Port.
If you don't see an event listed with your favorite winery, contact them for their Valentine's plans. This list was compiled using survey results, so not all Missouri wine events are listed.