Unplug, Relax and Recharge
August 26, 2021
Printer Friendly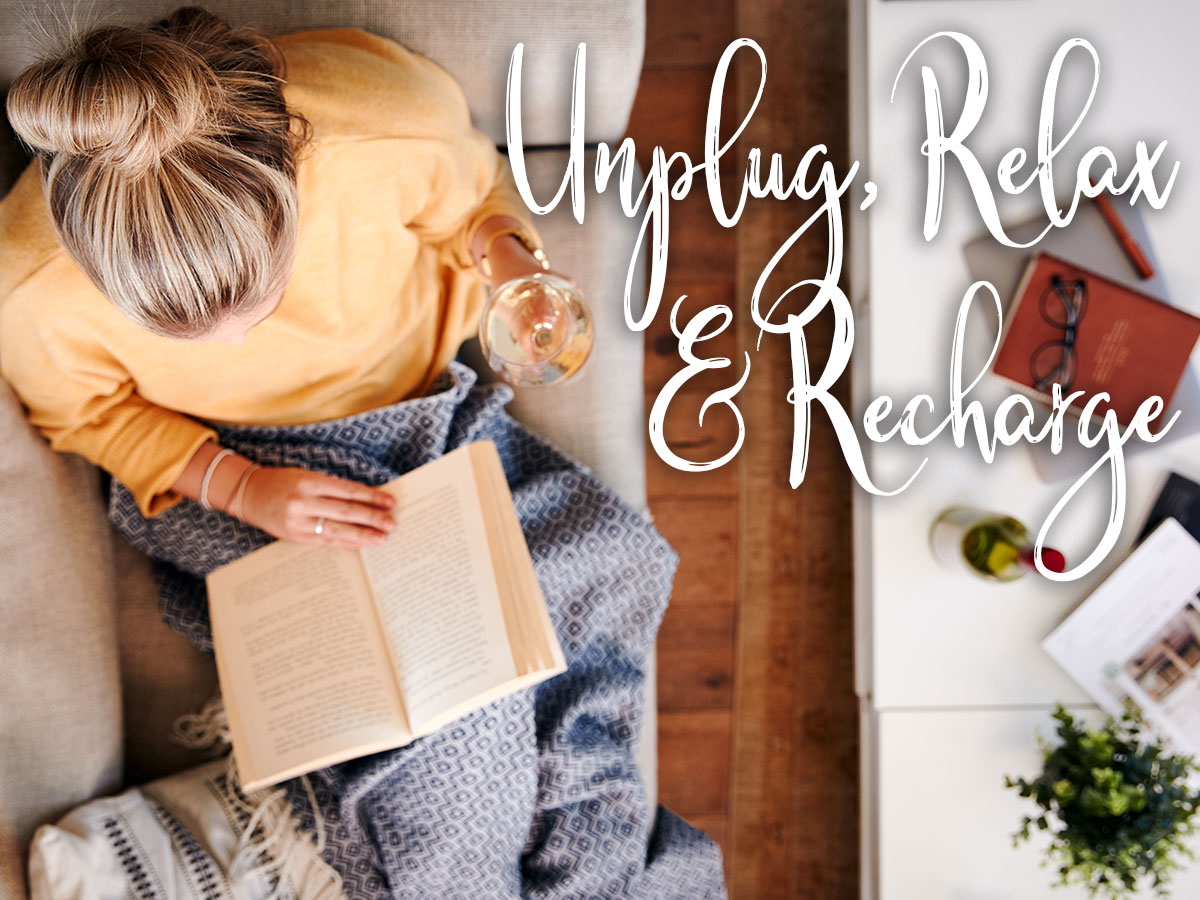 Unplug and unwind over the extended weekend. There's no doubt that you've been working hard, and a little rest and relaxation is the perfect remedy. Here are a few great tips for some self-care, which will leave you feeling refreshed and recharged. Don't forget, a sip of Missouri wine always pairs well with relaxation.
Take a hot bath – Whether you are mentally or physically exhausted, taking a bath is a great self-care practice. Include Epsom salts to soothe the ache, a bath bomb for aromatherapy, tranquil music, a good book then add a glass of Missouri wine for the perfect recipe for relaxation.
Unplug to recharge – Mental health concerns increase with the use of digital technology and dependence on social media, according to a 2016 study published in the International Journal of Mental Health and Addiction. In fact, having your phone close by 24/7 has been linked to various concerns – insomnia, distraction, burnout and deteriorating in-person social skills. That's why one of the quickest ways to recharge is to unplug. Set screen time limits. Don't sleep with your phone nearby and set boundaries when it comes to checking work emails and correspondence when you're off the clock.
Sniff before you sip – Familiar and soothing smells are also a great way to relieve stress according to some researchers. Smells are strongly tied to memories, so a familiar smell can remind you of a fond memory. Sniffing your favorite wine as it swirls around your glass will bring its share of happy thoughts. So, take a sniff, then a sip of your favorite Missouri wine to "wine" down over this Labor Day.
Get your nutrients - Let's take a sip to health! Wine is loaded with antioxidants and is proven to lower the chance of cardiovascular disease and heart attacks. You can also try cooking your favorite dishes or baking with wine as well. Eating comfort foods (especially paired with Missouri wine) is a great way to relax.
Meditate a myriad of ways – Did you know that there are several forms of mindfulness and meditation, and most of them don't require you to hum, "Om?" You likely practice some form of meditation without even knowing it. Meditation quite literally means to contemplate and reflect, so you can meditate during your spiritual practices such as prayer, while you're taking a stroll, while writing, coloring or crafting and even while you sip a glass of wine. Some wineries even offer yoga in the vineyard as a way to be one with the grape -- check our calendar on September 12 for details on Goat Yoga at Adam Puchta.
Just get it done (with wine) – Wellness comes in many forms. We always think of relaxing techniques when it comes to self-care, but it can come in other forms such as studying, paying bills, cleaning your house or organizing the project you have put off for months. Grab your favorite glass of wine and get your checklist completed.
Reconnect in wine country - Taking time to reconnect with your loved ones is another great way to press the reset button. We've done the thinking for you and your crew with these great trip planners.
Stay and Play - Consider an overnight in wine country as part of you relaxation plans. Refine your search using the amenities tool on our winery list to find the perfect accommodations.
No matter how you plan to relax and recharge we hope your plans include Missouri wine.