December 30, 2013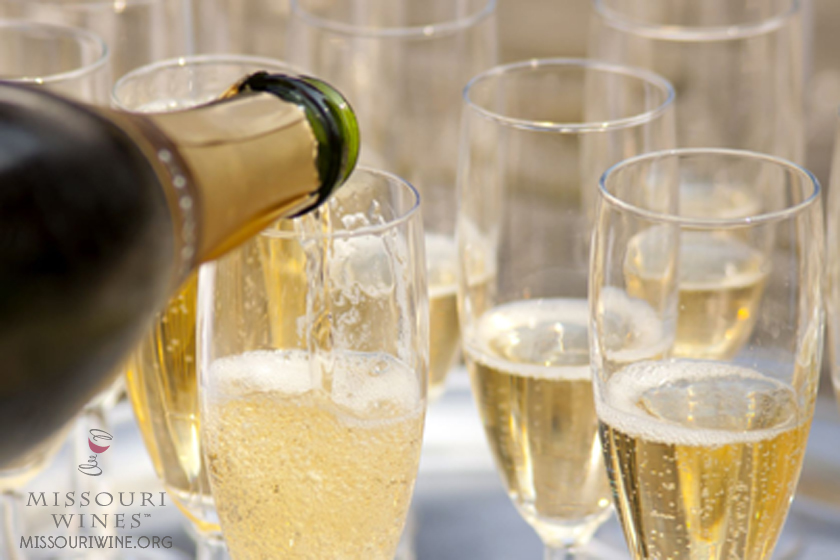 The start of a new year is the perfect time to pop the cork on a bottle of bubbly. A celebratory sip of one of Missouri's award-winning sparkling wines is a refreshing alternative to traditional Champagne, a term commonly used to describe all sparkling wines but only really means those made in the Champagne region of France.
Missouri's sparkling wines vary in color from white to rosé and have a light to medium body. They treat your taste buds to floral flavors and the aroma of fresh-baked bread. The famous bubbles in sparkling wine can be created through double fermentation, known as méthode champenoise. In this process, the second round of fermentation takes place inside each individual bottle of wine, and the wines are aged for a period of 15 months to more than three years before being sold. There is also an easier, faster bulk process of adding bubbles to wine called the Charmat process.
Before choosing a sparkling wine, you should be familiar with the different types that are available.  Missouri sparkling wines typically come in one of these categories:
Brut/Extra Brut sparkling wine is very dry, with extra brut being the driest. These are popular because they pair well with most foods including smoked salmon, fried chicken and spicy Asian cuisine.
Extra Dry sparkling wines have just a hint of sweetness, and are often served before a meal with light appetizers like oysters, cold shrimp or chicken saté.
Dry sparkling wines can be mixed with juices or liqueurs to create innovative, trendy winetails.
Spumante/Sweet sparkling wines put the finishing touch on your meal as they are an ideal match for fruit and desserts such as chocolate dipped strawberries and sorbet.
Mead sparkling wines have a main ingredient of fermented honey, and pair well with strong cheeses and savory, hearty fare.
Fruit sparkling wines fizz with the juices of real berries, peaches, plums, apples or cherries. Save these ripe, juicy bubbles for dessert, use them as a winetail mixer, or try with grilled pork and spicy cheeses.
If you are hosting a New Year's Eve gathering, assortments of hors d'oeuvres that complement Missouri sparkling wines are sure to be a hit. Try these spinach and goat cheese tartlets and spicy curry pork pies with a brut. Indulge your sweet tooth with dark chocolate-raspberry cakes served with a sparkling fruit wine or spumante.
Before the festivities begin, chill your sparkling wine for 30-40 minutes in ice water or three hours in the refrigerator. A temperature of 40 to 50 degrees Fahrenheit will keep your beverage delicious. Any unfinished wine can be preserved for a couple of days in the refrigerator with a sparkling wine stopper.