Tips from the Tasting Room
January 17, 2019
Printer Friendly
Exploring Missouri wine country is an exciting adventure. From breathtaking views to delicious wines, each winery offers its visitors a unique experience. One of the highlights during any winery visit is the opportunity to try a variety of wines and even discover a new favorite. Before you enter a winery and step up to the tasting bar, here are suggestions to help you get the most out of your winery visit.
You're always welcome at Missouri wineries, but you might want to plan ahead.
Contact a winery for its hours. While spontaneity is great, you run the risk of arriving at a winery only to find that it's closed for a special event or not opening until later in the day. Some wineries have limited hours during the winter season.
Choose your destination based on your group's needs. Want to bring your family pet with you? Before you grab the leash, make sure the winery you plan to visit allows outside animals. Visit our website and sort wineries by their amenities, including but not limited to whether they have an on-site restaurant, offer tours and are pet friendly. If a winery offers tours, don't pass up the opportunity. Tours are a great way to learn more about a winery, their wines and history. Of course, it's always a good idea to contact a winery before your visit to check on their policies and special features.
Give advanced notice for large groups. Some wineries require advance notice; others don't. Wineries with smaller tasting rooms like KC Wineworks may require reservations for larger groups. Some wineries have limited or no parking available for large vehicles like buses or RVs.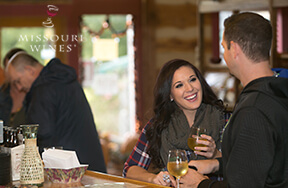 Before the wine tasting
Dress appropriately: While Missouri wineries offer outdoor, indoor seating or both, wine tastings are usually done standing. Wear comfortable shoes. Consider bringing a sweater or jacket if you plan to tour the winery's cellars as they tend to be a little on the cool side.
Avoid chewing mint gum or consuming coffee. Both are palate killers and will impact your wine tasting experience.
Skip the smelly stuff: Scents can affect your ability to smell the wonderful aromas in the wine so avoid wearing overly fragrant perfume or cologne.
Military member? Rodney Toombs, Tasting Bar Manager at Chaumette Vineyards and Winery, encourages you to ask winery staff if they offer a military discount. Toombs, an Air Force veteran, says you might be surprised how many Missouri wineries provide special offers to veterans or active members of the military.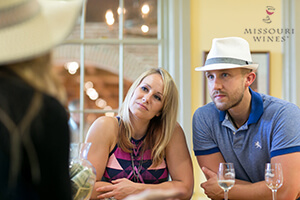 Put your cell phone away. Be respectful to the person behind the bar and to others around you who are enjoying a wine tasting. Unless it's an emergency, stay off your phone.
During the wine tasting
The 5 S's of Wine Tasting: See, Swirl, Smell, Sip and Savor. Visit our website to discover how each of these Ss can help enhance your wine tasting experience.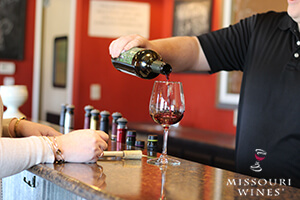 Sip, bite, sip. If you are offered a food item like an oyster cracker or chocolate to pair with your wine, always taste the wine before the food. "You want to taste the wine on its own to know whether you enjoy it," advises Stephen O'Brien, Wine Club Manager at Van Till Family Farm Winery. Once you discover a favorite wine, explore all of the amazing food pairing possibilities with our helpful wine and food pairing graphic. Wine trail events are also great opportunities to experience the impact that delicious Missouri wine can have on a variety of foods. Visit our website to discover our state's 11 wine trails.
Be honest with the person doing your tasting. It's okay to admit that you don't know much about wine. They will help guide you throughout your experience.
Taste in the correct order. When tasting a variety of wines, it's always best to start with dry wines and move towards the winery's sweeter selection. If you start with a sweet wine, the dry wines will taste too acidic.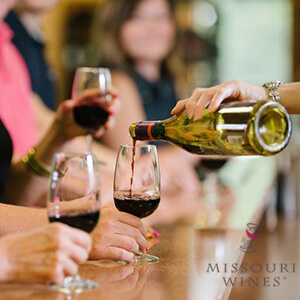 Let winery staff know which wines you prefer but don't be afraid to try new things. Whether you're on the sweeter end of the winetasting scale, prefer dry, or a wine style that's in between, this is a great opportunity to try new wines. Keep your mind open and you may just discover a new favorite. 
You do not have to like everything you taste. Everyone's palate is different. However, avoid being insulting. Just because you don't like a wine, doesn't mean that the wine is bad.
Rosé wines are not always sweet. You can also find semi-sweet and dry rosé wines at Missouri wineries. Whatever your preference on the sweetness scale, you're likely to find a rosé that you enjoy during your excursions in Missouri wine country.
Trust the person behind the bar. He or she knows the wine they are pouring inside and out.
It is okay to not finish your tasting pour. Use the dump buckets provided by the winery.
Record what you like. Make notes of your favorite wines and take a photo of the bottle. This will make it easier to remember which delicious wines to take home with you.
Have fun! Immerse yourself in the experience. Can't pick out a wine's flavor notes or aromas? Ask the winery's friendly staff.
Although it may be tempting to squeeze as many wine tastings as possible into a single day, it's best to take your time and enjoy the experience. With more than 130 wineries in the state, the trickiest part will be deciding where to start. See you in Missouri wine country!