Testing Wine Stain Solutions
April 18, 2017
Printer Friendly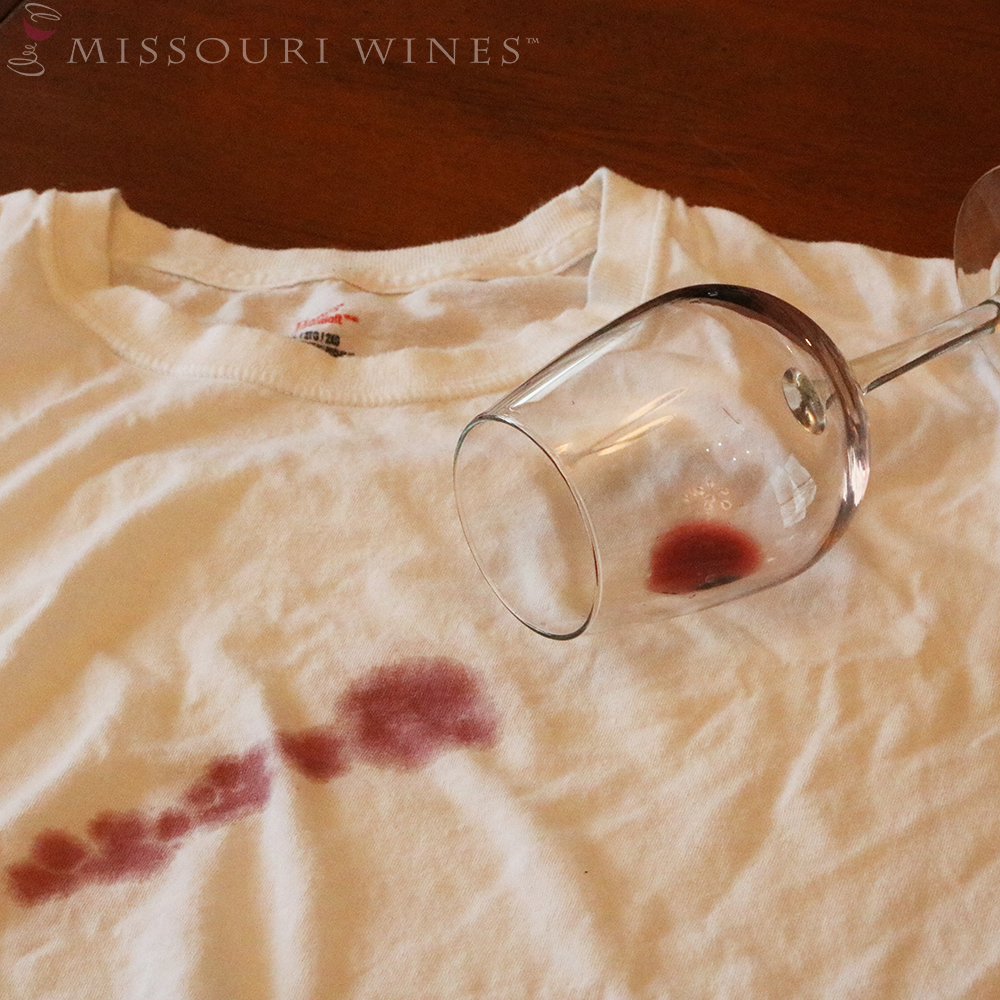 We've all been there, a small drop of red wine spills onto your favorite shirt.  Will it ever come out? How should you treat it? Don't let this ruin your day or your wine country adventure. A few minutes on Pinterest will yield hundreds of home remedies, but we took the extra step and put a few methods to the test. Most of the ingredients are common items you may already have in your kitchen. Read on for results.
Stain Removal Remedies
White Wine
If you are at a winery, white wine is readily available. Treat the area with white wine to help reduce the chance of a permanent stain. During our test this method did reduce the severity of the stain, but the wine was still present after it was washed. White wine was a good first step but we'd recommend further treatment of the stain before washing.

Table Salt + Boiling Water
Salt is typically within reach at the dinner table and may help absorb the wine and prevent it from spreading. Apply a heavy coat of salt and allow to sit for one hour. Place the clothing item over a bowl once you are home and pour boiling water over the area. This method was more successful in the center of the stain than the outer edges. We'd suggest salt as a quick fix if available then additional stain fighting methods before you toss it in the laundry.

White Vinegar + Detergent
Mix 1 Tbsp laundry detergent + 1 Tbsp white vinegar + 2 cups lukewarm water for this stain fighter. Instructions were to apply this solution to the stain and launder as normal. Results were less than outstanding with this mixture.

Dawn + Hydrogen Peroxide + Baking Soda
This method calls for 2 parts Dawn, 1 part peroxide and 2 tsp baking soda, mixed well. Apply this mixture to the stain and allow to sit for at least one hour. It didn't take long to see visible results with this solution and it was the clear winner overall. Pro tip: Use a spray bottle for precise application and always test a small, discrete area for color fastness.

Helpful tips: Blot or dab the spill rather than rub which can make the stain worse. Dried stains are always tougher to remove. If possible keep the stain wet using water or white wine until you are home and able to treat it. When treating, it may be helpful to place a washcloth or towel between the layers of clothing to prevent the stain from bleeding to the other side during treatment. No matter which method you try the sooner the stain is treated the better your chances are of removing it completely.