July 23, 2021
Wine tasting in the Show-Me State is an enjoyable experience for people new to the tasting room and industry experts alike. Glenn Bardgett, a Missouri Wine expert, offers these tips to get the most out of your tasting experience.
When you're in the tasting room:
Ask the staff questions about the wines and winery.
Pay attention to the information they're giving you.
Take notes about the wines.
Try a wine even if you're not sure you will like it.
Remember, the tasting room is for tasting wines, not drinking wines.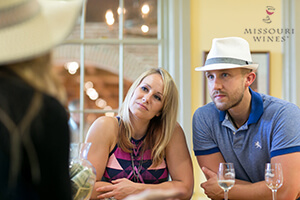 Remember, just because you may not enjoy a particular wine doesn't mean it is bad. Likewise, just because a wine is award-winning or expert-recommended doesn't mean you will enjoy a sip. It simply means the wine is of high quality. But, knowing the Missouri Governor's Cup gold and silver medal wines are top-quality makes them a great place to start in the tasting room.
Wine is much like art and music — everyone has their own tastes, and that is OK because it's meant to be enjoyed. In Missouri, wine enthusiasts have many local wineries to enjoy tastings and learn about the region's unique grape varieties and wines.
"For anyone wanting to learn, experience and live the lifestyle of wine and food enjoyment, remember the amazing luxury of living in wine country and being only an hour or two from world-class wines made by dedicated and committed local families simply trying to please you and make you happy," says Bardgett.
His Five S's of the Tasting Room can help you do just that!
The Five S's of the Tasting Room
See – Wine should have a clear, brilliant color, whether it's red or white. It shouldn't be hazy or cloudy, and there should be no floating particles. White wines range from clear to golden and red wines begin purple and age to red. Brown-colored red wines and very golden white wines often indicate that the bottle has oxidized; just like a banana or apple, it starts to brown when the wine gets too much air. 
Swirl - Wine sitting in a glass has very little aroma. Tasters swirl the wine in the glass to get air into the wine and increase the nose/aromas. Always smell your wine before you sip. 
Smell – A sniff before you sip gives you a hint of the wine's flavors. Wines' aromas should mostly be fruit. White wines often smell like big white fruits, such as apples, pears and grapefruit. While red wines smell like little red fruits, such as cherries, blackberries, blueberries and currants. Wines should always smell good and please your senses. 
Sip – When you sip wine, make sure the wine coats your entire tongue so you can experience all the flavors on the different parts of your taste buds. When tasting, you're simply ensuring that your first judgment about the wine was correct. And, you want to take in all parts of the wine's character and flavor. You may notice wines have different "weights." Alcohol has a lot to do with the weight of the wine. Weight adds to intensity and length/finish. Think of wine's weight like milk; you have skim milk, whole milk and cream. 
Savor the finish – The last part of tasting wine is simply savoring the finish and reflecting on your experience. Take notes about the wine you tried and communicate to your tasting room staff what you found enjoyable about that sip so they can help you find a Missouri wine you love!
If you plan to taste several wines or will be visiting multiple wineries in a single day you may elect to spit after tasting. This is considered standard tasting room protocol when sampling many wines. Be sure to share your wine country adventures on social media using #MoWine!