April 03, 2018
Spring is such an exciting time in Missouri. Flowers are blooming, birds are chirping and warmer weather is finally on its way. It's the perfect time to celebrate the season with Missouri Chardonel. Take some time this spring to discover this delicious white wine!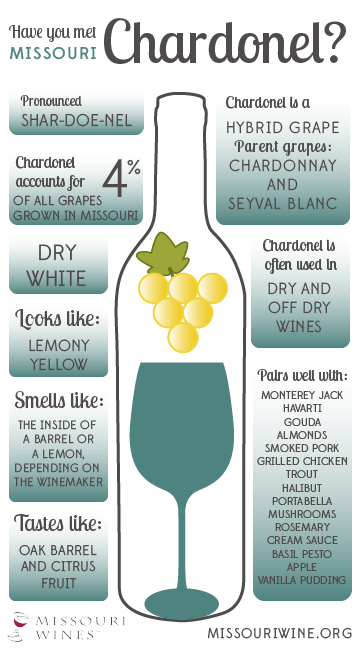 Chardonel is a hybrid grape; its parent grapes are Chardonnay and Seyval Blanc. It's a relatively new varietal introduced in 1996. This cross was developed to be more cold hardy than its famous vinifera parent, making it a better fit for the challenging Missouri climate. There are 66 acres of Chardonel being grown across the state.
Many winemakers choose to age their Chardonel wines in Oak barrels, but there are several who prefer to use stainless steel. Depending on process used to make Chardonel, it can either be crisp and bright or smooth and rich. Chardonel is known to smell like lemon or the inside of a barrel and is most often a dry, white wine.
As the temperature warms up it's a great time to start the seasonal shift back to white wine. Chardonel is Missouri's classic white wine and has an amazing impact on a variety of foods, including smoked pork, grilled chicken, mushrooms, creamy white cheeses and sweets, like apples and vanilla pudding.
Head out to Missouri wine country this month and discover why Chardonel is the ideal wine to help you head into the spring season!