May 27, 2013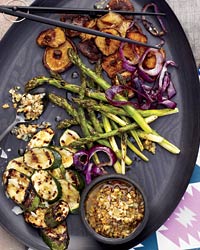 The time has come to dust off the grill: Barbecue season is here. Celebrate the warmer weather by creating delicious meals atop the hot coals. In addition to the main course, there are seemingly endless possibilities for tasty side dishes, some of which can be cooked alongside your burgers and brats. Here are a few ideas for summer side dishes and the Missouri wines that pair best.
Vegetables with Walnut Dressing: Liven up routine grilled veggies by adding a walnut dressing. Instead of toasting in the oven, wrap the walnuts in foil and toss them on the grill grate or on top of the coals.
Pair with: A dry, full-bodied Chardonel
Grilled Corn with Aleppo Pepper Aioli: There is nothing quite like fresh, grilled sweet corn on the cob. This recipe is a twist on a classic summer barbecue side. The Aleppo pepper flakes, used largely in Middle Eastern and Mediterranean cooking, add a distinct flavor and can be found at your local grocery store.
Pair with: A fruity Vignoles
Braised Cucumbers with Dill: For this simple side dish, we step away from the grill. Cucumbers braised in a little butter and mixed with fresh dill create a straight-from-the-garden side.
Pair with: A semi-sweet Vignoles
Spicy Maple Baked Beans: This baked bean dish is packed with flavor. The maple syrup, dark ale and cayenne create a marriage of sweet and spice. Add bacon and all-beef hot dogs to the mix, and you've got a stellar side dish that just might rival your main course.
Pair with: A crisp Sparkling wine
Herbed Potato Salad: No barbecue is complete without the potato salad. Rather than a traditional creamy salad that can be heavy in the summer heat, this recipe lets the yellow potatoes and fresh herbs do the talking.