Sips & Chips
March 14, 2022
Printer Friendly
Potato chips are a popular go-to snack, so why not pair them with your go-to Missouri wines? This guide will help you pair your favorite chips with award-winning wines. Remember to sip, bite, sip as you taste your way through this list.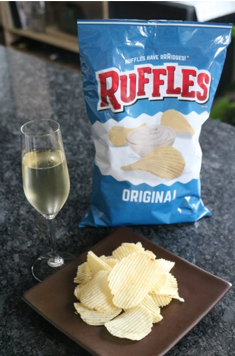 Ruffles Original + Sweet Sparkling Wine
A classic crispy chip paired with a sparkling wine turns out to be a dynamic duo.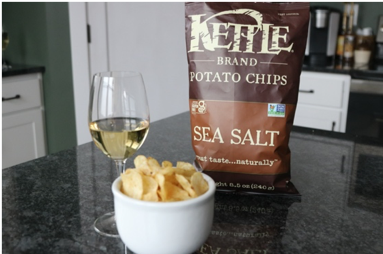 Kettle Sea Salt + Sweet Vignoles
This pair might come as a surprise, but it's worth a try. Kettle cooked crunchy chips seasoned with sea salt pair nicely with this sweet Missouri favorite.
Ruffles Cheddar & Sour Cream + Chambourcin
This rich red wine finishes a bite of the popular cheddar and sour cream chips with ease.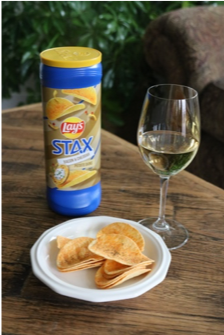 Lays Stax Bacon & Cheddar + Chardonel
Think 'loaded baked potato' flavors and you're well on your way to imagining the complex flavors that will unfold on your tongue with this pair.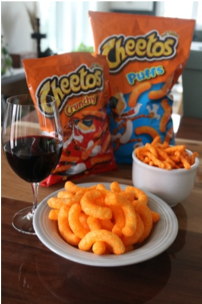 Cheetos (Crunchy + Puffs) + Concord
Cheesy goodness from your choice of Cheetos compliment the jammy flavors of Concord with great satisfaction.
Lays Barbecue + Norton
This duo will instantly take your mind to a backyard BBQ with satisfaction guaranteed.
Fritos Honey BBQ Twists + Seyval Blanc or Dry Rosé or Dry Vignoles or Sweet Sparkling
We couldn't decide on just one wine to pair because they were all too good! Try with one or all and tell us your top choice.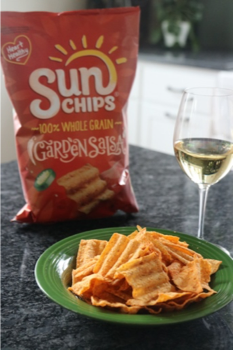 Sun Chips Garden Salsa + Vidal Blanc
This summertime chip should be enjoyed with a chilled glass of crisp and clean Vidal Blanc.
Doritos Nacho Cheese + Norton
These classic Doritos paired with a classic Norton are undeniably delectable.
Funyuns + Dry Rosé
This unique and fun choice of 'chips' will not disappoint with a glass of your favorite Dry Rosé.
Salt & Vinegar + Dry Vignoles
You either love them, or you don't, but you're sure to like salt and vinegar chips when enjoyed with a glass of Dry Vignoles.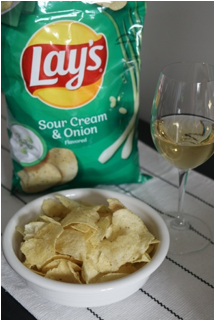 Sour Cream & Onion + Vidal Blanc
The herbal flavors of this favorite chip are nicely complimented by the fresh and crisp taste of Vidal Blanc.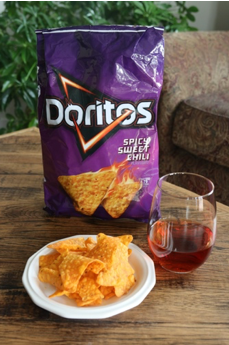 Doritos Spicy Sweet Chili + Catawba
This sweet and spicy duo will have your taste buds happy-dancing on your tongue.
Kettle Cooked Jalapeno + Traminette
This crunchy style Kettle Cooked spicy chip has a perfect match in the fresh and floral flavors of Traminette.
Let us know which pairings make it on your must-try list and tag us on social media @missouriwines or #missouriwines.