June 06, 2013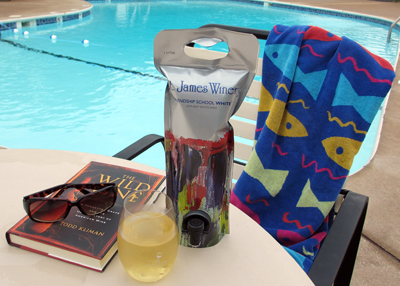 The time has come to trade the socks for sandals and the scarves for sunscreen. Longer days and warmer temps means that it is finally pool season! Grab a book, a snack or two and soak in some vitamin D while you savor a glass of your favorite wine.
Missouri white or sparkling wines pair well with basking poolside. Missouri's white wines can range from dry to sweet and medium- to full-bodied. Try a Vidal Blanc, full of fruity characteristics, while you're relaxing by the pool. Additionally, St. James Winery recently introduced a liter pouch of wine (that's six glasses!), which is perfect for poolside enjoyment.
If you feel like getting creative, try this punch-like, Brazilian-inspired cocktail by combining Chambourcin with fresh blackberries or strawberries. Or how about mixing just-squeezed orange juice, dry sparkling wine and a sprig of mint for a refreshing mimosa?  The pool is also an ideal setting to sip on Missouri fruit wines. Blend strawberry wine with fresh squeezed lemons and a little sugar to create the perfect poolside lemonade.
Feel like packing a few snacks for your afternoon in the sun? Light finger-foods are the most convenient to take to the pool. Try these easy-to-make apple sandwiches (think apple slices, almond butter and granola). Or, pick up some local nuts, fruit and cheese next time you're at the store or farmers market.
Keep in mind that certain pools may have rules in place against bringing in your own drinks and food. If that's the case, make a day out of your "mini-pool vacation." Lounge in the sun for a few hours (don't forget the sunscreen) before packing up and heading to a Missouri winery for a late lunch.