September 14, 2017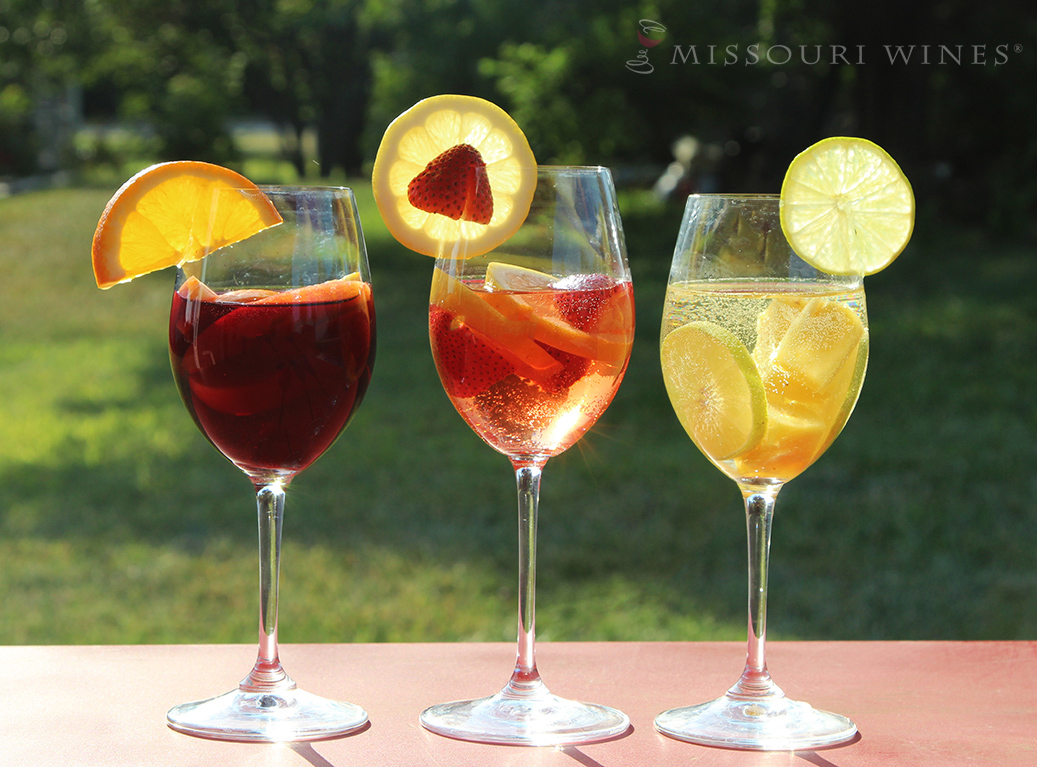 Sangria is thought to have gotten its name originally from the Spanish word sangre meaning blood because of its color.  The most traditional recipes call for red wine, fruit, juice and brandy, but Sangria has become one of the most versatile and varied beverages out there. The customization is pretty much limitless and it's hard to come up with a combo that doesn't work for someone's tastes. Despite all of the potential variations, we have some tips and tricks to make delicious sangria every time.
Red Wine Based Sangria
Whether you're making sangria with Norton, Chambourcin, Concord or an award-winning Missouri red wine blend, here are some tips to keep in mind.
Sweetness: You're looking for balance here. If the wine you're using is sweet on its own, you won't want to add a lot of additional sweetness. Consider adding more tart or neutral flavors. If your base wine is dry, you may want to add some sweetness.Add sweetness: fruit juice, lemon-lime soda, sweet liqueurs, etc.

Maintain or lessen sweetness: club soda, tart juice (cherry, pomegranate), dry sodas
 

Fruit: Fruit is a great addition to any sangria, and you can even read the wine label for a little help selecting your fruits. Many wines have tasting notes and if there are fruit flavors listed such as berry, cherry or the like, those are great ideas for your sangria. Apples and citrus fruits such as oranges and lemons are a great go-to as well.
Fortification: Many sangrias are fortified with a liqueur of some kind. When red wine is your base, brandy is a great choice for this. It's traditional for a reason.
White Wine Based Sangria
Sangrias made with a base of white wine tend to have a more delicate flavor profile. Because of this they are able to allow for really fun and unique combinations. Some examples: Sweet Tea Sangria, Apple Cider Sangria, Tropical Sangria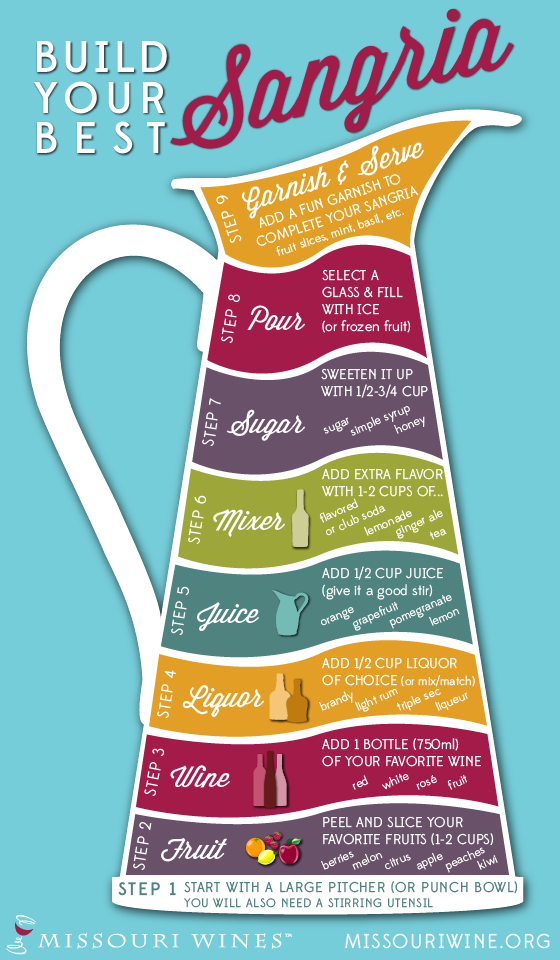 Sweetness: This is similar to red wine in that you decide how much sweetness to add in consideration to how sweet the base wine is to start with.

Add sweetness: Juice or nectars, apple cider, ginger beer, clear or fruity sodas
Maintain or lessen sweetness: seltzer, tonic water, dry sodas, fruit flavored waters

Fruit: Whatever works best with the flavors of the wine or the most prominently flavored addition (cider, etc.) is the fruit you should use. Could be anything from tropical fruit, to peaches, to apples and in between.
Fortification: This is quite flexible. Fruity brandies still work well, but flavored vodkas and rums work as well.
Rosé Wine Based Sangria
Rosé wine is often light and refreshing and that's what works best with the sangrias made from them.
Sweetness: Many rosés are sweet, but there is a growing number of dry rosé wines around Missouri wine country. Again, you're looking for balance.

Add sweetness: light soda, lemonade, light juices
Maintain or lessen sweetness: sparkling water, dry soda, tonic water

Fruit: Think light and refreshing- Strawberries, raspberries, lemons, etc.
Fortification: Rosé based sangria's may not need any added fortification if you're wanting to keep them nice and light.
Additional tips:
Fruit wines are a delicious addition to most sangria recipes.
Bubbles are your best friend. Carbonation in either the form of sparkling wine, soda, seltzer, etc. can be a great addition to most sangria recipes.
Patience is a virtue. Excluding the bubbly ingredients, most sangrias will benefit from mixing the ingredients ahead of time and allowing them time to meld for at least a couple of hours.
Cheers to your next sangria adventure with your favorite Missouri wines!