January 16, 2014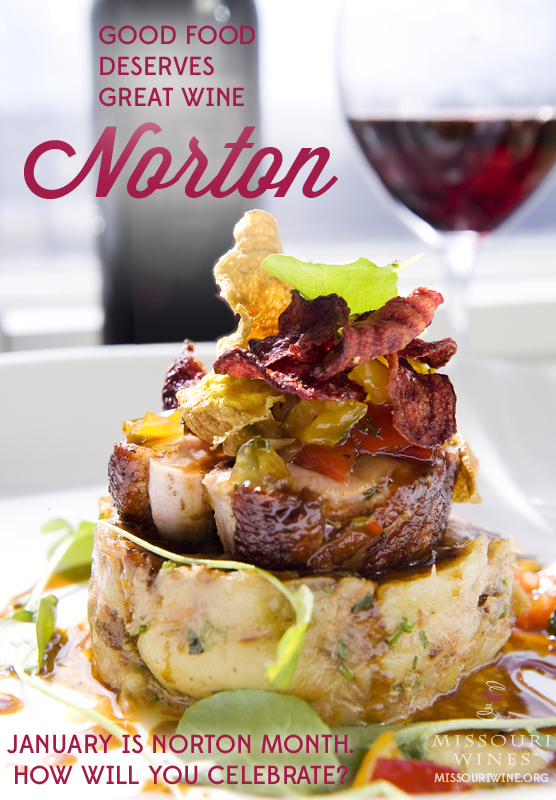 Norton is Missouri's signature wine and grape, and January is its official month of celebration. There is no better way to recognize this one-of-a-kind, full-bodied red than to enjoy it with the many foods that bring out its rich flavors.
The flavors of Norton vary by winemaker, but notes of berries, spice, chocolate and vanilla are often identified in this complex varietal. Most Norton wines are dry, but can sometimes be found in other styles. Norton's firm tannins allow its many aromas to unfold slowly on the palate. It pairs best with foods that have bold qualities such as blue cheese, and red meats that are grilled, smoked or barbecued.
Norton is the perfect wine to share with friends and family at your next gathering. Norton's uniqueness is a conversation starter alongside these complementary zesty tomato tarts. For another Norton-friendly appetizer, try sunflower seed and rosemary crackers served with caramelized onion dip.
A dry, smooth glass of Norton will complement the sweet, tart and spicy flavors of sausage with smashed potatoes and cornichons, and the Cajun kick of blackened salmon and rice. Norton not only tastes great with beef bourguignonne, but can also be used as one of the main ingredients in this hearty meal.
If you resolved to eat healthier in the new year, don't worry. Pair Norton with the tomato sauce, garlic and ground sirloin in a reduced fat, high-fiber version of spaghetti and meatballs.  Norton will also enhance other wholesome meals such as steak with green beans, tomatoes and chimichurri sauce, or lean grilled lamb chops with mint.
Norton excels with desserts that master the balance of sugar and salt. After the main course, pour a glass of Norton with an elegant chocolate glazed chocolate tart. Or sip it with this simple dessert of red wine-poached pears. Sweet, Port wines that are made from Norton grapes go well with creamy cheesecake or drizzled over scoops of vanilla bean ice cream.
Missouri's award-wining Norton wines are an excellent companion to any culinary adventure.
Norton pairs well with good eating!