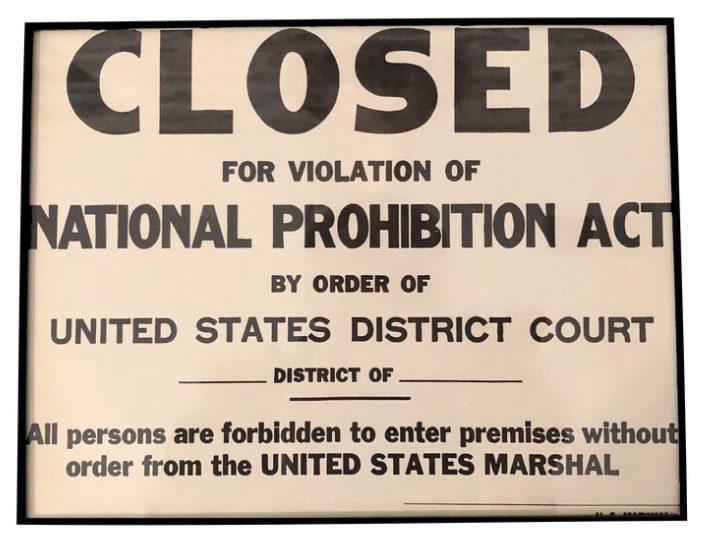 The Missouri wine industry still feels the impact of Prohibition, even a century later. Pre-prohibition production numbers exceed what we make today, yet quality can still be found all over the Show Me State. It is inspiring, yet disappointing to know what Missouri wines could have been without the setback of Prohibition. Not only did it decimate the wine and grape industry, but it also stifled an iconic part of Missouri's identity. Today, we celebrate the anniversary of the end of the 13-year-long Eighteenth Amendment "Prohibition of Liquor" to the United States Constitution. The Twenty-First Amendment was ratified on December 5, 1933, allowing wine, spirits and alcoholic beverages to legally enter society in the U.S. again.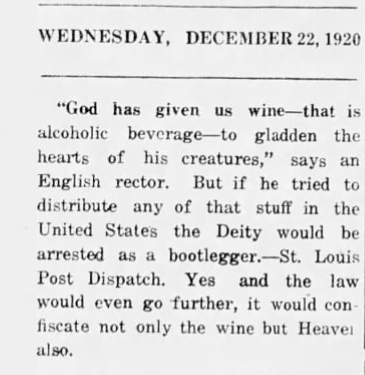 The Missouri wine industry has been an economic force in the state since the 1830s and continued into the turn of the century. Historical production data is often regionalized. However, statewide production figures made public in 1906 by the State Labor Bureau provide a strong visualization: "enough wine was made in and shipped from Missouri last year to float a battleship of 13,000 tons." Not only is this industry a huge part of the culture, but also legendary in the state's agriculture industry. Prohibition created obstacles the state had to overcome for decades after Prohibition ended. Repeal Day is an important and memorable one for the wine and grape industry in Missouri to continue its legacy for the future.
Prohibition was enacted during a pivotal time in history. Crime and corruption were on the rise. Many people were being jailed or imprisoned for acts associated with alcohol consumption. Social issues in the home were often credited to overconsumption. Churches in New York and Massachusetts pledged abstinence to alcohol as early as 1800, but increased greatly moving westward over the next half-century into a national movement. The Temperance Movement (defined as the practice of drinking little or no alcohol) became well-known to many Americans. The Women's Christian Temperance Union, founded in 1874, and the Anti-Saloon League were pivotal forces across the nation that desperately wanted a change in society. Activists for the movement, such as Carry Nation, were gaining popularity and awareness. Nation was notorious for demolishing barrooms with a hatchet, heated by her past experience of her former husband's alcoholism. Although these groups started this movement a century prior, this unique time in history created the perfect storm for the citizens and congress to evaluate this issue.
The neighboring state of Kansas enacted a state-wide prohibition in 1881. Nation, a resident of Kansas, joined the movement in 1890 after the U.S. Supreme Court ruled to favor sales and importing "original packages" from distributors from other states to saloons. Although it was illegal, saloons were still flourishing from this exception. The Temperance Movement had a significant influence on the attitudes of surrounding states and their citizens, such as Missourians, and the impact lasted for years and generations of people beyond the repeal of the Eighteenth Amendment.
These two decades prior to enacting the Amendment were critical. The U.S. Constitution experienced the most change between 1913-1919, since the Bill of Rights, including direct election of senators, women's suffrage and federal income tax. This created options for discussion and large changes on a national level. Federal income tax was established by the Sixteenth Amendment in 1913, ending the government's previous large source of income gathered from taxing alcohol. This change made Prohibition achievable without harming government funding. Several political groups saw the opportunity and seized it.
According to Daniel Okrent, American writer and editor, in his research findings regarding the enactment and repeal of the Amendment, the joint power of several political groups during that time allowed for this change. He evaluated that their agendas were beyond Prohibition alone, yet all intersected:
"Five distinct, if occasionally overlapping, components made up this unspoken coalition: racists, progressives, suffragists, populists (whose ranks included a small socialist auxiliary), and nativists. Adherents of each group may have been opposed to alcohol for its own sake, but used the Prohibition impulse to advance ideologies and causes that had little to do with it."
Although President Woodrow Wilson vetoed the bill, the House of Representatives and the Senate chose to override his veto. The Volstead Act (also known as National Prohibition Act) was passed October 28, 1919 and went into effect on January 17, 1920. At that time, 48 of Missouri's 114 counties were home to wineries. Now, they were home to only one in St. Louis, a group of Jesuits who were producing wine for sacramental purposes, St. Stanislaus Novitiate. All for-profit wineries were forced to close.
U.S. Treasury Department was tasked with enacting the restrictions surrounding which "intoxicating liquors" were forbidden, with the exception of medical or religious purposes. This new act was difficult to enforce. Perhaps the most notable details from Prohibition are recalled for the misdeeds that arose such as "bootlegging" and other insidious activity to gain higher profit from illegal sales. Not only alcohol trends were changed, the U.S. began collecting a five percent tax on sugar products. In fact, instead of having an alcoholic drink at dinner, it was suggested to enjoy candy now instead.
Prohibition has famously been called "The Noble Experiment." Unfortunately, due to the political motives used to enact it, it is believed that it caused more social harm than good. Prohibition certainly condemned the lifestyles of marginalized groups, including those of certain races or newly immigrated citizens. Although it was recorded that "arrests for public drunkenness and disorderly conduct declined 50 percent between 1916 and 1922," violence increased due to the crime and lucrative business opportunities created by the void.
These political impulses affected the livelihood of wineries and other small businesses across the nation. Only a few vineyards were preserved in Missouri for religious purposes. Vines were dramatically ripped from their roots. Casks and barrels, filled with years of hard work, were painfully emptied into the streets and rivers to vacate any possibility of being incriminated. This wounded not only grape growers and their enterprises, but also significantly affected communities and residents who relied on the grape and wine industry as a source of income. Morale lowered and lifestyles were greatly impacted by this change to the nation.
Thirteen long years passed and Americans became thirsty for a change. President Franklin D. Roosevelt announced the end of Prohibition on December 5th of 1933. The Twenty-First Amendment was enacted, repealing the Eighteenth Amendment. The U.S. Constitution has been formally amended 27 times - what makes the Twenty-First amendment unique is that it is the only instance where it repeals a previous amendment. Missourians celebrated this news as the clock turned 12:01 on April 7, 1934, when the repeal went into effect.
Although the national prohibition ended in 1933, many states kept local prohibition laws in place. Kansas didn't repeal their statewide prohibition until 1948. Mississippi was the last state to repeal in 1966. Some repealed, yet kept strict laws for production, sales, importing and exporting. This remaining restriction kept it hard for wineries to grow and produce for-profit. Missouri experienced this adversity for many years. These restrictions are credited for the growth struggles experienced for decades following the repeal.
The Missouri grape and wine industry was reinvigorated in the 1960s and 1970s by two Missouri families: the Hofherrs of St. James Winery in St. James and the Helds of Stone Hill Winery in Hermann. These families experienced these detrimental limitations firsthand. To grow the opportunities for wineries across the state, the Missouri Wine and Grape Advisory Board was created. This board later became the Missouri Wine and Grape Board, established with help from a state tax in 1980. The nation's first American Viticultural Area (AVA) was presented to Augusta 1980 as well, establishing the historical footprint Missouri has on winemaking in America. The Missouri Wine and Grape Board supports more than 125 wineries across the state today with marketing and research efforts. These efforts support the awareness of Missouri's wine and grape history and legacy, while also creating new and dynamic ways to propel Missouri wines into the future.
Cheers to Repeal Day! Experience quality and elevate your experience by exploring Missouri wine country. The historical gems to uncover are endless! Follow us on social media at @missouriwine or #missouriwine for more content and history.