August 13, 2019
In celebration of Vignoles month, we invite you to cut the heat with these white wine recipes.
Vignoles and Brie Soup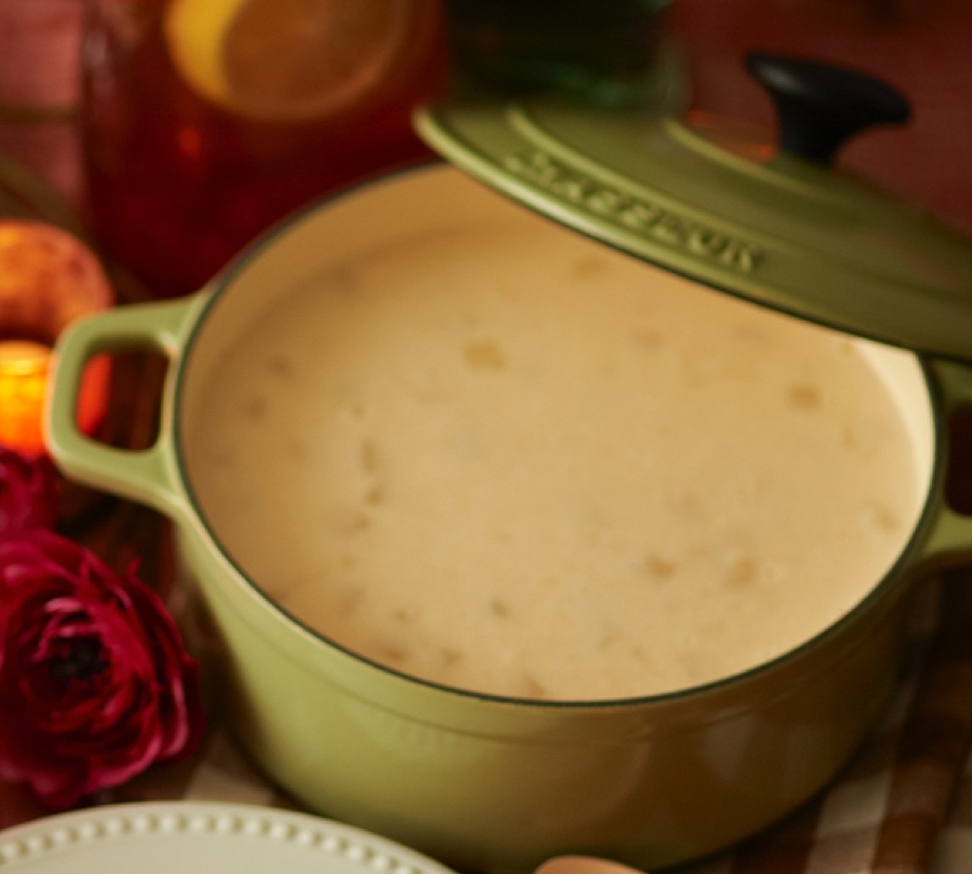 Ingredients
1 tsp garlic, minced
4 tsp butter
1/2 lb mushrooms, sliced
1 diced onion
4 tsp flour
2 cups beef broth
1 cup Missouri Vignoles wine
8 oz Brie cheese, rind removed
1 cup heavy cream
salt
pepper
Directions
Sauté mushrooms, onion and garlic in butter until tender. Add flour and cook one minute, stirring constantly. Add broth and wine then bring to a boil. Reduce heat and simmer 10 minutes. Add cream and Brie. Simmer until cheese melts. Season to taste.


Delicious and Easy Peachy Vignoles Trifle
Vignoles is a popular white wine in Missouri. It's super fruity and refreshing and pairs well with a long list of foods. Fresh fruit is a particularly good match for Vignoles. Fresh peaches are featured in this recipe for Peachy Vignoles Trifle, and it's sure to be a huge hit at your next gathering. Vignoles wines are made in a wide range of sweetness levels but the most common is semi-sweet, which is what we used in this simple and quick treat.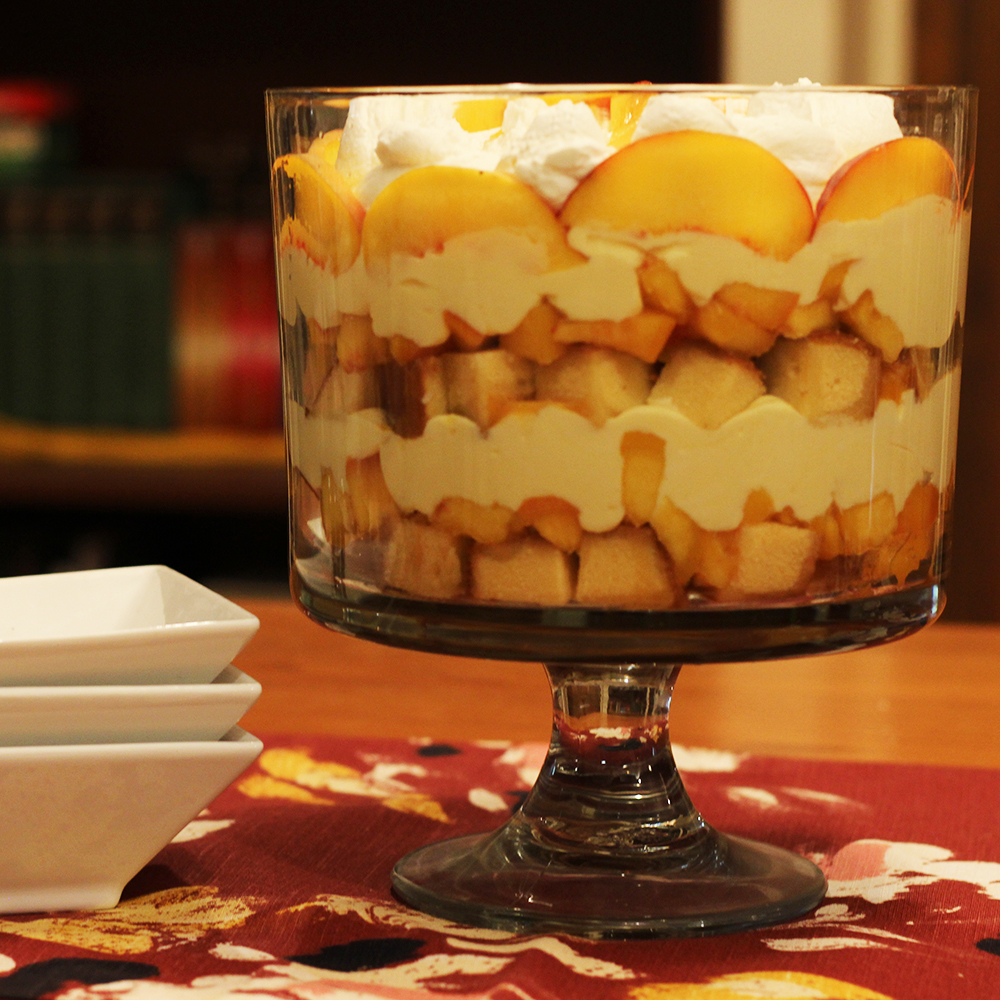 Time: 30 minutes | Serves: 12-16 people
Ingredients
1 1/2 cups Missouri Vignoles
1/4 cup granulated sugar
5 large peaches (optional: 1 extra for garnish)
1 package instant French vanilla pudding
2 cups milk (amount may vary slightly depending on the pudding brand)
2 cups heavy whipping cream
4 tbsp powdered/confectioner sugar
2 tsp pure vanilla extract
Pound cake (Frozen is fine, but thaw it before preparing the trifle.)
Directions
In a medium saucepan, bring wine and sugar to a low boil and simmer until the liquid is reduced by half, about 10-12 minutes. Let cool when finished. While the wine is simmering, prepare your other layer components. If you prefer your peaches skinless, wash them and cut a shallow X in the bottom. Submerge them in boiling water for one minute. Carefully remove them from the boiling water and put them directly into a bowl of ice water. Once they've cooled, the skins will slide right off. If you don't mind the skin on your peaches, skip this step and go right to removing the pit and chopping the fruit into bite size pieces.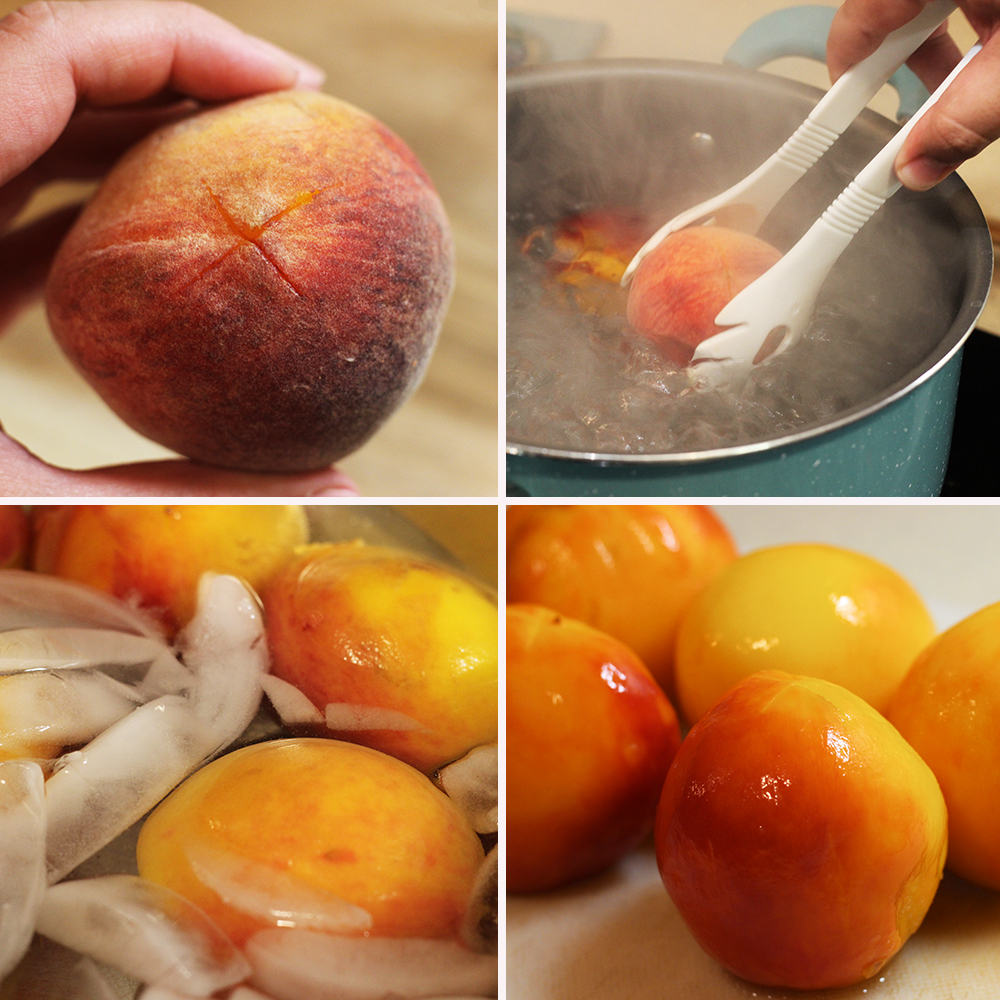 In a large bowl, prepare the French vanilla pudding according to package instructions. Cut pound cake into one-inch cubes. In a medium bowl, beat cream, vanilla extract and powdered sugar until stiff peaks form. (Not sure what constitutes a stiff peak, check out this guide.) Fold half of the whip cream into the pudding just until mixed. When the Vignoles syrup is cool, stir it into the peaches. Begin layering your trifle! Make a nice full layer of pound cake, top with peaches and half the juice/wine/syrup liquid. (This yumminess will soak into the pound cake and be amazing.) Add a layer of creamy pudding, then repeat: cake, fruit/juice, pudding. (Optional: At this point in the process, you can add thin slices of peach around the top of the dish for a lovely garnish.) Spoon or pipe the remaining whip cream on top to finish it off.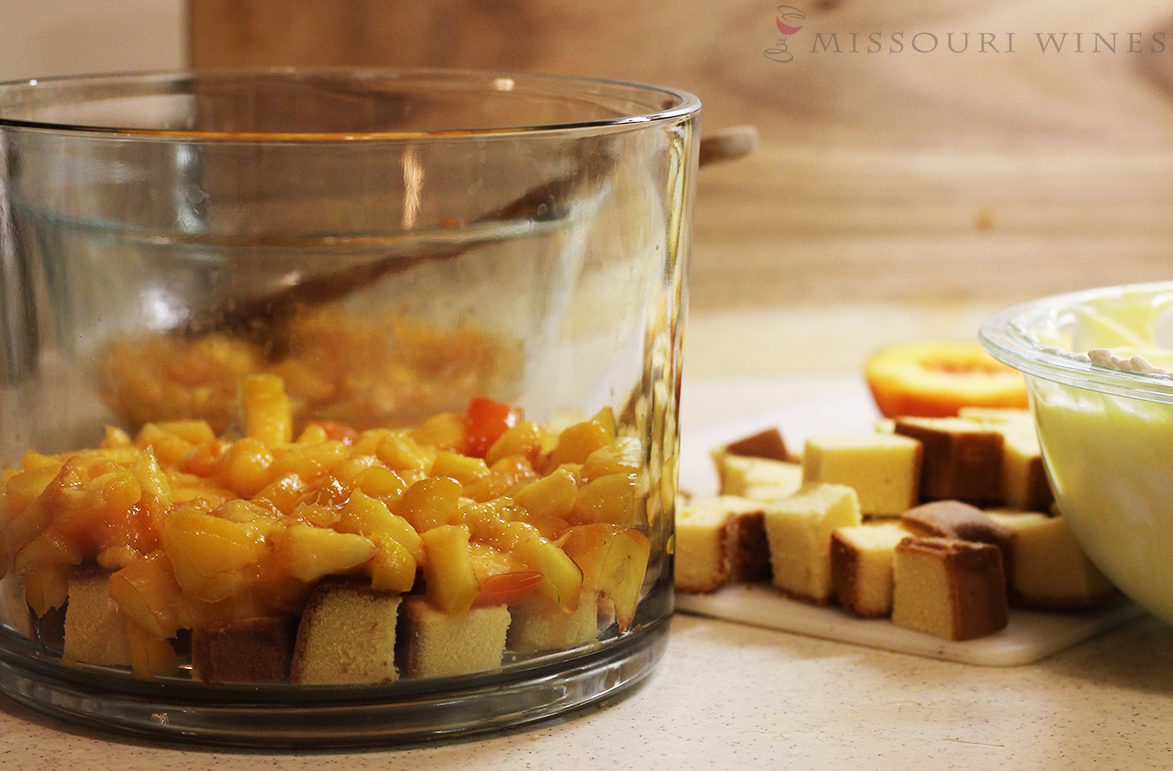 This dessert is delicious immediately or it can be made up to a day ahead of time and kept covered in the refrigerator. Enjoy a heaping scoop with a glass of Missouri Vignoles.

Vignoles Marinated Grilled Fruit Skewers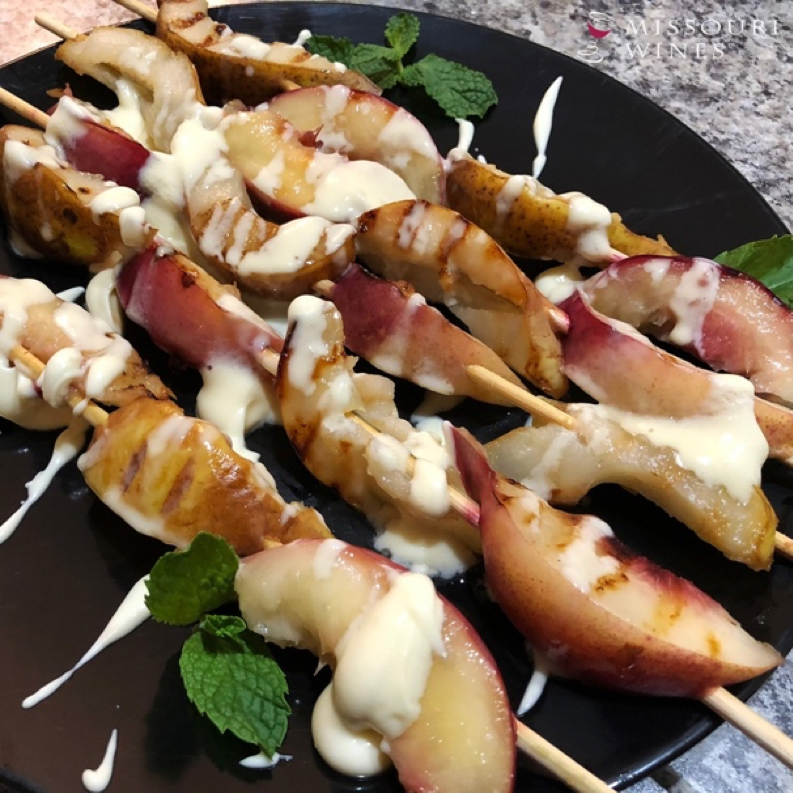 Looking for a delicious treat this grilling season? Look no further. Fruit marinated in Missouri Vignoles white wine, grilled and topped with a mascarpone sauce is a delicious dish perfect as a dessert or side dish.
Time: 20 minutes active, 2 hours inactive | Yield: 6-8 servings
Ingredients
4 peaches
4 pears
2 cups Missouri Vignoles (semi-sweet white wine)
½ cup mascarpone
2 oz orange juice
1 tbsp honey
Fresh mint (optional garnish)
Directions
Soak 12-15 skewers in warm water for 10-30 minutes. Wash and cut the peaches and pears into large slices. (Tip: Ripe but still slightly firm fruit is best for this recipe as it will soften some when marinated and cooked.) Assemble the skewers, alternating between the peach and pear slices. Marinate the fruit in Missouri Vignoles for 1-2 hours.
While the fruit marinates, make the sauce by whisking together the marscarpone, orange juice and honey, adding additional orange juice until it reaches the desired consistency.
Grill the fruit skewers for 1-2 minutes on each side. Leave them on the grill just long enough to sear both sides; you don't want to overcook the fruit. Remove the skewers from the grill, allow to cool slightly, drizzle with the sauce, garnish with fresh mint and enjoy!
Vignoles Wine Slushy
Your new favorite summer sipper is here! Beat the heat of August with a Missouri wine slushy. Wine slushies can be made two ways. You can combine cold wine with frozen fruit in a blender, or you can freeze wine in ice cube trays and blend it with fresh fruit. Whichever method you choose, you're in for a delicious, refreshing treat! There are practically endless flavor combinations, but because August is Vignoles Month, this recipe uses Missouri's favorite white wine.
Time: 5 minutes | Servings: 6
Ingredients
10 oz frozen peaches 
10 oz frozen strawberries 
1 bottle semi-sweet Vignoles wine, chilled
Directions
Put frozen peaches in blender. Add half the bottle of Missouri Vignoles. Blend fruit and wine until smooth and slushy. Pour into a bowl or pitcher and set aside. Place frozen strawberries in blender. Add the remaining Missouri wine. Blend until smooth and slushy. Pour slushies into glasses 2-3 ounces at a time, alternating between the flavors. Enjoy! 
We hope you try one of these delicious recipes featuring one of Missouri's favorite white wines - Vignoles.