Recipe Round-Up: Cooking with Chambourcin
November 19, 2019
Printer Friendly
November is Chambourcin month in Missouri and what better way to celebrate than to bring one of these delicious recipes to your family and friends for Thanksgiving. From cranberry sauce to dessert, these are a few of our favorite Chambourcin recipes.
Chambourcin Cranberry Sauce
This Chambourcin Cranberry Sauce, or Cham-berry Sauce, is easy to make, stores well and adds tangy flavor to a wide range of dishes. This recipe should definitely make it onto your Thanksgiving table, but it's also great with pork, as a condiment on sandwiches, served over warm brie, or simply a spread on your morning toast. Missouri Chambourcin, a dry red wine, really kicks up the flavor and complexity of this sauce. Give it a try today!
Time: 30-40 minutes
Yield: 6-8 servings
Ingredients:
1 cup dark brown sugar
1/2 cup water
1 bag (12oz) fresh cranberries
1 cup Missouri Chambourcin wine
1 medium navel orange 
2-3 (1/4" thick) slices of fresh ginger [or ½ tsp ground]
1/2 tsp cinnamon
1/8 tsp cloves
1/8 tsp nutmeg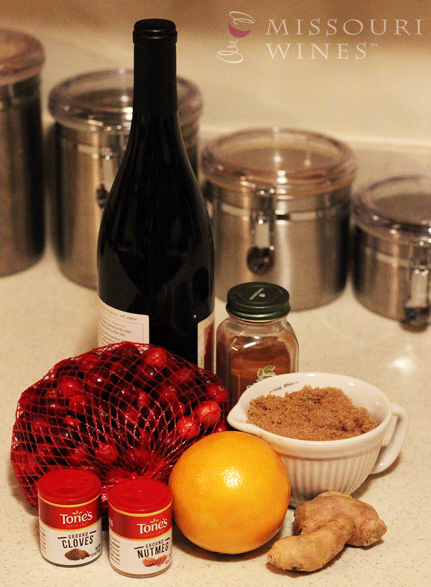 Directions:
Zest and juice the orange, set aside.
Add sugar and water to a medium saucepan over medium-low heat. Stir and heat until sugar is fully dissolved.
Rinse cranberries, add to pot and stir to coat in the sugar water mixture.
Place lid over pot and increase heat to a gentle simmer until all cranberries have popped.
While simmering, peel and slice the ginger (crush with the flat of a knife or the back of a spoon just before adding to help release the flavors.)
Once cranberries have all popped, add remaining ingredients: wine, ginger, orange zest and juice, cinnamon, cloves and nutmeg. 
Allow mixture to simmer, stirring occasionally until it becomes thick and syrupy (20-25 minutes).
Remove from heat, cool and transfer to a serving bowl or a container with lid if making ahead of time. 
This sauce is great fresh (don't forget to let it cool), but can be made up to a week ahead of serving and kept in the fridge.
Mulled Wine: Spice Up Your Winter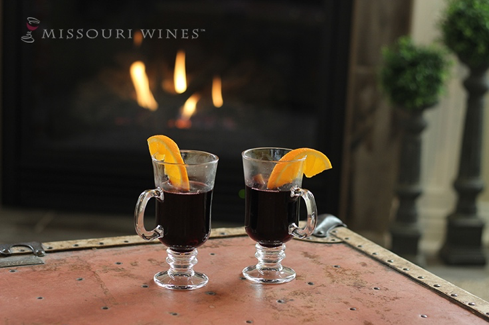 Mulled wine is a warm, flavorful beverage that can remove the chill from a cold winter's day. Although there are many mulled wine recipes, here is a simple and delicious version that features Missouri Chambourcin and port-style dessert wine, guaranteed to tantalize your taste buds. Watch the video here.
Time: 25 to 30 minutes    |    Yield: 4 to 6 people
Ingredients
750 ml (1 bottle) Missouri Chambourcin
1 cup Missouri port-style dessert wine
1/3 cup Brown sugar
1/2 cup Mulling spices: cloves, nutmeg, star anise, ginger
1 Orange
Garnish (optional)
1 Orange
4 to 6 Cinnamon sticks
Prep work:
Wrap spices in a cheese cloth. Tie with kitchen twine and set the sachet to the side. Slice both oranges.
Directions:
Pour the bottle of Missouri Chambourcin into a large pot. Add ⅓ cup brown sugar and 1 cup Missouri port-style wine. Heat on medium for 12 to 15 minutes. Add fresh orange slices (from 1 orange) and the sachet of spices then cover with a lid and simmer for 10 minutes. Do not boil. Ladle mulled wine into each glass. Optional: garnish your glass with a fresh orange slice and cinnamon stick.
Serve warm and enjoy.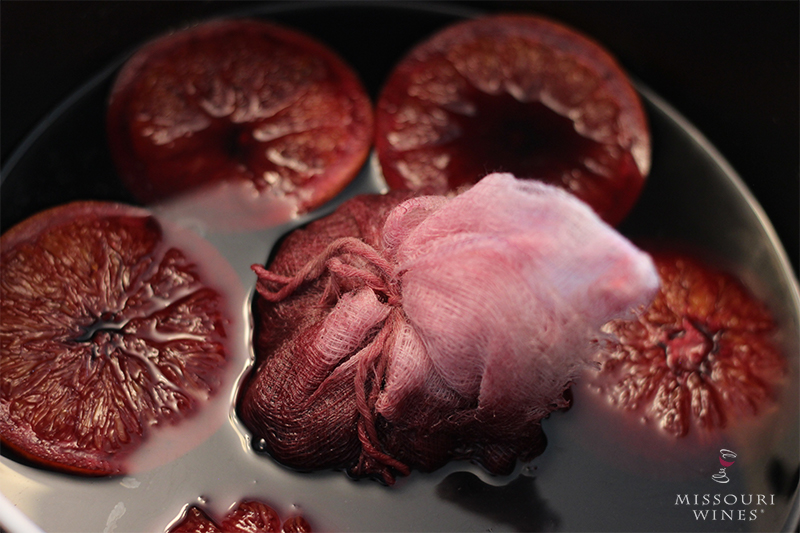 Mulled Wine Cheesecake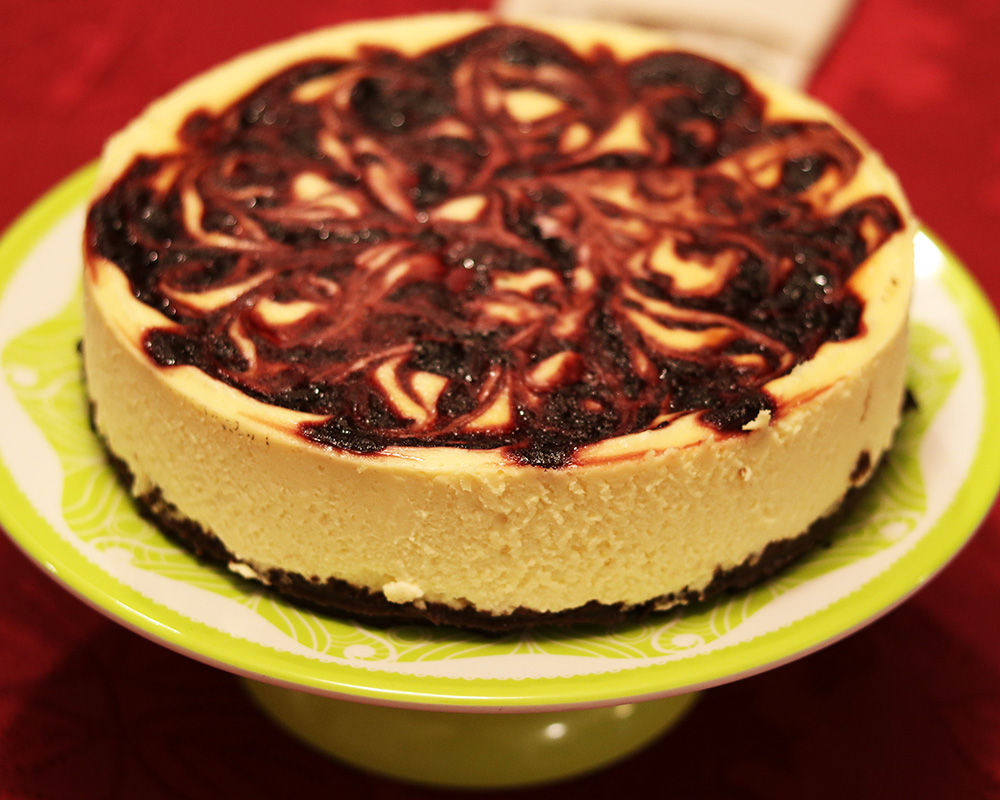 This decadent cheesecake incorporates a mouthwatering mulled wine sauce to create the perfect holiday dessert. It is delicious and festive! Whether you make this recipe for a carry-in at the office or your family's holiday feast, it is sure to be a huge hit. Cheesecake and wine… it's a win, win!  
Time: Active - 2 hours, Chill 6 hours or overnight  |  Yield: 10-12 servings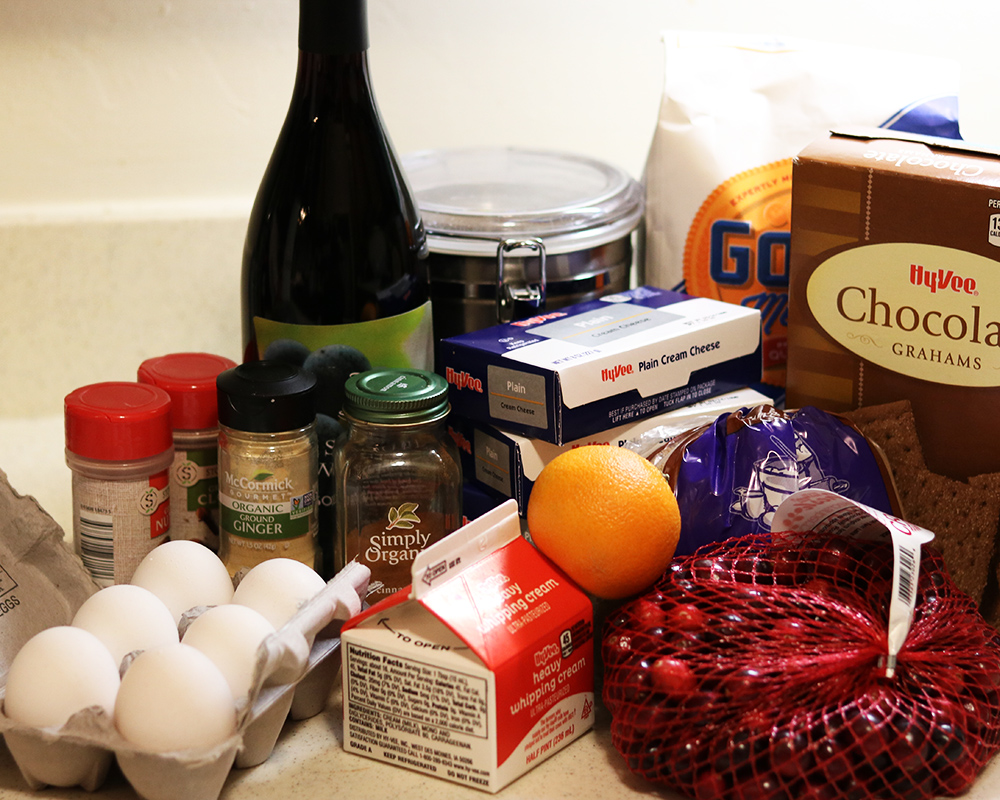 Ingredients:
For the crust-
1 cup Crushed chocolate cookies (Chocolate graham crackers work well)
2 tbsp Cocoa powder
1 tbsp Brown sugar
1 tbsp Sugar
3 tbsp Melted butter
For the sauce-
1 cup Missouri Chambourcin
1/2 cup Cranberries (frozen are fine)
1/2 cup Brown sugar
4-5 strips Orange peel (the peel from approximately ½ of a medium orange)
1 tsp Allspice
1/4 tsp Ground ginger
For the filling-
(4) 8oz packages Cream cheese
1 cup Sugar
4 Eggs
3 tbsp All-Purpose flour
1 cup Heavy cream
2 tsp Vanilla extract
Directions:
Preheat oven to 325 degrees Fahrenheit. Prepare a 9-inch springform pan by wrapping the bottom and sides in a double layer of foil.
To make the crust, pulse chocolate cookies in a food processor until crushed thoroughly. Add cocoa powder, sugars and melted butter and pulse a few times until combined. (If not using a food processor, crush cookies by placing in a plastic bag and pressing with a rolling pin until they are all crushed. In a medium bowl, add cookie crumbs, cocoa powder and sugars. Stir in the melted butter until combined.) Press the mixture into the bottom of the 9-inch springform pan. Bake for 10 minutes. Remove from the oven and cool on a baking rack while you make the sauce and filling.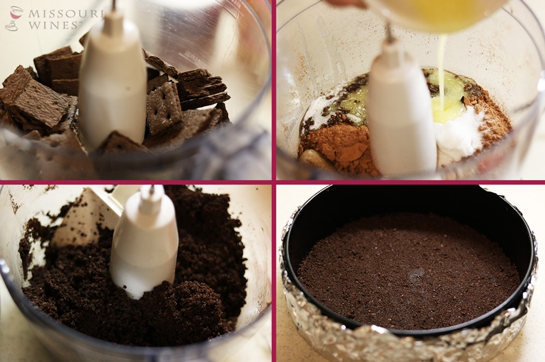 To make the sauce, add wine, cranberries, sugars, orange peel and spices to a small saucepan over medium-high heat. Bring to a boil then reduce heat and cook for an additional 5-7 minutes until reduced by approximately half. Remove from heat and set aside. When cool, remove orange peel and blend or process until smooth.
To make the cheesecake filling, blend the sugar and cream cheese with a mixer until smooth. Add eggs one at a time; try not to overmix. Add remaining ingredients slowly until all is combined.
Pour the filling on top of the crust. Drop the sauce by the teaspoon on top. Using a skewer or toothpick, swirl the sauce into the filling. Keep remaining sauce to serve with the finished cheesecake.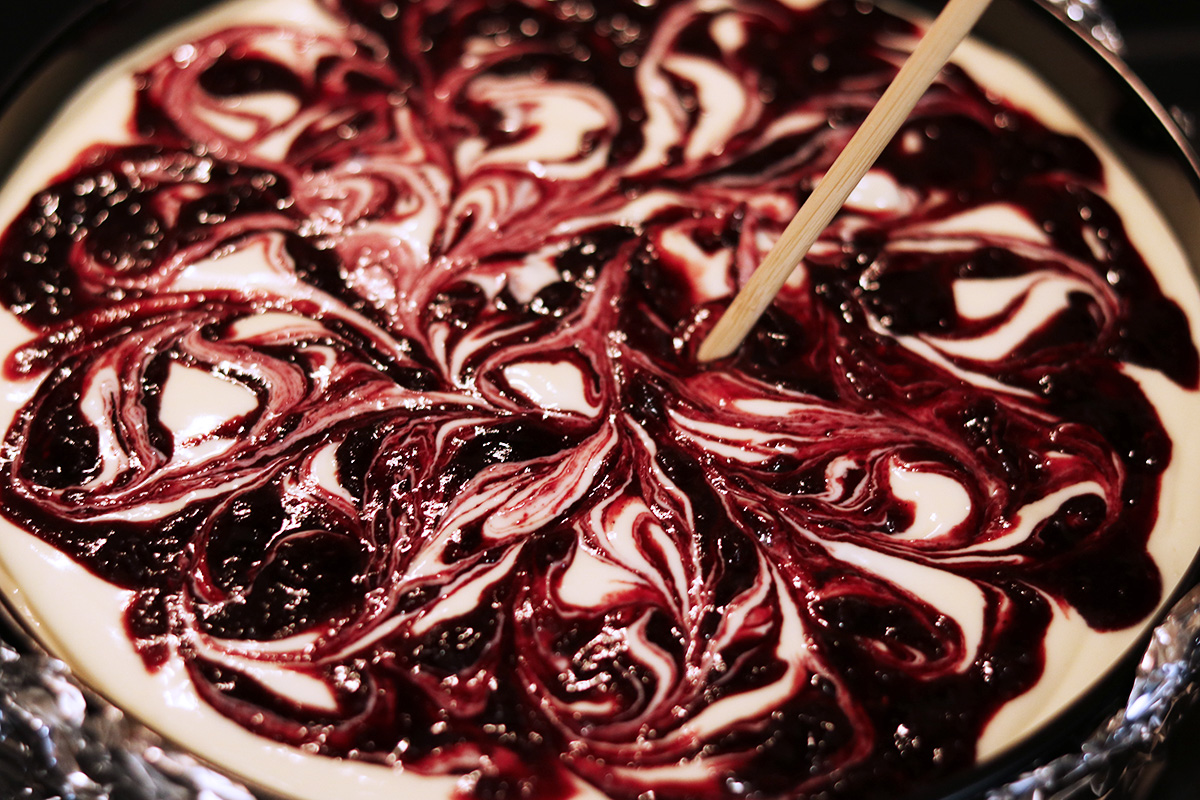 Place the cheesecake in a shallow roasting dish and put it in the oven on the center rack. Carefully pour or ladle boiling water (Pro-tip: Using a kettle is an easy way to do this!) until water comes halfway up the sides of the pan. Bake at 325 degrees for 70-75 minutes on the center rack in the oven. It's done when the cake is set around the edges but still slightly wobbly in the center. Carefully remove from the oven. Take the springform pan out of the roasting pan and cool on a baking rack for 10 minutes; run a knife or icing palette around the edges of the pan to loosen the cheesecake's sides. Allow the cheesecake to cool on the baking rack in the pan for an additional hour. Refrigerate the cheesecake, uncovered, for 6 hours or overnight.
When you are ready to serve, remove cheesecake from springform pan, slice and enjoy! We recommend putting the extra sauce on the plate as a garnish with each piece of cheesecake. It's delicious!
*This recipe is adapted from a winning recipe from the MO Wines: Just Desserts Cooking Contest at the 2017 Missouri State Fair. 
Chambourcin Chocolate Cupcakes
It's not easy to improve upon the classic chocolate cupcake recipe. But here at Missouri Wines, we cracked the code with this mouth-watering wine cupcake! 
These chocolate cupcakes mixed with our very own Missouri-made Chambourcin make for the most moist, rich, full of flavor, scrumptious treat. We would highly recommend this baked good for any occasion. 
(This recipe calls for coconut flour, but the ingredient can easily be substituted with a wheat-based flour.)
Prep Time: 20 minutes | Cook Time: 20 minutes | Yield: 12 Cupcakes
Cupcake Ingredients:
6 tbsp Unsalted butter, room temperature
3/4 cup Dark brown sugar, packed
1/4 cup Granulated sugar
1 Large Egg + yolk, room temperature
3/4 cup Chambourcin wine
1 tsp Vanilla extract
1 cup + 1 tbsp Coconut flour 
1/2 cup Cocoa powder
1/8 tsp Baking soda
1/2 tsp Baking powder
1/4 tsp Salt
1/4 tsp Ground cinnamon
Icing Ingredients:
8 oz. Cream cheese
3/4 cup Chilled heavy whipping cream
2 tbsp Granulated sugar
Sprinkles 
Directions: 
Preheat oven to 325 degrees Fahrenheit. Line muffin pan with cupcake liners.
In a large bowl, sift together coconut flour, cocoa powder, baking soda, baking powder, salt and cinnamon. Whisk to combine. Set aside. 
In the bowl of a standard mixer fitted with the paddle attachment, mix together butter, dark brown and granulated sugar for 2 minutes until light and fluffy. Add in the egg + yolk, beating well.  Next, mix in the Chambourcin and vanilla. 
Slowly add in the dry ingredients and mix until mixed well. 
Use an ice cream scoop and divide the batter into the lined muffin pan. Bake for 20 minutes, then remove from the oven and let cool for 5 minutes before transferring cupcakes to a wire rack to cool completely. 
In the meantime, make the frosting by whipping together cream cheese, heavy whipping cream and granulated sugar until soft peaks form. Put frosting into piping bag (or Ziploc bag and snip the corner) and pipe the frosting onto the cupcakes. Make sure the cupcakes are completely cool before icing.
Be sure to enjoy with a glass of Missouri Chambourcin!
We hope you will try one of these recipes out for the upcoming holiday. Wine + food is definitely something to be thankful for!