August 10, 2013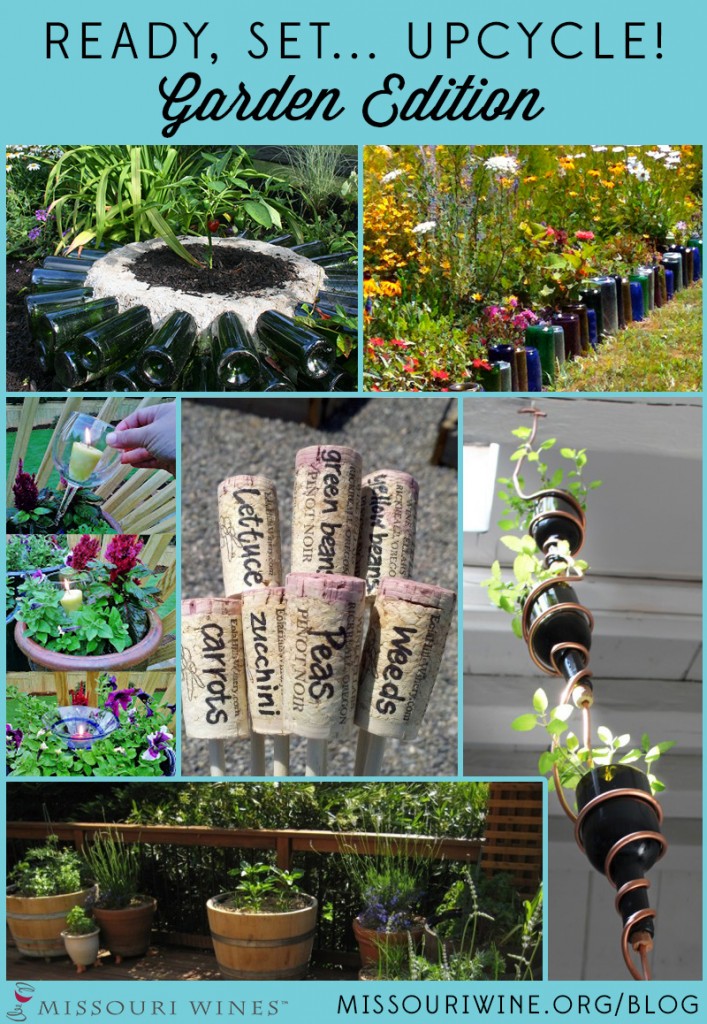 Spring and summer are when we tend to spend as much time outside as possible.  For many that means lots of time in the garden. So, whether you're an expert gardener or just testing out your green thumb, there are lots of cool ways to upcycle your wine bottles, corks and glasses to make your garden even better. And for the extra-enthusiastic, wine barrels also offer some fun garden upgrades.
Looking to up your pepper, tomato and melon game in your garden? Consider building a hot bed out of recycled wine bottles. The idea behind this hot bed is fairly simple… sunlight warms up the air inside the glass and expands.   The heated air is pushed through the bottle neck into the soil, warming it and the plants growing in the bed. [Project instruction at Gardenfowl.com.]
If you like an organized garden, there are a couple of fun options you can try. Corks make great plant markers, and are simple to make. [Get a detailed how-to at FabulesslyFrugal.com.] Recycled bottles lined up and buried can create a colorful and unique border for your garden or flower beds. [Find out more about this idea at TheGreenbacksGal.com.]
Wine barrels cut in half make wonderful planters for your garden or mini-garden on a deck or patio. [Get all the details at HitchhikingtoHeaven.com.] Add some extra personality to your planters and garden containers while finding new purpose for broken stemware. Just because it's broken, doesn't mean it's useless. [This great idea comes from CameraGirlontheGo.com.]
If you have a glass cutter or have been looking for reasons to get one, making your own hanging herb garden out of recycled wine bottles and beautiful copper tubing is just the excuse you've been waiting for. [Watch this video for the how-to via HomeMade Modern] Or perhaps a customized wind chime out of your empty wine bottles is more up your alley. Either way, these projects will add that something extra to your garden. [Recycled-artist, Cindy Shepard, walks you through this project in a step-by-step video.]
Missouri wine pairs well with upcycling and upgrading your garden!